The day after I had Vivian, I stood in the bathroom in the hospital and looked in the mirror at my swollen, stitched up body. I didn't recognize myself. I was sort of in shock and so overwhelmed that I broke into tears. In that moment "getting back to normal" felt insurmountable.
A minute or two later my rational self came back. I just had a baby. My hormones were wild, and I was exhausted. I had to put a stop to my crazy talk. Now was not the time to beat myself up about anything.
Since then, I've tried to be more gentle with myself. I still have to shake out of the negative self-talk. It's astonishing to me that as an intelligent, thoughtful woman I would see my postpartum body for the first time and be disappointed. Instead of celebrating the incredible feat it just accomplished.
Now, I'm not so concerned with getting back to normal – whatever that means. Instead, I'm focused on regaining my strength. I went to my first workout class last week since having Vivian. A few minutes into class, I found myself criticizing and frustrated with my ability.
But instead of indulging it I quickly started to list every incredible thing my body has done. And something amazing happened. I finished the class feeling stronger than ever, and really proud of myself.
It's almost impossible in this world where we are constantly fed images of "perfect" bodies to accept ourselves for who we are in any given moment. But in order to be truly happy we have to stay on the path of self acceptance.
So let's start off the week with a commitment to be kinder to ourselves. Let's catch ourselves when we go down a spiral of negative self talk, and celebrate what our body has done for us, not how it looks.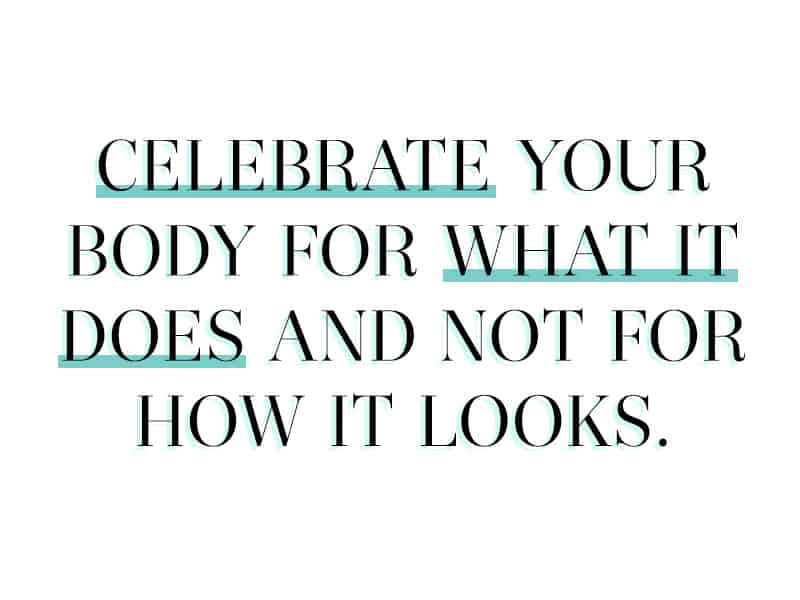 2. The Only Coffee Mug You'll Ever Need. Yes, this mug is $80. BUT, if you love coffee as much as I do it's worth it. Like, you look forward to your morning cup as you're falling asleep at night, it's pretty cool. No more having to refill or put in the microwave to keep it warm. It keeps your drink at the exact temperature you enjoy until the last drop.
3. A Sweet Ruffle Pump: Spring is around the corner and with it comes all the reasons to dress up for the season. I'm excited to wear this lady like pumps with the ideal heel. I ordered them in tan, which is lighter than you would think. They are also available in classic black and blush.
4. The Truth About Anxiety: Mel Robbins is a personal hero of mine. I love her no-nonsense approach to talking about stress and anxiety. This quick video breaks down her process of dealing with general anxiety. It's what I do when I feel my anxiety bubble to the surface and it's made a huge difference.
5. In Case You Missed It. There were a lot of great pieces on the blog last week that I don't want you to miss. This V Neck blouse from Banana Republic is a workhorse for your business wardrobe, this moto jacket with a detachable hoodie will make you feel cool even if you're not, and I just think everyone should own these earrings.
6. The Best Apps Every Woman Should Download. I have most of the apps on this list. What I didn't have was SitorSquat. That's right, folks, there's an app that helps you find a potty. Created by Charmin, it shows you acceptable restrooms when you are in an unfamiliar area. At first, I thought it was nuts, but if you've ever traveled with kids, it's immensely helpful.
7. Show Them What Crazy Can Do: Every woman has heard it. In a moment of anger or even rage, we're told "you're so dramatic" and "stop being crazy." Nothing makes me more furious than being called "crazy" for having a human emotion. Nike just released an incredible ad, narrated by Serena Williams, that will give you chills and make you proud of your crazy.
8.Best Weekend Getaways: After being cooped up in the house all winter, I could use a quick weekend away. Nothing over the top, just a place to sleep in, stroll around, have some nice dinners and still be home to get the kids on the bus on Monday. This is a fantastic list broken down by region, so no matter where you live, something is a car ride away. I was thrilled to see our beach town, Cape May, NJ, make the list. I happen to love the shore in the winter months.
9. Lessons from Spanx. Sara Blakely, founder of Spanx, is the youngest female self-made billionaire. That's billionaire, with a "b." She's a retail and marketing genius loaded with great advice. I like this article because it highlights the unique traits that women bring to the business world.
10. Oscar Recap: The older I get the more disinterested I've become in the Oscars. Since I had to be up with the baby anyway I had it on in the background. I had no idea who most of the stars were, but the ones I did know looked amazing. My top three: Jennifer Lopez does not age, I love movie star Lady Gaga so much, and Regina King was flawless.