When I made the decision to closed our personal shopping business, almost three years ago, I was terrified. For a long time, I loved the work, but as I grew, and my life changed it started to feel redundant, and frankly, boring. It took a lot of self-convincing to pull the trigger.
But once I did, I could feel the weight of it off my shoulder.

I didn't realize how much that business was holding me back. The time and effort I was putting into keeping it going, was taking away physical time and mental energy that I could have used to pursue big, new dreams.
The moment of truth came for me when I had to miss a rather important event at my girls' school because I committed to a client. Now, I still miss school events for work, it happens to all of us. What made this particular incident sting was that I finally understood that I was compromising the life I wanted to live for something I didn't want to be doing.
I started my first business so I could create a sense of balance between work and family, and it was becoming more and more evident that the company wasn't helping me grow in either area.
It's okay to admit when something you once loved doesn't serve you anymore. It's even more okay to do something about it. For me, I had tied so much of my identity and self-worth around the success of the business, that it was hard to see what and who I could be if I stepped onto a different path.
Of course, once I did, everything started to fall into place.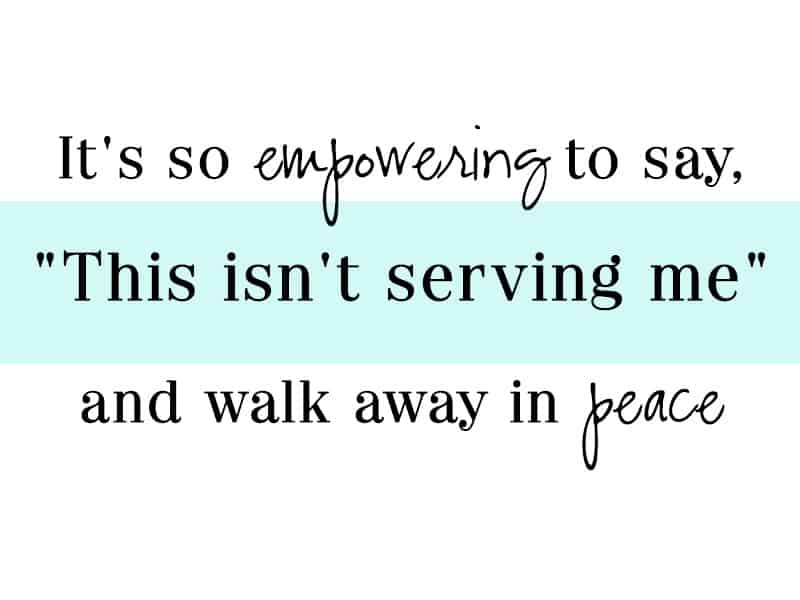 2. The One Question Parents Should Ask Themselves Before Posting Their Kids on Social Media.
I really struggle with the idea of posting pictures of my kids on my public profiles. There are so many influencers who use their kids in multiple posts a day, especially on Instagram, often in paid sponsorships, and I wonder if they ever consider their kids' privacy. For me, I made the decision to not post about our girls on the blog, and in a very limited way on social.
I think about when I was 12, and how mortified I would be if my mom posted snippets of my life for the world to see. And, I've been on the receiving end of how mean the internet can be, I can't imagine exposing my kids to that. Life is hard enough.
3. Nontoxic Beauty at Target.
Nontoxic beauty has come a long way in the last five years. As good-for-you products have become more popular, their quality has improved, and the prices have become more attainable. You know something has hit the mainstream when you can get it at Target. You can pick up everything from natural deodorant, perfume, and makeup and skincare.
4. How Often Do You See Your Girlfriends?
Because according to this article we should see them twice a week, which is never going to happen. Thank goodness for text messages, not exactly the same thing, but it helps maintain your connection and bond. Maybe it's time for all of us to schedule a much needed girls night out.
I tend to go to the conservative extreme when it comes to handbags. In my mind, if you're going to spend more than a couple of bucks on a bag you should be able to wear it for a long time. But what if your style is bold and playful?
You might get tons of use out of something not so classic. This crossbody comes in 12 colors, some in solid some in bold color block. I especially love the vibrant "poppy" and the "pewter combo."
6. Best Love Songs of All Time – in Movies, Ranked in Order of Most Romantic.
I am a ridiculous romantic, so this list is right up my alley. I was surprised what they ranked #1, but happy to see my favorite song of all time at the #11 spot.
7. Sweet and Feminine Dresses. Vivian's Christening is in a few weeks, and I'd like to wear something new. I'm looking for the opposite for the sleek sheaths I wear to work. Gal Meets Glam, a popular blog based in Charleston, launched a dress collection early last year, and it's lovely.
I have my eye on this pink fit and flare midi, and this ivory side tie dress or maybe go with a stunning navy jumpsuit.
8. Loafers for Work.
If you're looking for a tailored loafer for the office, take a look at Everlane's The Modern Loafer. It comes in ten gorgeous colors and is loaded with positive reviews. Loafers work well with straight leg trousers, ankle pants, and even jeans for casual days when you still want to look polished.
For well under $200, the have a high designer look at a more affordable price.
9. Work in a Male Dominated Field?
Then this article is for you. One quote stood out, " if we make clear that women can, and should, make their voices heard, we can upend the gender imbalances that exist across numerous fields — and get that 'slow and steady' pace up to modern speed." Sounds like a good lesson for all of us, regardless of our line of work.
The winter sale at Nordstrom is an excellent opportunity to stock up on basics or save a little on some pieces for spring. I'm using it as an opportunity for a post pregnancy lingerie drawer refresh. This Wacoal is a fantastic every day option, and so is this Chantelle tee-shirt bra is an amazing value at $44.