Last Friday, I turned 39. It's crazy to think I'm in the last year of my 30s.
It's been a bear of a year with some some great big highs and some great big lows. Because my birthday is so close to the new year, I take the opportunity to start to look back on the year and into the future.
This year, I very intentionally focused on my personal growth. I took stock of relationships and how they made me feel. By doing so I set some boundaries that I swear made me physically and mentally healthier.
I looked back on situations I found frustrating or where I thought I was the victim and forced myself to take some level of ownership.
I made choices about how I used my time and resources and finally understood the power of "no."
Most of all, for the first time in maybe forever, I can say I learned how to managed my reactions and emotions when dealing with some of the lows of the last 12 months in a way that makes me proud.
In a year that felt very much out of control, I learned how to control my thoughts and reactions. I'm far from perfect. I still flip out every now and then. But I see the difference my control and calm has had on my kids, husband and immediate family.
Because I'm not allowing myself to go down the rabbit hole of fear and anxiety like I used to, my mind is able to stay clear, and I credit much of the blogs immense growth this year with the fact that I was laser focused. It would have never happened if I continued to indulge in negativity.
When I stumbled on this quote, I knew immediately I wanted to use it as my motto for 2019. Every year comes with challenges. Our success, personally and professionally, is 100% tied to our reaction and perspective.
I'm ending 2018 completely exhausted, but also so excited for what's to come.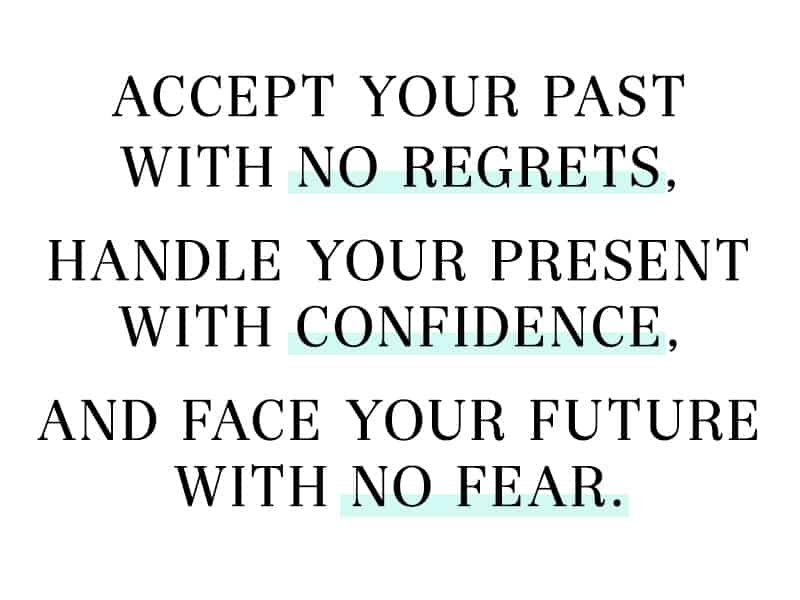 2, Where Joy Hides and How to Find It. This Ted Talk by Ingrid Fetell Lee was not what I was expecting but I'm so happy to have watched it.
3. The 5 Second Journal. A few weeks back we featured a podcast with Mel Robbins, creator of The 5 Second Rule. So many of you sent me notes about how much you enjoyed it and purchased her book. I recently discovered that she created The 5 Second Journal, a way to collect and net out your thoughts every morning to help you reach your goals, big or small. Of course I picked it up, just in time for the New Year.
4. The Payless Prank. You probably heard of the prank Payless shoe store pulled, convincing some internet influencers to spend hundreds of dollars on their shoes that typically sell for under $30. While it seems like a clever "gotcha" moment, there are a lot of problems with how they approached it. First, I would argue that the "influencers" were more wannabes than actual public figures with influence over an audience. Any legit influencer worth their salt can spot the difference between a $30 and a $600 shoe. In fact, most people without huge Instagram followings probably could.
This article summed up some great points, including how marketing plays a key role in connecting with your target consumer. Playless makes no attempt to lure a more fashion conscious customer into their store, but then turns around and mocks them. For as much as I call b.s. on influencer culture, something about how Payless went about this didn't feel right to me.
5. Uggs for the win. I've reached the point in this very uncomfortable pregnancy where the swelling in my feet is so severe I can't fit into my shoes. Not, "oh, they feel a little snug," but they physically do not fit into a single pair of shoes I own. I had an old, ratty pair of Uggs in my closet that I bought when my feet were swollen with Ava (almost 9 years ago) and they were the only thing that let me leave the house. I decided to order these to upgrade them, and figure I can wear them around the house after she's born too. Have I said I can't wait for this to be over? 18 days to go.
6. When it's good, it's good. Animal print clothing doesn't always translate, it all depends on the kind of print and style of garment. When I saw this Eliza J Animal Print Midi dress, I squealed out load. What a fun, and different piece. Wear it to work if you can get away with something so bold or take it to a holiday brunch with friends. Instead of the open toe shoes on the model add a pair of opaque tights and ankle boots. If you're under 5'8 you'll need to hem it, but it's on sale for $80 so it could be worth it.
7. Battling Holiday Depression. It's easy to forget how hard the holidays can be for people. This quick article breaks down helpful tips for dealing with depression. It's also a reminder of our collective responsibility to be kind to one another and check in with those who might need some extra love this year.
8. Velvet Hair Accessories are big right now. They look lovely with shoulder length or longer hair. I like the idea of adding a subtle hint of glamour this time of year to a simple outfit. I picked up this affordable hair tie, to feel festive between Christmas and New Years even though I'll have a newborn and will just be in a sweater and leggings. Ann Taylor also made sleek option, and Anthropologie has a crushed velvet version.
9. Tree Collar Trend. Fingers crossed that our new floors are fully installed this week so we can get a tree this weekend because I'm geeking out over using a tree collar instead of a tree skirt. Skirts are pretty, but get messy and kicked under the bottom of the tree. A tree collar gives the base of your tree a neat and polished finish. I like this galvanized one at TJ Maxx, this willow one from Target, but I ended up ordering this gold one from Amazon.
10. Maternity Leave. I've had several readers ask about my plans for the site when the baby is born. Right now, I'm working from home this week, tying up loose ends, clearing out my inbox and setting up posts for the rest of the month. We always take off the week of Christmas through New Years, so this year, our last post for 2018 will be on December 21st. We would typically be away until the 4th, but this year we'll be away until 1/14. That Monday we'll be back with our regular content.