I am taking maternity leave a little earlier than planned, beginning this week. My pregnancy took a turn a few weeks ago when I started to experience an extreme case of edema. Fortunately, my blood pressure is healthy, but as a precaution, I've been put on bed rest until I deliver. Frankly, the swelling is so severe I'm in pain all day long, it's hard to stay focused for any length of time, I'm pretty much over it and not feeling very inspiring.
Over the last few weeks of living through our remodel, being very pregnant, and trying to tie up the year with work and family commitments I've had my mini-meltdown moments. It's easy to let overwhelm blur our perception of reality. But my blessings eclipse any temporary discomfort or stress I might be under. Everything that's happening now, while incredibly inconvenient and uncomfortable, is something we'll look back on and be happy we did.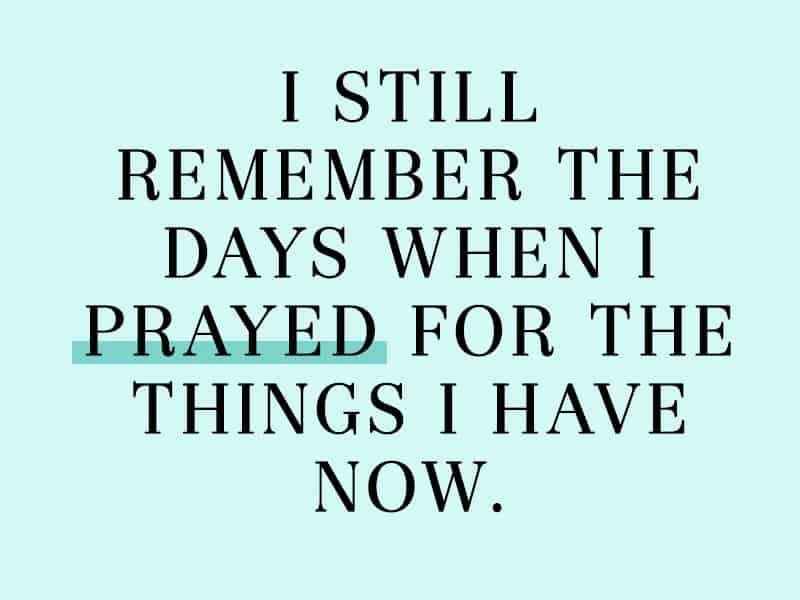 This is one of my favorite quotes. I try to keep it top of mind, especially when life gets frantic. Taking day to day life for granted and complaining is easy. Especially when the kids are being sassy, the house is a mess, a bill comes in higher than expected. You name it, we all deal with it. But there was a time when these days were exactly what we were working towards, and while annoying, they are part of the bigger, more beautiful picture. I know thinking like this puts me right back on track and helps me deal with daily annoyances better.
2. Warm Christmas Croissants. One of my favorite traditions Bri and I started as a newly married couple was having warm croissants on Christmas morning with hot chocolate. Now, I can't believe we're about to celebrate our first Christmas as a family of five. I use to pick up the croissants from the local bakery and warm them up on Christmas morning. Over the last few years, we've taken it a step further and order these incredible ones from William Sonoma. I buy the duo pack with plain and chocolate. They come with enough to last between Christmas and New Years. Order them by Tuesday to guarantee delivery and save 20%.
3. Cozy Joggers. Sweats have come a long way. I know I don't always want to wear a pair of leggings, but still want to look a little polished, even if I'm just knocking around the house. Joggers are a great solution. They have a tapered leg, while still giving you room to move. I ordered these in black and gray from Nordstrom. I can wear them around the house with slippers or throw on a simple sneaker to run some errands and not look like a total disaster in public.
4. The Importance of a Mental Health Day. We stay home when we have a fever or a stomach bug, but when we're genuinely fried, at the end of our rope or suffering from anxiety, we keep on moving. When we struggle mentally, we operate distracted, overwhelmed and not at our best. So why not take a personal day, or sick day to help get back on track. Of course, if you're dealing with a more significant mental health issue, talk to a doctor and other professionals. But every now and then, a day to rest and pull ourselves together is good for everyone. This article makes a strong argument for not only taking the occasional mental health day but supporting colleagues that need one.
5. Rolling Laundry Basket. I haven't slept a full night in months, a lovely byproduct of pregnancy. By 3 am, I'm up. For the past few weeks, I've used the time productively, finishing up shopping for the holiday and the baby. But every now and then I completely forget about a purchase until it shows up at my front door. Such was the case with this rolling laundry basket. We moved our laundry from our basement to our main floor, so I thought having something on wheels would be helpful for the kids and me when putting our clothes away. While it's more than what I would have spent had I shopped in the middle of the day, the quality of this basket is fantastic, and has been extra useful given my lack of mobility. You could use it for laundry, or as a catch-all to quickly tidy the house.
6. Fun Faux Fur. Looking to add some extra glam to your holiday outfit? Try faux fur. There are some chic options available right now. I love this simple black coat that would layer over a cocktail dress beautifully. This cropped option would be fun with jeans and heels, or pick up a detachable collar to add to a coat you already own.
7. "Leaning In" doesn't work. If 2018 showed me one thing, it's that you can't have it all, at least all at once. Women make sacrifices all the time, big ones and dozens of daily little ones that no one sees. I think we're so used to making concessions for everyone else that we don't even realize what we sacrifice until later. So I was so happy when Michele Obama made headlines last week, saying pretty much that. This article gives some greater detail about why she's right, and how "leaning in" can actually backfire.
8. Sleek Rain boots. One of the challenges I have with rainboots is that the popular ones, (i.e., Hunters) seem to require you to create your outfit around the boot. They look adorable on the weekends, but what about when you have to go to the office or just don't want your boot to be the focus of your look? Sam Edelman created these sophisticated black rain boots that sell for only $55. You can wear them with jeans, or trousers, and keep your feet dry without celebrating your gear. unl
9. Best Audio Books of All Time. Looking for some audiobook ideas to get you through your commute, or maybe a flight this holiday? My Domaine came up with their picks for best of all time – debatable, of course, but there are some solid contenders including everything from The Goldfinch to Mindy Kaling's Is Everyone Hanging Out Without Me?
10. Best of Week. We'll still have content scheduled for this week, so be sure to check back in daily. Next week, starting on the 17th, we are going to count down our top 5 posts of the year. We have welcomed thousands of new readers over the last few months so many of these posts will be new for you. Then, like we do every year, we are taking off from December 24th – January 4th. I'll be back with new content on Monday, January 14th.
We'll also post updates when the baby is born. You can follow along here on the blog, on Instagram, and in our Facebook private group.