Last month I took my oldest, Maddie, to New York to see Harry Potter and the Cursed Child for her 12th birthday. For a Harry Potter obsessed kid who sings show tunes in our kitchen every day, (all day, every day) there was no better gift.
As parents, we spend a lot of time exhausted, overwhelmed, and second-guessing ourselves. With two of my three girls on the cusp of becoming teenagers, I find it challenging to balance their strong-willed nature while keeping them age-appropriate and respectful. Like most mothers, I know if we can just survive these years, my girls could rule the world.
I've always been a working mom, and now their lives feel as busy as mine, so scheduling 1:1 time together is a priority. I love when you take away the noise, distractions, and outside influences of day to day life and get to see the very best of your kids.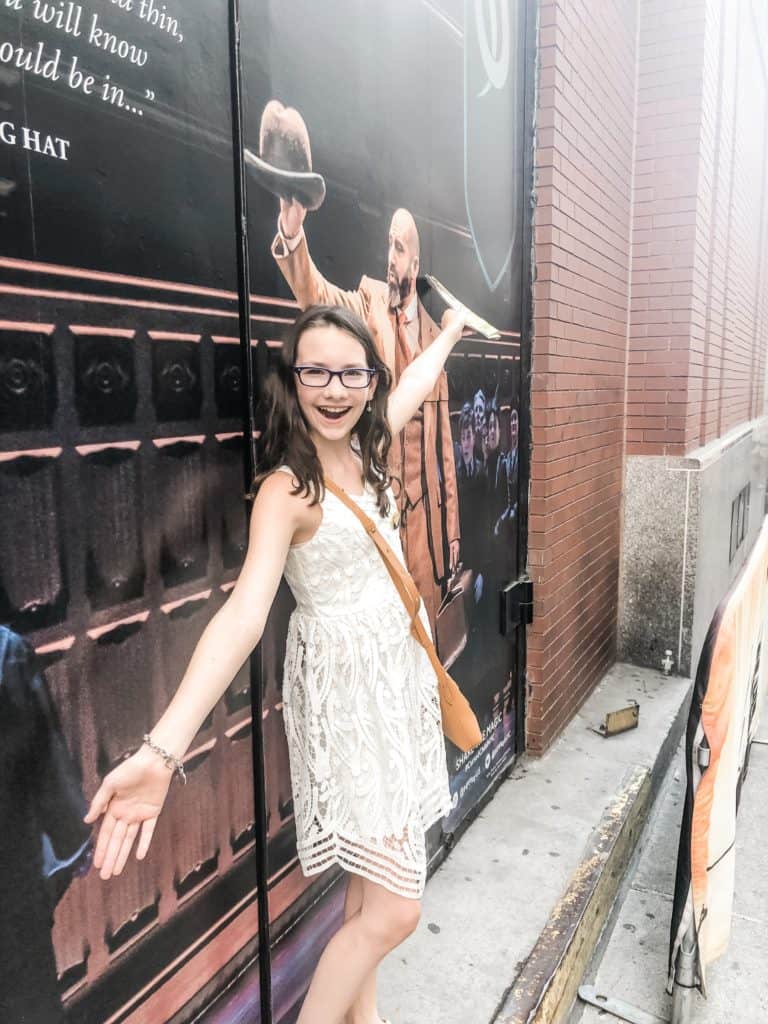 Admittedly, I run a pretty strict house, but I'm a great date. My kids are always excited when "fun mom" shows up. A weekend with me, when you're the only child for a few days, means you get whatever you want. Butterbear (check), $32 souvenir cup (check), fancy dinner, dessert, and a late-night out in NYC, check, check, check.
As I sat in the Lyric Theater, I was overwhelmed watching Maddie beam. I got teary-eyed by her joy and excitement seeing characters she has adored since she was a little girl come to life in front of her eyes. The show itself was incredible, and I marveled that this beautiful young woman, with a gorgeous ear to ear grin, was my baby.
The next day, instead of heading right home, we decided to walk around the city. I relished her holding my hand as we strolled in and out of stores, and I listened to her chat about whatever was on her heart.
Before we went home, we headed to BGs at Bergdorf's for lunch. Their restaurant on the seventh floor is the quintessential New York ladies-who-lunch scene. I was right in thinking she would get a kick out of the posh interiors and a stunning view of the park.
As we sat and talked, I could see her soaking in all the loveliness around her. Her delight made my heart burst.
Then she spotted a table of older teenagers, dripping in uber-luxury brands, slumped in their chairs, heads buried in their phones. She heard them be unkind to a member of the wait staff, and we could feel the air of entitlement around them.
I was annoyed at their general lack of respect but ignored it since I noticed the maître d' had their number the second they walked in. It was clear this was not his first rodeo. So I watched Maddie observe them for a few moments in silence.
"Mom," she said, nodding her head in their direction, "That's sad. They don't even look like they are having any fun."
She was right; it was sad. Imagine sitting in an elegant restaurant on a random Friday afternoon in the summer and not feeling thrilled to be there. Imagine being too cool for experiences most people will never have. In the context of some overly privileged teenagers, it is sad.
But it's also sad for so many of us, myself included, who fall into habits that limit our enthusiasm for life.
So many times over the years, I have hidden my enthusiasm for something, usually my work, for fear of looking foolish. I've held back my excitement and dumbed down what I do because I don't want people to think I think I'm something special, or come across overly confident. As a result, I've lost some of my fire and certainly stopped having fun.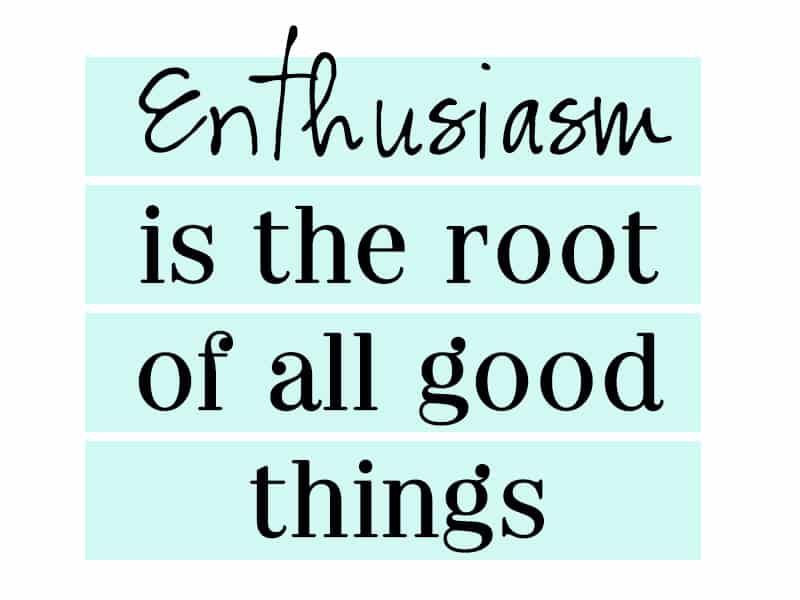 Enthusiasm fuels our desires. It helps us enjoy and appreciate experiences and relationships; it also a powerful driver of creativity and innovation. I'm sure thankful the cast of Harry Potter eagerly performed with their hearts on their sleeve. I'm even more grateful I got to experience the weekend through Maddie's thoughtful, pure-hearted perspective.
It gave every moment we had a together deeper meaning and provided me a lesson I'm not soon to forget. I've carried Maddie's words with me for the last several weeks, using them to challenge me to lean into my passions and allow myself to enjoy my work again.
Refresh
2. We're headed to the shore in a week and needed to refreshed our beach towels. I bought a set of these cabana stripe cotton towels, an excellent value at four for under $50 on Amazon. They are great for the beach or to keep on hand if you have a pool. Also, when did beach towels become so expensive??
Depuff
3. I keep this ice roller in my freezer and use it a few time every day. Your skin will look firmer, pores smaller and you whole face will appear less puffy. For $13 it's a steal.
Great Fit
4. Good American jeans are awesome, there's no getting around it. I picked these at the end of the Nordstrom Anniversary sale and love the fit so much. And bravo for sizes that run 0 – 24.
Curl
5. I caved and ordered the Tyme All-in-One Styler after seeing it show up in my news feeds dozens of times. It is frustrating and hard to use at first. It took me a full week of playing with it to figure it out, buy HOLY COW once you get the hang of it your hair looks amazing. You can see the results in my Instagram stories.
Priorities
6. This is what employers need to do when it comes to work-life balance and it's more than just handing out perks.
Cheers
7. We met up with friends on Saturday night and I kicked off the evening with a Strawberry Mango Margarita that was delicious and went down way too fast. I'm going to recreate it for happy hour at the beach.
Currently Reading
8. Just in time for the new school year, my friend, a former teacher with a 9-year old as equally hilarious and strong-willed as my own, recommended the book Smart but Scattered The Revolutionary "Executive Skills" Approach to Helping Kids Reach Their Full Potential.
It's a helpful guide to help bring out the best in our kids, providing real strategies to help control impulses, stay organized and keep their focus.
In Case You Missed It
9. We kicked off incorporating more real life pictures into the site on Friday. Thank you for all your incredibly kind words, it makes putting myself out there less intimidating.
We are also working on growing our communities on Instagram and Facebook, creating content unique to each platform. If you'd like to follow along, you can follow us on Instagram here, or join our private Facebook group here.
Change
10. What else can we say about the epidemic of mass shootings that are ravaging our nation that we haven't said already? Whenever these tragedies happen, now at an astonishing level of frequency, I'm at a complete loss for what to do. All I can think of now is to focus on creating a positive online outlet that I hope is a helpful, thoughtful space that serves as a happy break in your day.
If you feel as helpless as I do, take a moment today to do one random act of kindness. It can be as simple as paying for a strangers coffee, stopping by n elderly neighbors home, or sending a someone in need a gift card for groceries. Whatever you do, you'll be giving someone else hope.
And, as long time supporters of common sense gun laws, I would encourage everyone to be a part of the change we desperately need and consider supporting: Moms Demand Action (part of Everytown), or Sandy Hook Promise. Both organizations work tirelessly to make our country a safer place.