Over the last few years, there's been this revolt against being busy.
"Don't be busy," they say, "be productive!"
or
"Nobody is too busy, it's just a matter of priorities."
Why is being busy getting such a bum rap? I don't know of a single modern woman who isn't busy, overwhelmingly busy, every single day.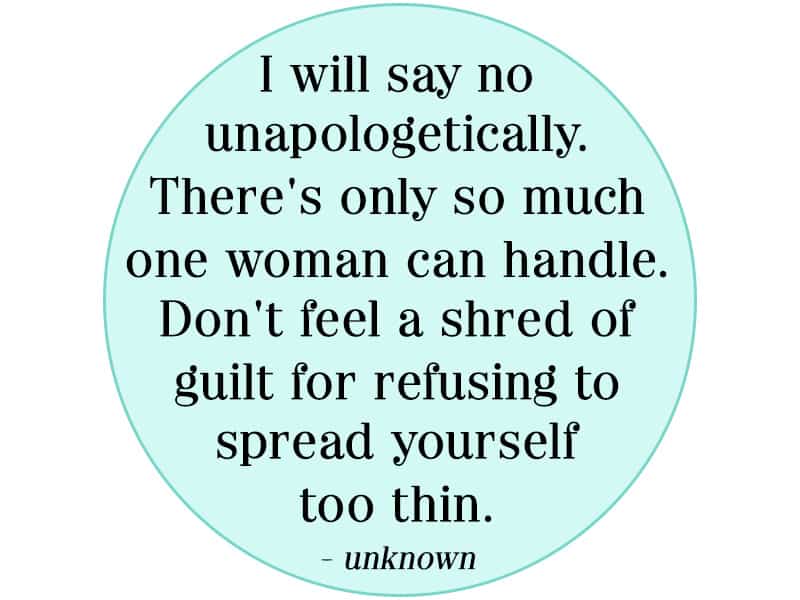 The minutia of life isn't necessarily productive, and I don't want it to be a priority, but if it's not taken care of nothing else can get done. So unless I'm going to hire a driver for my kids and a full-time housekeeper and personal assistant, sometimes I'm just going to be busy and unproductive, and it doesn't need to be a reflection of my priorities.
It feels like more silly societal pressure. It's not enough that the responsibility of running a home, managing a family and providing for said family rests on our shoulders. We also have to be effortlessly organized with our priorities perfectly aligned; we need to be productive all the time. Because now, telling someone "I'm too busy" is seen as self-important and lacking interest.
Yet, we're encouraged to start saying "no" to things. Hmm …
Modern life is busy, and women are often the ones to take on that work so others can be productive. What complicates things more is when our commitments are in and outside the home. We're faced with the challenge of having to simultaneously manage the daily responsibilities, and move our career or business forward.
Managing the busy isn't always as easy as sorting our priorities into some hierarchy. Most of us are doing the best we can with whatever is thrown at us that day and hope we get a few things accomplished.
"Busy" will look different as we move through each phase of life. But we don't need any more pressure, especially from each other. So, ladies, can we collectively cut each other some slack? Let's just admit we're all too busy, and that's okay? Let's say "no" unapologetically, go ahead and say it's because you're too busy, and let's give the women in our lives the space to do so too, and help each other out when we can.
2. Launching a Start Up Midlife. Think you're too old to start a business later in life? According to this article, the only impact your age will have is make you more successful. You'll still have lots of challenges, but your diverse network, work experience, increased confidence and change in parenting dynamic (i.e. having adult children compared to toddlers) makes you prime to hustle your way to success.
3. Need a gorgeous black dress for work? If I didn't have a bump this stunning Theory dress would be one of my first purchases for fall. You can wear it to the office and dress it up easily for an evening event.

4. Is it your instinct or your anxiety? I have strong intuition and strong anxiety which leaves me in a state of utter confusion at times. I've been trying to teach myself to decipher between the two. I'm starting to learn the subtle differences, by looking back on moments I had a gut feeling that turned out to be correct compared to moments my anxiety acted up yet nothing bad happened. This is a quick and helpful article if you find yourself in a similar state of mind.
5. Stock up now. We feature a version of these ankle boots every year and every year they become limited in sizes by the end of September. Grab them now if you need a new pair and check back on Friday to see how to wear them this fall.
6. DVF for the win. Everyone knows my love of DFV. I FLIPPED when I saw this midi length shirt dress. So often, her dresses are super short and don't work when you're tall like me, but this one hits below the knee. I would hem it to the very top of my knee and pair it with classic black suede pumps.
7. Worth watching. I always have podcasts and videos on in my office as I work, mostly as background noise. But when this conversation between Brene Brown and Lewis Howes came on I stopped everything. As someone who never really feels like I fit in, I was particularly struck by how Brene articulates the difference between fitting in versus belonging. Often we have to compromise a little of who we are to feel like we fit in, but that doesn't happen when you feel like you belong and that is really what we are all searching for.
8. A splurge worthy of splurging. If you are looking to make an investment in a classic daytime bag, this Michael Kors Collection satchel is divine. The body is woven, the straps are leather, and there's no logo in sight. And trust me, I looked for the less expensive version, and so far – nothing.
9. 21 day Self Care Challenge. I was scrolling on Pinterest when I came across this article promoting 21 days of self-care. What a great idea to try to incorporate as many of these tips as possible as we head into the busiest time of year. Maybe I'll come up with a list of my own to share. What would you add?
10. Mourning the Maverick. I don't ever talk about politics on here for obvious reasons, but I'm definitely a political junkie. As an avid reader, my library includes any and every autobiography by modern political figures of the last 30 years, regardless of party. I love learning about their background and struggles, their childhood, and hearing their point of view on topics and issues, especially those I may not agree with or fully understand. I recently finished John McCains last book, The Restless Wave, and was left grateful for his lifetime of service. In light of his passing this weekend I hope his legacy helps our country return to civility, respect and healthy, spirited debate without turning each other into the enemy.