I took last week off so I could unplug and spend time with my family at the shore. It is truly my favorite place on Earth. It's peaceful and feels nostalgic and innocent, like a moment frozen in time.
I love early morning walks for coffee and donuts, seeing older gentleman buying their newspapers, teenagers on bikes headed to their summer jobs, and kids walking barefoot to the beach with surfboards under their arms. Nothing has changed since I was a kid. Now, watching our kids enjoy it as much as I did makes my heart so happy.
And no matter how fancy I think I am, I would hands down pick drinking cheap wine out of a plastic cup while dancing at a dive bar by the ocean with friends over anything else. Plus, it thrills me that we are not the oldest people in the bar … yet 🙂
This year felt extra special. We rented a house with our good friends and over the week ran into dozens of other friends and neighbors. We hung out at night with many of them, or our kids played on the beach together, it was ideal. The break from our normal hustle and bustle lives is just what we needed before we start another busy school year.
One morning, as Bri and I took a walk with the baby, we talked about how lucky we were to raise our kids in such a lovely community and how things weren't always like this.
Back when our big girls were babies, we lived in a house too small and not set up for a family. Our block had no kids, or people are age. We felt isolated and, frankly, kind of lonely. We were a little out of place and unsure of how to navigate life.
Eventually, as it usually works with young kids, we met a few families in our girls preschool and all quickly became friends. When we finally moved into our forever home, we realized, to build the community we wanted we had to show up. And as intimidating and vulnerable as that felt, especially for two introverts, that's just what we did.
It was slow and steady at first. We decided to go to every get-together, party or event we were invited to, even when we were too tired to go. We made it a point to talk to new people; we started to host things ourselves and then took on volunteer and leadership positions in our neighborhood.
Bri said it best, this week felt like the accumulation of a decade worth of effort and consciousness. Those original families we bonded with at preschool all those years ago are now amongst some of our best friends. Over time, we've realized how many friends and relatives we have in common. The amount of overlap and shared connections we have is remarkable resulting in a true community of friends and families who really value the idea of showing up.
While it sounds fun, and it undoubtedly is, it's also not always easy. It's a testament to the idea that nothing good comes without effort. So take on some extracurricular responsibilities, support your friends' charities, volunteer, or just invite the new mom on the block over for wine. The benefits of showing up, and putting yourself out there, no matter how scary, are more than we could have imagined.
The feeling of connection and friendship, for our kids and us, is really what life is all about.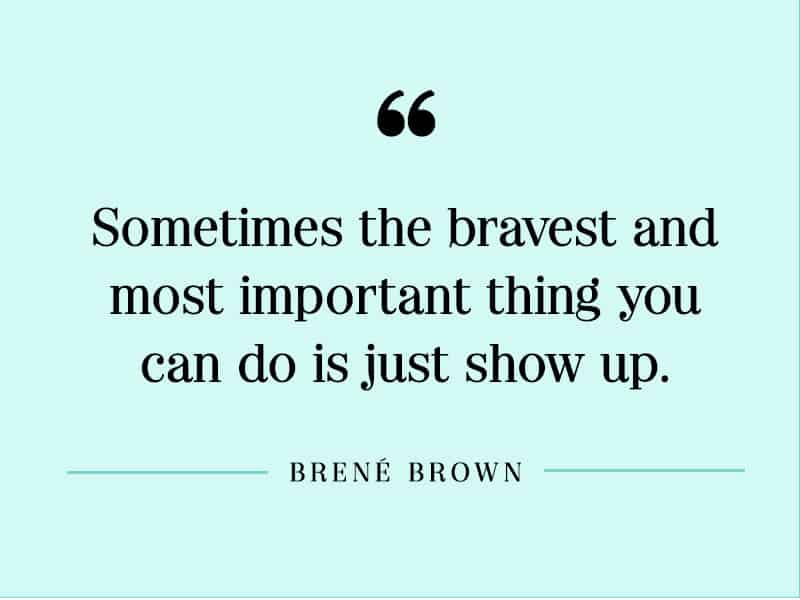 2. Quintessential Fall
In the fall, I live for a quilted vest. Yes, they are predictable and basic, and I don't care. Look for ones with thin quilting (you don't want to look like you are wrapped in a comforter). Avoid boxy cuts and instead, have them follow the shape of your body. This year, I am crazy for this Barbour navy option with a merlot color lining. Patagonia is another go to for me, this one is sporty so it's ideal for early morning games with the kids. Finally, this classic navy vest from Lord & Taylor has a stand color, slim cut and will work with both jeans an leggings.
3. How to Forgive
This article on forgiveness is one of the best I've ever read and hit home with me. I especially love the idea of using positivity to balance the negativity you feel. In this case, when anger starts to build up, think of a positive quality of the person. That takes an immense amount of discipline, but boy does it help.
4. The Rise and Fall Haltson
Last night, CNN aired their documentary about legendary fashion designer Halston. His story is both inspiring and tragic. From his early days selling hats at Bergdorf's to his meteoric rise as the first real American fashion brand, to his untimely death, it had me completely captivated. (And I worship Liza Minelli, so seeing her in all her glory didn't hurt either.)
5. How to Tell if You've Reached the Point of Burnout
Burnout is a real thing. In the midst of it, you can feel helpless and hopeless, and everything becomes insurmountable. This article makes the case that, while a vacation can temporarily make us feel rested, creating healthier routines and habits, including diet and exercise is the key to combating it in the long term.
6. Yeti for the Win
I bought this Yeti wine tumbler (in white) earlier this summer and am shocked how much I use it. Last week especially, it was a big hit on the beach. It's classier than a red cup and keeps your beverage perfectly chilled. For around $25 they make a great thank you or simple holiday gift. Add your favorite bottle of white to kick the present up a notch.
7. Early Fall Picks
There are a handful of pieces in my shopping carts right now that I plan on bringing in for very early fall. This sweater with a contrasting collar from J.Crew Factory in Navy and Black would be adorable for a back to school nights with a pair of ankle pants and loafer. I also love this menswear inspired midi pleated skirt I spotted at Target yesterday. (It's available in missy and plus.) Pair it with a simple white shell, denim jacket and pumps.
8. Meal Prep
The end of an over-indulgent week at the beach coinciding with the start of the school year has me ready for a reset. I spent yesterday meal prepping. I cooked quinoa, washed and chopped veggies, roasted sweet potatoes, and Brussel sprouts and marinaded chicken so we can throw together some quick lunches and dinners. It was all rather satisfying. To pull the meal together, I grabbed a few of these Primal Kitchen dressings. They work as a marinade and vinaigrette, are crazy delicious and super good for you. The Honey Mustard and Sesame Ginger are our family favorites.
9. Currently Reading
I'm not reading anything right now since I'm up to my knees in back to school prep. So tell us in the comments below, what was your favorite book of the summer and what are you planning on reading this fall?
10. In Case You Missed It
We're gearing up for fall with a new Wardrobe Challenge. We'll start in mid September and, once again, host it in our Private Facebook Group. More details will be posted soon. Our Private FB group is a lovely community of women, who use our page to ask questions, share outfit ideas and look for support. It's easy to join, but, you MUST answer the three membership questions so I know you are not a (1) troll, or (2) fake account. If you don't answer all three questions I have to decline your request.