I cannot put into words how much I love this quote from Glennon Doyle. When I read it, the words went right through my heart. Wouldn't it be nice if all women did this for each other? Imagine our communities and neighborhoods if we took a minute to extend kindness to the one woman standing off to the side? Imagine how that act of compassion, as simple as it seems, changed her day, her perspective, or her life. Because it can.
There are a lot of people walking around this world feeling like they don't belong, whether they are shy, maybe a little awkward, or dealing with something much bigger. Everyone is just hoping that they encounter someone with enough compassion to bring them into their fold. All of our lives are so busy that it's easy to forget that grown-ups are no different than kids in the fact that a little kindness can change their outlook on everything for the better. We are all just looking for connection.
Since getting the kids ready to go back to school means we all are going back to school, pay extra attention to who might need a smile, a friendly conversation or needs to be properly welcomed into your community.
Kindness and inclusion are two things you can give someone, that takes little effort, costs no money and makes the most significant impact on a person's life. See what happens when you make your circle a horseshoe.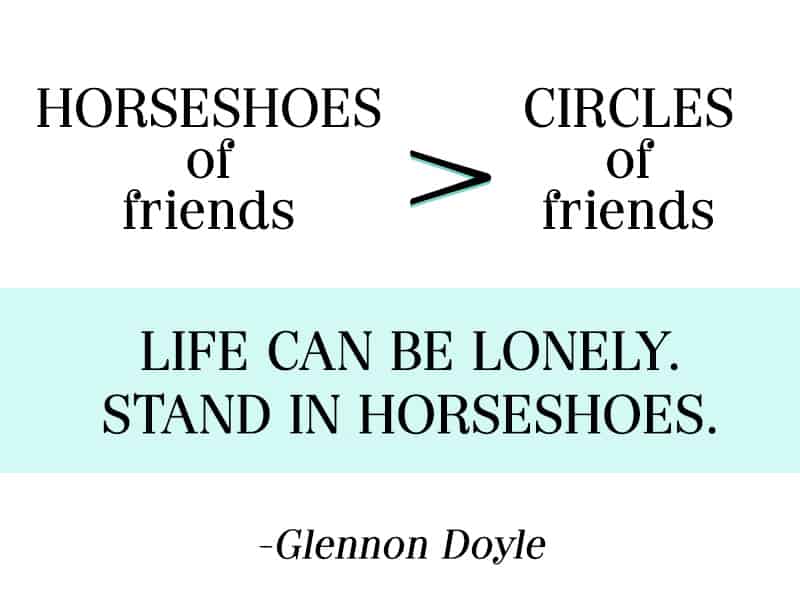 1. Quote of the Week
"If you are standing with other women in a circle and there is a woman standing alone in your circles vicinity – the thing to do is notice her, smile at her, move over a bit and say, "Hi, come join us!" Even if she decides to not join your circle, or looks at you like you are crazy – inviting her is still the thing to do. This advice is meant for both literal and figurative circles. Widen your circle. All the times. Always leave space.
Horseshoes of Friends > Circles of friends. Life can be lonely. Stand in horseshoes." Glennon Doyle
2. Notorious RBG. If anyone is wondering where I'll be on Monday, September 3rd,
I'll be glued to CNN to watch their much-anticipated documentary on Ruth Bater Ginsberg. I am fascinated by her life, grit, and determination. From her long marriage to Martin Ginsberg, which even by today's standards is still quite revolutionary, to her friendship with her ideological opposite, Antonin Scalia, and all the trailblazing ways she made being a modern woman as I know it possible, it's sure to be an inspiring few hours.
3. Weelicious Lunches Cookbook. I am more a "doing the best I can depending on the day" kind of mom than a Pinterest mom. Pinterest moms aren't running through the aisles of Target at 9 pm because they realized tomorrow is "crazy hat and sock day" because Pinterest moms already have a collection of crazy hats and socks for such days. But Pinterest moms do kill it at lunch, and much to everyone's surprise, no one more than me, so do I. I get a lot of satisfaction putting together healthy, interesting lunches for my kids. This school year, I picked up Weelicious Lunches, a clever cookbook with hundreds of creative lunch combinations that will satisfy even the pickiest of eaters. And don't worry, the chances of me having to drop these off at school at least once a week because I forget to put them in their school bags is 100%.
4. On repeat. After opening my who-knows-what number reorder of Vintners Daughter, I realized I am more loyal to it than any other product, ever. Yes, it is expensive, but for what it has done for my skin I would pay double. I get a little panicky when I start to run low. The good news is it lasts a good long time, as you only need 6 – 8 drops every time you use it. It's moisturizing without feeling greasy, it has somehow evened out my skin tone, made my pores look smaller, minimized wrinkles, and toned down redness. No wonder it has a cult-like following. If you've been thinking of pulling the trigger, I cannot say enough great things about it.
5. Commuter Friendly Tote. We've had a few requests for a zip top alternative to our much loved Street Level Tote. Luckily, Madewell has a similar tote, with a secure top zip. It's more expensive, but it's leather. Sole Society has a woven Vegan leather that is under $40, that's also worth looking into.
6. Light End-of-Summer Pasta. This summer as been our busiest yet, between an extended softball season that lasted all the way through July, to busy work travel, and an all consuming home remodel, we've resorted to either eating out, taking out or throwing something on the grill. I'm really craving some simple, light, and easy dinners I can throw together while I still have a functioning kitchen. This orecchiette pasta is bright and fresh with some great depth of flavor that's incredibly easy to pull together after a long day of work.
7. Early Fall Stripes. Being that I'm entirely over the summer, I'm fully invested in fall fashion, which in my world means jeans and sweaters – specifically striped sweaters. I'm ordering this old classic from Banana Republic to wear with rolled boyfriend jeans and white sneakers. We'll see how long I can get dressed without having to go full on maternity clothes.
8. Honestly Beautiful. I've been slowly cleaning up my beauty routine, from face wash and serums to organic mascara and better quality lipsticks. The one area I haven't focused on has been eyeshadow. I wanted to work through the Naked II palette I splurged on. Now that it is all but gone, I picked up this Honest Beauty collection of neutral eye colors and love it. The color has rich pigment and layers beautifully so you can get as natural or dramatic a look as you desire. I was extra delighted to see it's affordable ($20 compared to Naked's over $50) and free of all the bad for you chemicals found in mainstream products.
9. Even Serena Williams has mom guilt. Being a working mom is hard, and I have it easy compared to most. I know I operate with a certain level of privilege, but we still feel it when a wheel comes off our wagon, which happens on a weekly basis. I firmly believe that working, and in my case creating a career and business from scratch, is the best thing for me and my (soon-to-be three) daughters. But the guilt associated with working still guts me at times.
Like when I recently realized I will likely miss this Halloween for a work trip. Saying yes to this trip will make taking maternity leave for a few weeks a lot easier, and give me the time I need to heal. But, honestly, I'd have to say yes regardless. You're always balancing and figuring out how each decision you make impacts the immediate and long-term. In this case, given the nature of my business and my relationship with this client, yes is the best decision for the situation.
I was comforted while reading this article about tennis superstar and general goddess, Serena Williams. The guilt is real for all working moms. The delicate dance of making decisions, and taking your career and family into consideration every minute of the day, is no joke. Even though we are doing the best we can, society still judges us and holds us to these crazy, 1950's standards. Hopefully, we'll keep moving the conversation forward, and more research will continue to come out showing that we're raising some pretty great kids not despite the fact that we work, but because we work.
10. Male of Female Doctors? This is an eye-opening article about the difference between male and female doctors. I've had my share of medical issues over the past few years. Before then, my experience with doctors, both male, and female had been yearly checkups, and "maintenance." I wouldn't have claimed to notice a difference between the two. But now that I've had more severe issues, all related to being a woman, I have found myself more and more frustrated with the male doctors I've encountered. I've received a lot of shoulder shrugs, blank stares and "that's just your age" reasoning that felt inherently wrong. Even my husband started to notice the lack of empathy and would wonder out loud if I should find a woman doctor.
It turned out to be a female ER doctor and nurse who diagnosed my endometriosis and severe adhesions from multiple c-sections that set us up on the road to fix what's gone undiagnosed for almost a decade. The second she walked into my room, I knew she was going to listen to me.
Of course, I don't think all male doctors are like this, but it's hard for me to give an example of one that's made me feel heard. I wonder if you've had a similar experience?