The day after I had Vivian, I stood in the hospital bathroom, looked at my body, and broke down in tears. Vivi was my third and most brutal C-section. Almost immediately after they put her in my arms, my body went into shock and shook uncontrollably for the next 12 hours. I was pale, bloated, in intense pain, and I looked like I had been cut in half and stitched back up like a science experiment.
When I saw my reflection in the mirror, I was genuinely unrecognizable. With a truck full of hormones raging through me, all I could focus on was what I looked like. My body looked and felt destroyed and I experienced a level of overwhelm like never before. I cried on that bathroom floor until the nurse brought the baby back from her morning check-up.
My recovery from Vivi's birth was as challenging as my pregnancy and much different than my experience with my older daughters. I thank the heavens every day for blessing us with another healthy baby, but, it took every drop of me to get her here.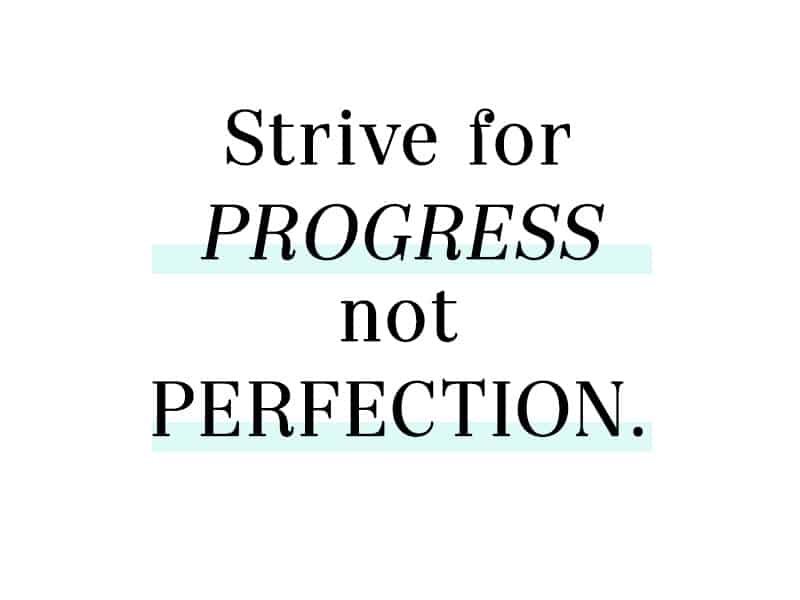 My first few weeks and months back in the gym were awful. I cried through more than one work out, left many classes feeling discouraged. There were days I thought I was getting worse instead of better. Things that were easy before now felt impossible. Pretty much every day I thought, "What's the point? I'm just sore and tired and not seeing significant changes."
Seven months later, I'm only just starting to feel like myself both mentally and physically. I'm a results-oriented person, and often, my motivation comes from seeing incremental progress. That's what fuels my drive and helps me see things to the end. So when I don't see changes or they feel like they are coming too slow, I get so frustrated.
To stay motivated, I've had to change how I perceive progress. Right now, my weight is dropping at a snail's pace, and I'm not as toned as I want to be. BUT, I can feel my strength and stamina increase. I can finally raise my leg in a side plank, and I'm back to a top position on the leaderboard in spin class. Most important, my mind is clear and calm. Progress certainly feels slow, but by changing how I view it and breaking it into the smallest accomplishment, it's helping my attitude stay positive.
Maybe you're on your own journey and feel overwhelmed at how far you have to go. Perhaps you're not yet seeing the results you were hoping to see by now. Try to relax, take your time and break it down into a smaller goal.
Managing our health and wellness should, of course, be a priority. In reality, it's incredibly hard to do with the demands of modern life. I don't think success is as well-organized and prescribed as it seems online. It's messy and emotional, and we piece it together the best we can.
Let's collectively try to tune out the pressure to "bounce back," or not have cellulite. Let's avoid comparing ourselves to others, especially the people we may only get a glimpse of on social media. Instead, focus on starting fresh every day, stay positive, and celebrate your small accomplishments on the way to your bigger goals. And know that many of us, myself included, are struggling along with you.
2. Chic and Cheap Carryall
This striped weekender is under $40 and maybe the best thing I've bought all summer. It's not only functional, but I get compliments every time I use it.
3. Why Kids Quit Sports
The world of kid play is overwhelming for children and parents alike. As a sports mom, it's a tricky balance to keep the game fun while encouraging skill development and learning how to compete. This article is an important reminder that most kids are not going to turn out to be elite athletes, and there should still be room for them to play.
4. Foot Jewelry
I am wild for these blinged out Sam Edelman slides. They are just the thing to zhush up a simple summer outfit.
5. Perfectly Pleated Dress
Looking for a better dress for work and occasions this fall? This JS Collections crepe dress is stunning. They are calling it a "cocktail" dress, but it reads less formal. You could wear it to the office for a presentation or for any number of after-work functions you have on the calendar between now and the end of the year. Add a pair of neutral-to-you pumps, and you'll be ready to go.
6. Winning Drugstore Lipstick
I spend too much money on things like lipstick, so a few weeks ago I decided to try some drugstore brands. Hands down the winner was Cover Girls Melting Pout Liquid Lipstick. It's under $8, comes in an array of shades, lasts a decent amount of time and feels nice on your lips.
7. Classic Black Bathing Suit
I tried on about 400 bathing suits this summer and invested in one. La Blanca makes incredible bathing suits for grown-ups. This one is flattering because it's so simple. It has an underwire to keep you in and up and lets you move around. I wore it this weekend on a boat trip with my cousins, some who are much younger than me, and I didn't feel like an old lady. It's age-appropriate and still modern. You can kind of see me in it here. I bought it in a 10 and the fit is perfect.
8. Currently Making
We head to the shore in a few days, and I plan on making these Lemon Ricotta pancakes at least one morning. They are so delicious my kids request them regularly. The key is fresh ricotta and cooking the pancake on low heat, so it doesn't burn. I skip the caramelized apples and keep it simple with warm maple syrup.
9. Currently Watching
Sustainability and waste reduction in the resturant industry is considered next to impossible. But this inspiring brother/sister team is doing a remarkable job in the NYC based restaurants.
10. In Case You Missed It.
Lots of fun end of summer pick me ups were big hits last week. Leopard was the name of the game with this LOFT short sleeve blouse (on sale!) and this shirt dress from Target was a surprising hit. We also showcased our favorite black jumpsuit – wear it now and in the fall by swapping out your shoe.
And I was THRILLED to see the response to this bold midi skirt form Tuesday's Buy Now Wear Now and Later Post. It's available at Anthropologie – and they get a big thumbs up from me for becoming more and more size inclusive. This skirt is available in sizes 0 – 26.