Last March I looked at our site stats and felt incredibly overwhelmed. There was so much I needed to do to grow, and I couldn't figure out where to start.
There is no comprehensive guide to creating a successful web-based business. You learn by trial and error, by reading hundreds of articles and following a breadcrumb trail of tips and strategies.
In most industries, outsourcing and team building is the key to success. Here, you need to know how to do everything yourself, and in this space, you have to teach yourself all the skills you lack proactively.
So last year, I mentally cleared the decks, and solely focused on our blog. I spent countless hours at night going through the backend of our site, optimizing, editing and cleaning up old posts. I studied everything I could get my hands on to teach me SEO, and learn the algorithms associated with each social media platform.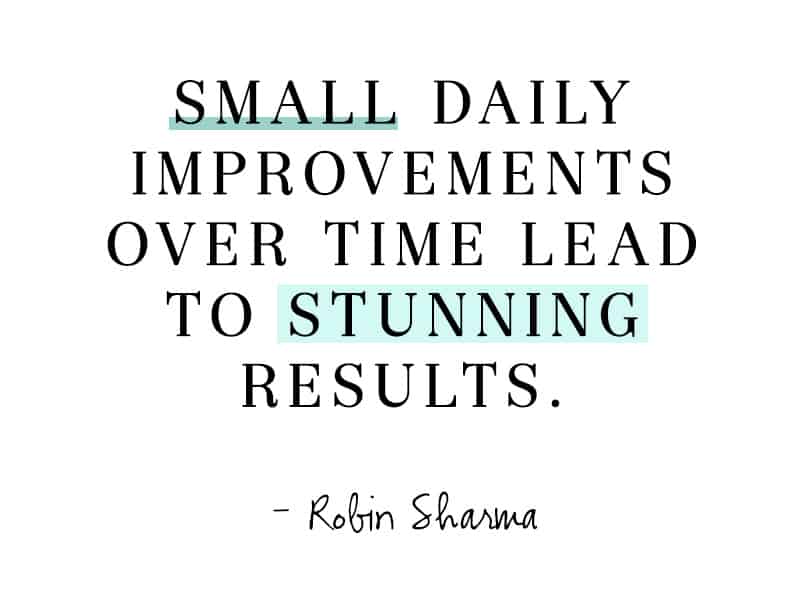 And then I came up with a plan. I broke down each phase into a digestible step and implemented one new change a month. Some changes you may have noticed, others centered around our infrastructure. The whole process was tedious and frustrating.
For a few months, the results were barely noticeable, and I was this close to throwing in the towel, but slowly I could see the dial moving in the right direction. Then, last month, it was like the switch went on.
Exactly 12 months after I initially set out to revamp the site and make it our full-time business, I'm looking at our analytics from March, and we crushed our goals. CRUSHED THEM. Blew-them-out-of-the-water kind of goal crushing.
It makes me think of the saying, "Never give up on a dream just because of the time it will take to accomplish it. The time will pass anyway."
I'm learning that to key to reaching lofty goals is focusing on the small things every day, because at the end of the month, quarter or year, you'll look back and see that it's the compounding effect of persistently improving over time that makes the most significant difference.
We have so much more to do, so many more milestones to hit and ways of growing. But now, I can't wait to see where we are this time next year because I know that slow and steady really will win the race.
This conversation on the goop podcasts featuring Anna Machin, anthropologist and author of The Life of Dad is a testament to the need for dads in our society and how modern, hands-on fatherhood is more masculine from an evolutionary standpoint than culture tends to think.
According to Dr. Sara Gottfried, the key to female empowerment is reclaiming our mental and physical health. There is no getting around it, not eating well, drinking too much and skipping workouts is slowly killing us. When we start taking better care of ourselves, we improve our lives and the lives of those we love. Pick up her book, The Brain Body Diet to better understand the research and learn easy ways to improve your overall health.
This quick post asking women about the bravest thing they've ever done is poignant, heartbreaking and inspiring. From continuing to live your life after the death of a child, to leaving an abusive relationship, or starting a new chapter in an unknown country, this round up will leave you asking yourself the same question.
Every year Via Spiga makes a stunning block heel sandal in a wear-with-everything neutral. I picked up a pair a few years ago and wear them constantly once the weather warms up. This seasons version is just as wearable, comfortable and stylish. They are not inexpensive but if they lasts several seasons you're getting a fantastic value based on price per wear.
6. Spring Cleaning Closet Essentials.
Are you packing up your fall and winter knits and sweaters? Take a few minutes to do it the right way, so your garments stay in good shape. Have all of your knits cleaned according to their care label. Remove them from their dry cleaning bags and store them in a plastic storage container. This will prevent bugs and moisture from attaching to your clothes. Stack sweaters neatly with a piece of tissue paper in between each one to avoid color transfer and pilling. Finally, add some cedar balls and store in a dark and dry area of your house.
I'm always on the lookout for dresses that are simple but with enough of a twist to make them unique. This one at Off Fifth is a powerhouse dress that can go to a baby shower, a wedding or a slightly more formal after work event. It's available in black, navy, fuchsia and royal blue. I'd go black or navy with this, and have it at the ready for whenever I need a social cocktail dress. It reminds me of a Black Halo for a fraction of the price.
8. Inexpensive Easter Baskets.
Easter has gone a little bit off the charts in my opinion. I have "friends" on Facebook who post their kids loot and it's easily hundreds of dollars worth of toys and trinkets. I try to keep things reigned in around here, with a few pieces of chocolate and a special treat, like a book, a craft or a pair of pajamas. This round up has some fun and inexpesive ideas I'll go back to as Viv gets older, like bubbles, a tiny Lego set, or a blank journal.
9. In case you missed it.
Last week featured some well priced spring classics including this popular trench, these timeless ankle pants in a wide range of sizes, and these loafers that will add some much needs zush to any basic outfit.
10. Giveaway Time!
I'm giving away a full size jar of one of my favorite skincare products, the goop Instant Exfoliating Facial. Head over to our Facebook page, find the post pinned to the top of the page and enter by telling us your favorite skincare product. (ON FACEBOOK, not here.) For all the giveaway rules you can check out our post here.