I've learned over the years that my introverted tendencies do me no favors when it comes to growing my business. For me, head down and focused is my happy place. I've never been one to seek out attention or enjoy the "front facing" element of my job. But I know I'm missing a piece of the puzzle. I have to do a few things that seem overwhelming, counterintuitive and at times ridiculous to expand our readership.
So this year I am committed to a bit of an experiment. As I approach 40, I'm making it my priority to do the scary things (personally and professionally) that will help continue to build my character, self-confidence, and also my company.
This week, I registered to attend a conference in Chicago in the summer for bloggers. That might sound like an obvious, no brainer, people-do-this-everyday kind of thing, but for me, it's incredibly intimidating.
I'm attending by myself, and won't know a soul when I get there. Typically, that alone would cause me to panic. I'm also going as a novice, which honestly, I hate. It's humbling to realize how little I know about the world of creating digital content. Being in situations where I lack expertise brings up a lot of my "stuff."
So I'm going with the intent to (1) learn a few new skills, and (2) build my contacts in a world the feels foreign. Thirty-year-old me would have never even considered attending anything by herself. Happily, almost 40 year old me, after three kids and a lot of life, still feels scared but has the sense to understand it's a feeling I need to push beyond.
There's always a lot of good on the other side of your fear.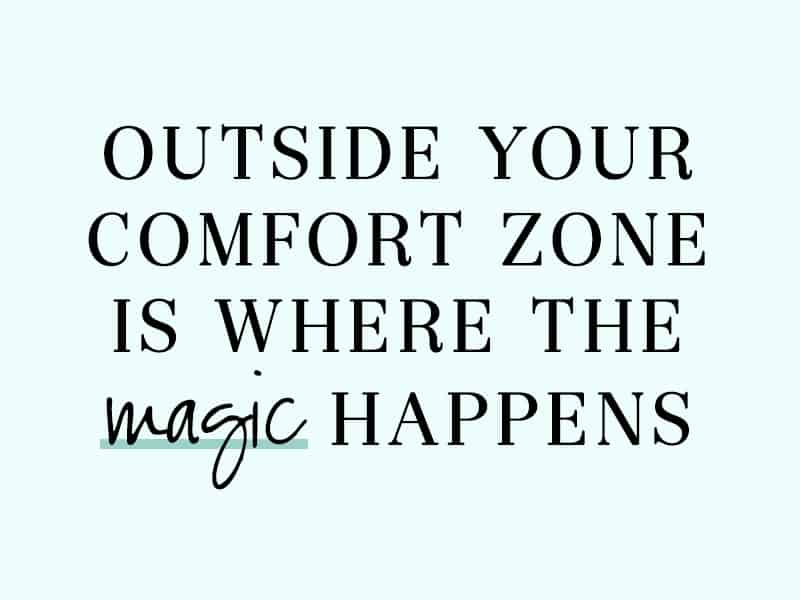 Speaking of ridiculous things I need to do to expand our business … I'm now posting consistently on Instagram. No other social platform feels less suited for my personality. So I'm trying to keep it fun, light and authentic.
To unlock the business features that Instagram offers that would greatly help our reach I need to hit 10,000 followers.
Currently, that feels next to impossible, so I'm wondering, if you are on the platform, would you follow along? I'm sharing candid photos of what I'm wearing, as many styling tips and tricks that I can think of and a behind the scenes look at my real daily life – in case anyone is remotely interested in that. I promise I won't be annoying.
Other thoughts and finds this week … (trying something new this week by simplifying the list)
3. Think parenting is "bloody hard work"? You're not alone, and we should talk about it more.
4. Therapy is a two way street. You have to put in the work along with your therapist or they will break up with you. Here's why.
5. Dinner is served. Make these Vietnamese Meatballs with Chili Sauce for dinner this week and thank me later.
6. Dress season is here. I'm picking up a few casual options as an outfit alternative to jeans. I like this yellow floral wrap, this $20 sheath at Target, and this gorgeous tie neck dress in red floral at Old Navy for $17.50. Pair with sandals or sneakers and a denim jacket.
7. Affordable adornments. Interesting earrings are hard to find. I stumbled on these organic circle earrings, these fun wrapped hoops for the summer, and these kate spade studs, all under $40.
8. Look alive. After one too many nights of logging less than four hours of sleep, and waking up looking like a swamp person, I ordered an ice roller. It's not a cure all, but helps reduce puffiness and wakes you up quickly
9. Currently Reading: Educated, by Tara Westover. Thinking about rebooting our virtual bookclub over in our private FB page. Anyone want to join?
10. In case you missed it. Last week our Friday post was a big hit along with its featured blouse perfect for date nights. This J. Crew eyelet tunic was also super popular, and many of you scooped up these Ann Taylor navy suede pumps.