The Style Six is a monthly series featuring six items you can wear now and build on throughout the season. I say this often, but it bears repeating: I do not create these posts thinking you are going to purchase every piece. Our main goal is to get you inspired. Maybe you have similar items in your closet and discover a new way to wear them, or a specific color combination stands out, and you pick it up in a blouse or a sweater instead of a dress.
Please keep in mind that we have thousands of daily readers, and I try my best to cover as many looks and styles as possible. As with all of our post, featuring brands and retailers with a broad range of sizing is a priority.
Lately, Banana Republic has been killing it in terms of styles, approachable price points, and size inclusivity. It feels like they are growing up with their customers. I remember, in my early twenties, thinking the day I could afford full price at BR was the day I made it. Happily, I still want to shop there, and their prices haven't gone wild like so many other retailers.
Doesn't this dress feel like everything we love about the fall? It's special and festive, without being too fussy.
It's available in "regular" and tall sizes from 0 – 20. You might need a hem, depending on where the length hits you on your leg and the shoe you wear. Having the skirt stop right below your knee if you are tall, and cutting through the middle of your knee if you are shorter is a good general guideline.
The Style Six Fall 2019 Edition, Issue 2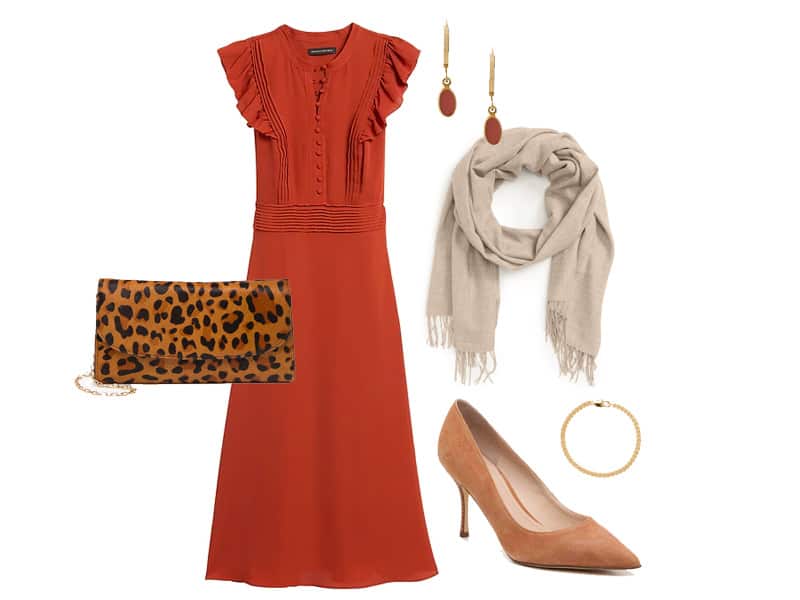 Dress, $149 | Earrings, $90 | Bag, $50 | Heels, $90 | Scarf, $99 | Bracelet, $68
I like this dress for Thanksgiving, a night of dinner and a show, or a weekend bridal or baby shower. The fit is lovely and the color is divine.
Let's break down the other five pieces.
If you still need a classically shaped leopard print clutch pick this one up. It's a fantastic deal for $50 at Nordstrom Rack. You will use it all time.
Next, shoes. I picked these Marc Fisher pumps (at DSW) for under $100 because they are stunning and a fabulous value. The featured color is called "cognac suede" and they make my heart sing they are so pretty.
Can't wear heels? In yesterday's post we talked about flats that can replace heels. You can easily swap a heel for a flat in this outfit. Opt for something like these (also by Banana Republic) and make sure your hem hits you somewhere between the middle to bottom of your knee.
Because the dress is sleeveless, and I am freezing all the time, I included a wool and cashmere blend pashmina. I have these in several colors and grab for them frequently. They work in almost any outfit. Drape it over your arms when you're wearing a dress, or wrap it around your neck with a denim jacket and leggings. They are also ideal for chilly flights and long days of travel when you'd like to arrive at your destination looking pulled together.
The jewelry might seem simple, but I spent a lot of time thinking about it for this outfit. I wanted the earrings to match, not only so the look feels cohesive but also to give you another option to incorporate this burnt orange color into your wardrobe.
Picking up a modern earring in a trend-right color is an easy way to elevate your look without committing to a piece of clothing. I LOVE Isabel Marant jewelry. These are smaller on the ear then they look in the image above. (See on model here.)
Finally, I had my heart set on a delicate, gold chain bracelet. I thought it would add a bit of movement and texture. It took forever to find one that wasn't too thick and thousands of dollars. At the last minute, I discovered this perfect Laura Lombardi gold-plated bracelet for $68. I immediately ordered it for myself. You can wear it on its own, or stack it with your other favorite bracelets.
Shop this Post