Back when I was working with private clients, every season there were a few go-to pieces that would end up in most dressing rooms. This dress, for sure, would be one of those pieces. It's a great staple you can dress up for work or weekend events with a can't-beat price.
This time of year, weekends are crazy. Just looking at our family calendar for April and May, every Saturday and a few Sundays have at least one, sometimes two events.
I feel like we are going to blow through the Spring and Summer, which would usually bum me out, but my brother is getting married in early September and I am out of my mind excited about it.
Before that, our next big event is my daughter's First Communion. That's what got me looking for a simple, affordable, and versatile dress. If you have any kind of shower, graduation or similar event in the coming weeks this dress might be for you.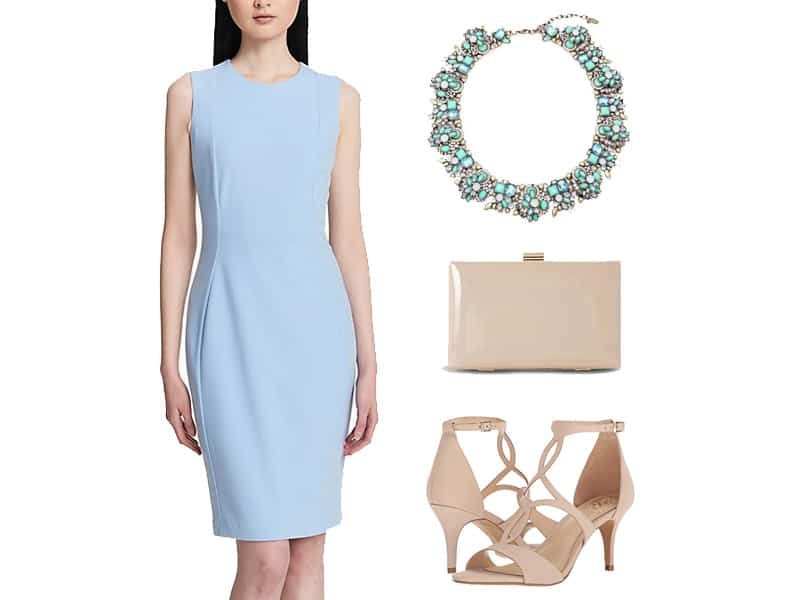 Sheath, $90 | Necklace, $50 | Clutch, $70 | Heel, $99
I ordered it in "serene" (above), but it's available in eight other colors. The sheath silhouette is perfect for layering under a blazer (take a look at our picks for classic spring blazers here). For the office or after work, black or navy would be perfect. But, don't be afraid to pick up a bold color. I have a similar dress in bright pink that I wore to all kinds of events last summer.
For this look I wanted it to be super simple and elegant. I love a nude (to me) sandal, and these by Vince Camuto are different yet still wearable with their 3″ heel.
For the bag, I'm going matchy-matchy. This box style clutch in patent leather is quintessential Spring.
Finally, you can skip a necklace if you prefer but I wanted to show it as an option. If you can pull off a bold statement, I L.O.V.E this necklace. The shape will mimic the neckline of the dress and act almost like a collar. The mix of color adds a really lovely depth to the outfit.
Shop this Post