I knew as The Well Dressed Life gained popularity that I would have to deal with trolls and generally miserable human beings. That comes with the territory; the underbelly of the internet is darker than I ever imagined. But I am astonished by how many women take time out of their day to tell me to "stay in my lane."
It's even more astonishing when you consider I talk about pretty innocuous topics.
I was 27 years old when I started my first business, a personal styling company called Kristel Closets. For years I grew a team and eventually expanded into three states. But after a decade, the landscape of the business was changing, and I was bored and tired.
Needing a new challenge, I took this blog, which was created as a marketing tool for Kristel Closets, and decided to focus on it full time. It seemed like the perfect solution to help stimulate my brain and re-energize my passions.
My idea, which I remain committed to, was to create an online space for grown-up women. I felt like once I turned 35, had a few kids, and advanced in my career that I suddenly stopped relating to most women-focused sites.
I thought, why not take the knowledge I gained from working with clients and combine it with my genuine passion for living a happy, healthy, positive life? It just made sense.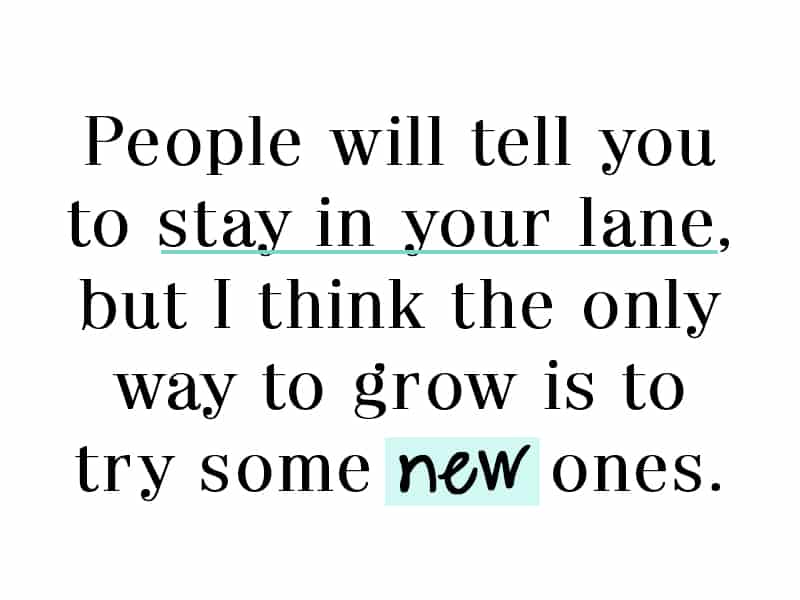 I have a pretty thick skin and laser focus, so unkind emails don't get me down. I usually just feel bad for the person writing them. But the last one I received made me stop and wonder, how many women aren't pursuing their goals and or living their dreams because they've been told to "stay in their lane"? How many are holding back for fear of a few insignificant, meaningless opinions?
We're not made to start in one place and stay there forever. Instead, if we're lucky and given the opportunity, we should (and I would argue we have a responsibility) to try everything, make big moves and be bold.
I believe, in an ideal world, women would embrace of self-care. We would encourage each other to live out our dreams, give praise when we're being brave and honor our choices, no matter how different they may be from our own. And we would want every woman to be happy, feel confident and beautiful as she goes about her life.
That's my goal here.
To be clear: I'm not looking for head pats. The negativity rarely bothers me, sometimes it's so crazy it's actually funny.
What does bother me, what makes me sad, is that I'm sure for every one of me, there are hundreds of women intimidated by the idea of putting themselves out there. Imagine how much better our world would be if women encouraged each other to share their talents, and follow their dreams. I'm here to tell you, once you do it, once you ignore the naysayers and small minded among you, your life will be so much richer. So, whatever is sitting on your heart, go for it at full force. You and our world will be better for it.
And now some things I'm into this week:
Combat Self Doubt: With these tips to help get back to work after taking some time off.
Beauty Splurge: Put this on after the shower, when your skin is still wet, and you'll lock in moisture all day long.
Tidy Cords: Have a family with a ton of electronics? This charging station is a game changer.
Stop Everything: Check out these shoes that go from a traditional loafer to a backless mule and they're under $100. Done.
Need a New Robe: I love the length, fabric and price of this one from N by Natori. Would also make a great holiday gift.
Weeknight Meal: This sausage, tortellini and spinach soup is so easy to make a big hit with all the picky eaters in my house.