Just one thing on The List today, but it sits heavy on my heart.
Last year, I discovered Lindsay Sherbondy, a talented artist and the owner of The Art Bar by Lindsay Letters. She creates beautiful, reasonably priced pieces of art, ranging from abstracts to gorgeous quotes that she brings to life on canvas. I love everything she does, but my favorites are her holiday pieces.
Each Christmas, I buy one or two "investment" decorations. Nothing crazy, just a few special pieces I hope to have forever and then pass down to my kids.
Because our house was under construction, and I had Vivian on the 21st, last holiday came and went without much thought around decor and I missed my chance to add to my collection.
Chestnuts Roasting, Starting at $24
This year, I wanted to know when her new holiday collection would be released, so I started to follow Lindsay on Instagram. Like most small online businesses, she shares updates on her work and glimpses of her life, with her husband and two adorable children.
About a month ago, their entire life changed. Lindsay shared that her daughter, Eva Love (pronounced Ava), who is around eight years old, suffered a freak, traumatic brain injury after falling out of a golf cart.
The extent of Eva's damage is devastating, and doctors are baffled at the level of severity considering the fall was relatively minor. She essentially hit her head in the exact wrong place.
Her parents are caught in a place of limbo, waiting and praying for a miracle while also having to prepare themselves for the absolute worst.
I cannot explain why this story hits me in the depths of my core or why I'm compelled to share it on this platform.
Part of it, I'm sure, is because we have similar aged, sweet and sparkly redheads. Hers is Eva, mine is Ava.
Maybe it's because they have a seemingly boring, wonderfully normal life, just like me, and this makes me painfully aware of how fragile all this really is.
Perhaps it's as simple as having empathy and doing what you hope others would do for you.
Thankfully, I'm not alone in feeling this family's pain and wanting to find ways to rally behind them. For almost four weeks, Lindsay and here husband, Dugan, have shared daily updates about Eva on their Instagram accounts.
She has defied many odds, but she is far from out of the woods and has a tremendously difficult road ahead.
Lindsay and Dugan have a remarkable level of faith that's incredible to witness. Watching their journey through this tragedy is both humbling and inspiring.
Even as someone who takes a much different approached and has a much different relationship with my own faith, watching them find strength in what they believe in is beautiful.
Even more beautiful are the messages of hope people are sharing with them, from all over the world, all walks of life, all faiths, all religions, and even from people who believe in nothing at all. Some people are sending prayers, and some are sharing their own experiences and similar stories.
What this family is putting out into the world, amid their pain, is some much-needed perspective, and faith in humanity. They are an extraordinary example of having grace in the most horrific of circumstances.
So, if you have any faith at all, please keep them in your prayers. I've never prayed so fervently for people I don't even know. Every day, my Ava gets off the bus and asks for an update, and every night we pray together for a miracle for Eva Love and strength for her parents.
I know that I'm guaranteed to lose readers because I dared to talk about something other than fashion, and that's ok. I look at it like, it's a big but small world. Platforms like blogs, Facebook, and Instagram can feel so annoying and overwhelming.
But they also create a kind of connectivity that we've never had at any other time in history. Done the right way, with some intention, we can also use it for a lot of good. In this case, we can send a little bit of extra faith and hope to a family and little girl that needs it so much.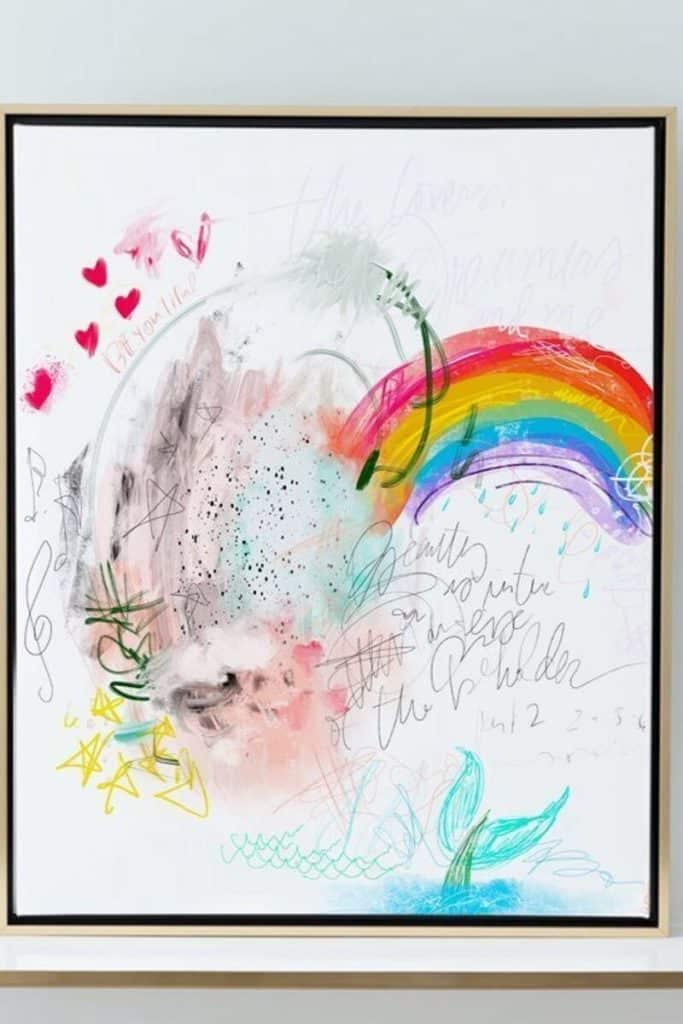 Rainbow Daydream, Starting at $24
I purchased the print above from Lindsay's store to hang in my Ava's bedroom. It's called Rainbow Daydream and is described as what Lindsay imagined Eva's dreams look like, done long before her accident. I also picked up this canvas (also above) to sit over my fireplace in December. (Her autumn collection is currently live and adorable, the new holiday pieces are a few weeks away.)
For September, I'll be donating 10% of our revenue to Eva's family to help them with her ongoing medical expenses. Be sure to check out Lindsay's website; her work would be a wonderful addition to your seasonal decor or a fantastic gift for the upcoming holidays.
For more details about their story, follow @dugansherbodny and @lindsayletters.com
This is not a sponsored posts and I receive no commissions for these recommendations.