A Friendly Reminder to Stop and Take a Breath
On Sunday morning, I took a gentle yoga class. It's been a while since I practiced yoga. I traded it a few years ago for Pilates and barre classes, so I thought this would be a nice way to ease back into it and regain my form. For 60 minutes, we were guided through a series of breathing techniques and stretches. There was a lot of talk about Mother Earth and chakras. Typically, this causes an immediate and uncontrollable eye roll. For stress relief, I'd prefer a five-point plan I can easily implement in 10 minutes or less and not have to bother Mother Earth. Is there an app I can buy? Better yet, can I get it in capsule form?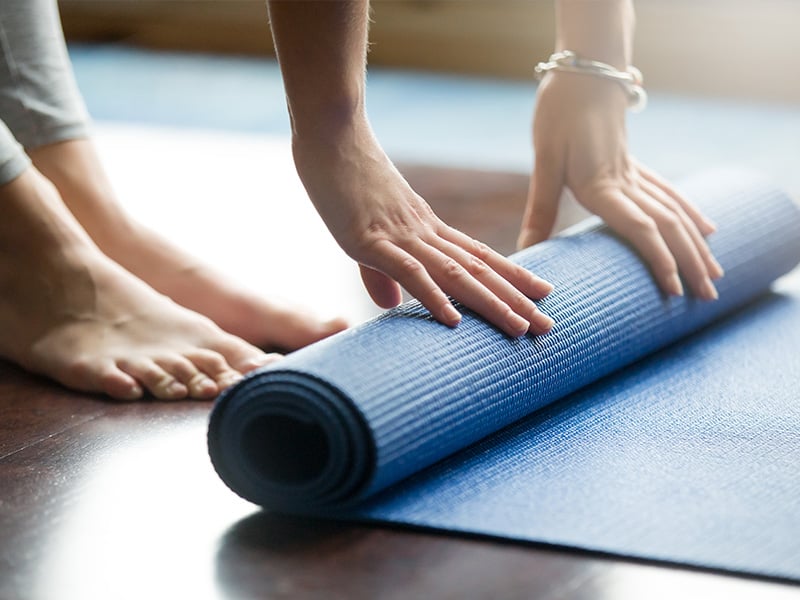 However, halfway through the class, as I lay on the floor in bridge, two realizations washed over me: One, I never breathe, like, never take a real conscious breath, and two, I am in a constant fight or flight mode. Like most working women, my days are long. Most days feel like they are simultaneously flying by and also never-ending. With kids, a spouse, dual careers, conflicting travel schedules, everyday life can feel epically overwhelming.
I wake up at 3:00 a.m. just about every night. The nighttime "gremlins," as I call them, come running in, wreaking havoc on my mind. Like all gremlins, the more you feed them after midnight, the worse they get. I shovel every "what if" scenario and stress I have into their slimy little mouths. The more outrageous the worry, the better. Often, as I wake up, I notice how tense I am, how I'm tightening every muscle in my body and clenching my jaw to the point that I have to make a concerted effort to relax into my bed.
Recently, I started to notice the tension creep up during the day while sitting at my desk. Out of nowhere, I'll realize I'm tight; I'll feel it in my neck and upper back, right between my shoulder blades. So as we were sitting in class, listening to the calming tone of our instructor's voice, it dawned on me. I'm tense because I'm unconsciously taking super short, shallow breaths all day long. Sometimes, I might actually be holding my breath. It's like white knuckling it through life, and that's no fun.
I've been an entrepreneur for almost all of my adult life, yet I don't think I've reconciled the consequences that come with the lifestyle. There are lots of uncertainties, high highs, and low lows; you constantly live in the space between success and failure. You have to be comfortable with constant change and, despite my best efforts, it's not my strength, so my flight or fight instincts are off the charts. I'm always waiting for a disaster to hit. As a bonus, I'm the poster child for a guilt-ridden Irish Catholic, so I have this odd thought process that that life will eventually even out. Is something good happening? Don't get too comfortable, something bad is right around the corner.
I sound like a delight.
As I left yoga, after a full hour of quietness, I thought of Brene Brown's quote, "when we lose our tolerance for vulnerability; joy becomes foreboding." So, many of us are moving through life expecting the worst to happen, with our minds filled with so much noise that we lose our ability to hear our thoughts. I know I'm not alone in this. As women, our capacity to deal with mental angst and still maintain our highly functioning existence is remarkable; so much so that we forget to take a minute and check in with what is happening in our bodies and minds.
To create strong mental health, we need to take some time to breathe. Mindful breathing or meditation can help clear the cobwebs, bring us to the center, gain clarity and help us to feel like ourselves. The good news is we can start practicing mindfulness, whether we have an hour to ourselves, or only five minutes before walking into a meeting.
Below are a few ways to get started:
– Sign up for a local yoga class. Most studios offer some form of gentle yoga that focuses more on breathing and stretching, than on intensely holding a pose. Do not worry if you are a beginner; it does not require skill to go to class, and you will learn as you go. In addition, I have never met a yogi whom I have disliked.
– Download a meditation app. I like the Calm app, and Headspace is another popular option. They are simple to use, especially if you are a novice. I like to use them in the mornings, when traveling to work, or before a long day of meetings.
– Need a quick guide to breathing? This is a fantastic video that shows you how to breathe in order to alleviate stress in less than two minutes. It is a great example of what we have learned in class.
I felt noticeably lighter, open and clear minded leaving class on Sunday. So much so I signed up for the same class for every weekend I'm home through September. When I woke up that morning, I had four million other things to do. But here's the things, we have to make ourselves a priority. Your to-do list can wait. When we start to take care of ourselves, when we stop operating from a place of depletion, we can get that list done better and faster and start to regain our joy.