Going back to work looks different for everyone. Maybe you're already in the office, planning to head back soon, or working from home is permanent.
Whatever your situation, between the change in season and restrictions lifting, it feels like it's time for a refresh.
My inbox is full of requests for better ankle-length bottoms for work. So today, I'm featuring "The Hockey Jean – Better Than Denim" from M.M. LaFleur.
Next week, our Brand Spotlight will highlight M.M.LaFleur. I have a million good things to say about the company. But this particular pant has so many beneficial features; I think they warrant their own post.
If you are looking for an investment-style pant to help fill a void in your work wardrobe, consider these a fantastic choice.
Consider these if you are looking for an investment-style pant to help fill a void in your work wardrobe.
The Hockey Jean by M.M. LaFleur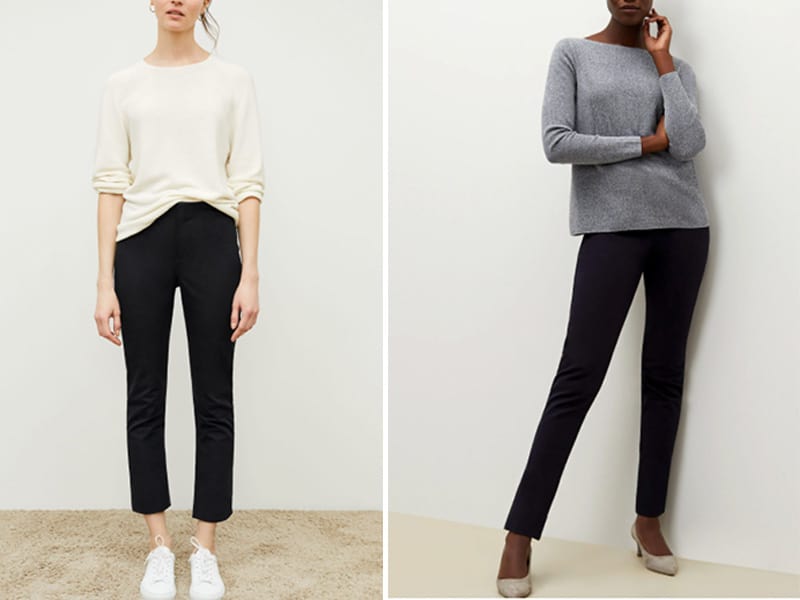 Pants, $165
It's important to note that these are not jeans; instead, they are a cotton stretch fabric, that's why they are calling them "Better Than Denim." You get a straight, curve-hugging fit, with a clean line that you can pair with a variety of tops and shoes.
Here's why I love them. They are high-waisted, which is fantastic because, as you'll learn in our Dressing Your Body Type series, flatter all body types. They are also machine washable and wrinkle-resistant, so perfect for traveling or if you just have long, busy days.
The fit is on point, similar to how the Spanx Perfect Pants hug your curves, but lighter weight and available in more colors. Above you'll see the black and navy, you can also get them in charcoal, beige and a dark tan. Sizes run from 0 – 18.
Now, here's the best feature. File this under why doesn't everyone do this?
The hem is adjustable!
You can easily adjust between heel heights by lengthening or shortening the hem with easy-to-use snaps. So you no longer have to choose between wearing flats and heels, you can wear both.
Absolutely genius.
How to Wear
These pants will give you so many options, they are truly a staple. Out of our recent best sellers these would look best with the J.Crew Factory Cotton Tunic in white (under $40), the Ann Taylor Linen Boatneck Top, any lightweight jacket or blazer, like this popular linen blend "biker" from Nic + Zoe, and of course, a stripped top and cute pair of white sneakers.
Shop This Post
Our Style Content is Inspired by Our Readers
Our readership inspires all of our posts and is not sponsored or paid for by brands or retailers.
Recommendations are based on my experience as a personal stylist and wardrobe consultant for over a decade. I worked with busy, down-to-earth women who wanted to look chic and feel confident but were often confused by so much of retail.
Some links are affiliate links, which means if you purchase via our site, we receive a small commission.
If you enjoy our content and would like to help us grow, please follow on Instagram and join our Private Facebook Group to access more advice and exclusive in-depth conversations with other like-minded women.
Learn about our mission to help women look and feel their very best, every day, here.
Sign Up for Daily Content and Receive Our Free Classic Wardrobe Checklist