This week in the Philadelphia area has been chilly, and we're in for a cold and rainy weekend.
But there is something cozy about it, especially coming off an intense end to the school year, so I don't mind, as long as it's only for a few days. 😉
Last night I met up with my girlfriends from college for our monthly dinner, and the dress I wanted to wear was too light and breezy for the weather. Plus, the restaurant we were going to is notoriously drafty.
Happily, my closet is in great shape since I did our Summer Closet Clean Out in real-time. So I could see everything I had and quickly come up with an alternative.
I look forward to our dinner all month. And I'm constantly impressed that we have held a monthly recurring date for over a year now.

It's incredible, considering we're all busy working moms with kids of all different ages and phases of life.

This is not a fancy night out, just drinks and a dinner we don't have to plan, cook and clean up after and a couple of hours of catching and cracking up.

And every time I get in my car to drive home, I am so happy and grateful.

To be a grown woman with the girls you were an absolute idiot with in college, to see them now as moms, successful in their careers, filled with wisdom, but at the same time exactly who they were 20 years ago, it's the best.

Since turning 40, I've learned that our female friendships are our oxygen. There is no way I would be able to manage life without them, whether it's the girls from college or the friendships I've nurtured later in life.

But, as you know, getting out of a house filled with kids and conflicting schedules is no small feat. So having clothes I feel good in at my fingertips helps minimize the madness.
This was me seconds before I ran out of the house.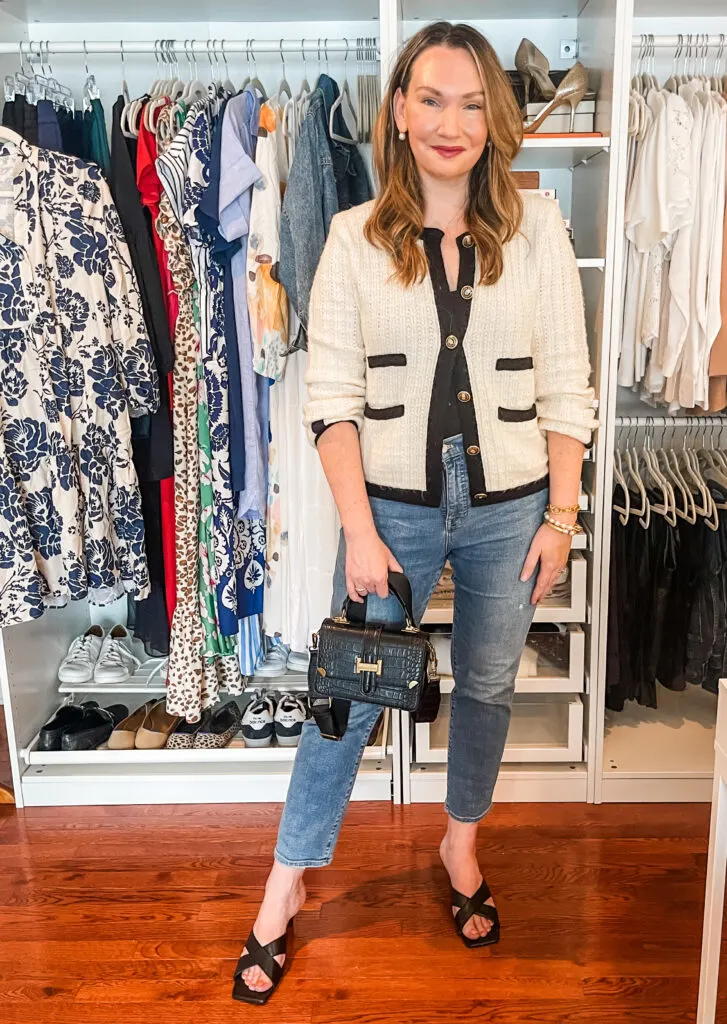 To start I grabbed jeans, specifically this straight leg pair from J.Crew.
I'm really liking J.Crew and Madewell for denim. They have some stretch but not too much so you still feel like you are wearing a classic jean.
I've tried some Levi's since they are all the rage now, and I cannot get them over my hips because they have no give, and I'm a size 10, but their largest size is too small for me.
I also HATE all this button fly nonsense happening. Give a girl a zipper.
As a base, I threw on this simple black tank from Nordstrom (also available in white). For me, this is a layer not a stand alone piece.
Then I found this adorable cardigan jacket from Express I featured a few months ago. It's not as heavy as you would think. In fact, it was the prefect weight for the night. I love the fit, the buttons and the fact that it has a thin shoulder pad to give it structure.
To keep the look seasonal, I wore these Gap Kitten Heel Mules, on sale for $55 plus and extra 20% off at check out.
Accessories were fun to play with, I carried this black top handle bag with gold accessories from Amazon to play off the buttons.
Then I zhuzhed my sleeves to show off a stack of bracelets: pearl, cuff and link all from Julie Vos.
And I finished it with this $15 ring from Amazon.
As always these outfit in real life posts are to help give you a little inspiration. You can shop the post but look in your closet first.
And if you have friends you're thinking of right now, text them, plan a get together, go on a trip, move heaven and earth to see each other.
It is self care at its finest.