At my core, I am a dark jeans and white tee shirt girl, and in my quest to find the perfect tee, I have tried pretty much every option on the market. What I've found is that most tees are either outrageously expensive (it's insane to spend over $100 on a cotton top) or so inexpensive they look like old pajamas after one washing. Worst, at every price, they are practically see-through.
So today's post is short and sweet. Thanks so many readers who submitted requests (please keep them coming, they are especially helpful this time of year!) we are rounding up the best white tee shirts.
These are my personal recommendations. Qualifications for a top spot are affordability (these are all under $20),well made, durable and, of course, not see-through
The Best White Tee Shirts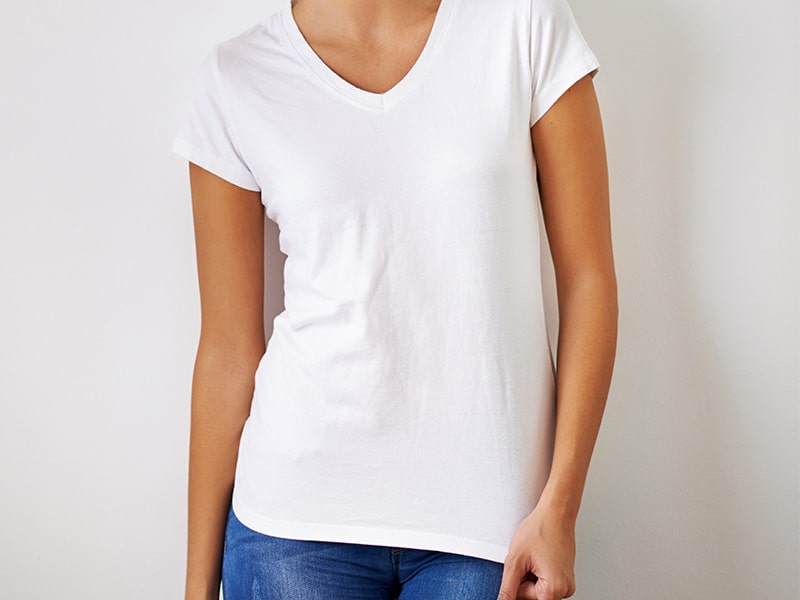 When we talk about where to spend and save on our clothing, tee shirts are always on our list of saves. There is just no reason in the world to spend any significant sum of money on them. So while I personally spend on jeans because they are a staple for me, the tee shirt is where I find balance in my budget. (That and I have yet to find an expensive tee shirt better than the ones on our list.)
Before we get into our list, a quick note about "see-through – ness." While the sheerness of the tee is essential, your bra is too, so be sure to wear a seamless, tee-shirt bra in a neutral to you tone.
The Best Tee Shirts Totally Not See-Through
Favorite Crew Neck: Madewell Northside Vintage Tee , $16.00
Madewell makes fantastic basics. This tee has everything you might be looking for in a crew neck. It falls off the body, has a short sleeve that's proportionate to the rest of the shirt and a length that works tucked or untucked. Comes in a ton of colors and goes up to a 3X.
Favorite V-Neck: Everlane: The Cotton V-Neck, $18.00
V-necks help extend the line of our body by creating space between our chin and chest. They are also a better alternative to a crew neck if you have a larger bust. Everlane is hands down one of our favorite brands. The quality is incredible and the prices can't be beat. This v-neck cotton tee is only $18.00. They are size inclusive, but run on the small side in some styles so keep that in mind when ordering.
Favorite Pocket Front: LOFT Pocket Vintage Soft Tee, $12.00
For a casual, summery, lightweight option, LOFT offers a lived-in tee that works with skirts, shorts or jeans. For $12, the attention to detail is impressive. I appreciate the shirttail hem finish and center seaming that give the tee a lovely, flattering shape. Available in a generous size range from XXS – XXL.