There is nothing better than a crisp pair of white jeans in the summer. Dress them up, dress them down, pair them with heels or a funky pair of sneakers – no matter your personal style, they freshen up everything in your closet.
Since not all jeans are equal, we rounded up the best fitting, most flattering, least see-through options out there.
Do you have to spend a lot? Not really. Most of our picks are well under $100, many under $50. A handful are worth investing in if you plan on wearing these often, otherwise, get a season or two out of them and move on to the next.
The good news is you don't have to limit white jeans to the spring and summer. While they brighten up your warm weather outfits, you can create a cozy and chic look in the fall by pairing them with warm neutrals and rich tones.
As usual, many of our recommendations come in a full size scale, so if you are petite, plus or tall, there are options for you below.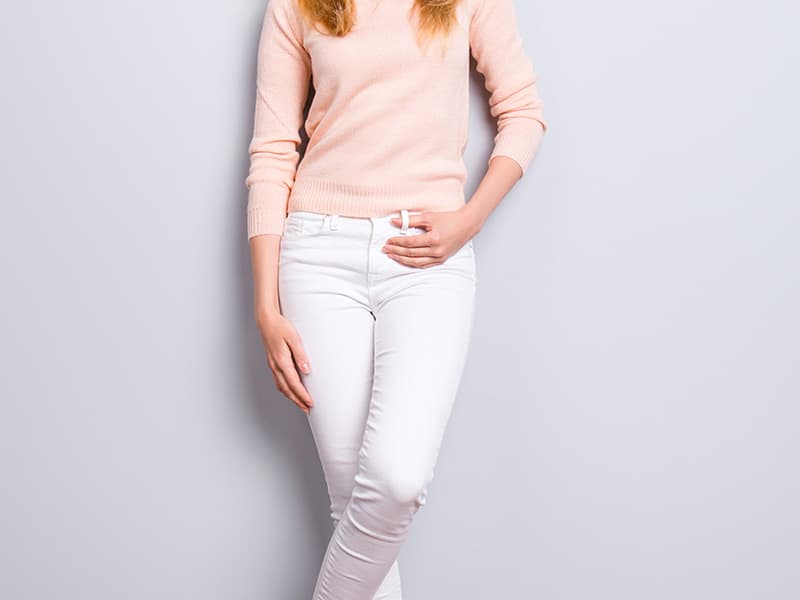 Straight Leg White Jeans
Universally flattering, the straight leg jean is the most classic and wearable. Pair them with a simple tee, stylish flats, and some oversized sunglasses and you'll look like Jackie O walking around Capri in the summer.
Ralph Lauren makes a traditional, 5-pocket jeans for under $100. They have a higher waistband and work well on more mature bodies. Talbots makes a similar style with a tall option.
Like NYDJ? Their straight leg has a slight flair at the bottom, making them ideal to pair with a block heel. Plus size here.
For under $50, Old Navy has a fantastic, comfortable pair with a subtle frayed hem. They styled them perfectly here.

Our favorite straight leg white jeans
Skinny Leg White Jeans
Skinny jeans help elongate your leg. They work best with a heel and tops with some movement, like a drapey tank or an off the shoulder blouse.
You can create a relaxed, less serious look with some distressed details. It takes away from the severity of the jeans being tight. Obviously, this is not where you spend. To try the look without breaking the bank pop these $25 Articles of Society jeans in your cart.
For a classic, polished skinny in the under $50 category you have many options. 1822 Denim are under $40 at Nordstrom. They have a high waist and comfortable, not too tight fit. The Old Navy Rockstar jeggings are another affordable winner and these Articles of Society jeans hit right above your ankle and have a range of sizes still available.
For a little more, but still under $100, Joe's Jeans made a fantastic option that are high waisted, polished and super quality and their "Honey Curvy" are a long time client favorite.
Our favorite skinny leg white jeans
Bootcut White Jeans
Bootcut jeans balance out the hips and shoulders helping to create a proportionate look. They are best when worn with heels, so the leg has a chance to be extended, and work in all sorts of outfits. Take them to work with a lightweight blazer, wear a belt for some added polish and half tuck your top to keep the line of your body long and lean.
NYDJ makes the best, most subtle bootcut giving just enough width to cover a shoe and no more. These J. Brand are a good value on sale for the quality, just make sure they are long enough on you, bootcuts should break on the top of your foot.
By far our favorites are by DL1961 (in general and for white jeans specifically). They are worth the money considering they fit incredibly well, have all the structural benefits that keep you in and lift you up while maintaining the styling of a modern looking jean. Meaning: you'll look youthful even if your body isn't anymore. (Raises hand.)
Our favorite bootcut white jeans