This content has been archived. It may no longer be relevant
Today, by popular demand, we rounded up our top picks for the best shorts for women. I love shorts and happily wear them all summer. I've always figured if you wear skirts, you can wear shorts. Also, I'm pretty pleased with my legs. They are the one part of my body I feel didn't turn against me after I had kids.
If our post on capri pants has taught me anything, it's that there are two kinds of people in the world, those that like vs. those that loathe capris. I'm assuming we'll see the same divide for shorts. So here's the thing, if you like them, wear them. If you don't like them, don't wear them. And if you care about things like fit and proportion, keep reading for some guidelines.
Keep in mind, summer is a quick season, so inventory is designed to move. Most retailers do not back stock shorts so if you like something, or want to give some of these a try, order now before sizes become limited.
Best Fit Practices
There are more bad choices than good choices when it comes to shorts. I have underwear bigger than some of the options out there. So finding a decent selection that covers as many needs as possible was not easy.
Before we dive into our roundup, let's take a minute to talk about fit.
If you are concerned about length, a good rule of thumb to follow is to have your shorts hit at fingertip length. This will help create a balanced proportion. A 5″ inseam seems to be the most popular and flattering.
Second, if you are wearing a shorter short, it's nice to contrast it with a long sleeved top. I wear a short with a 3/4 shirt and love to wear a long sleeve sweater on chilly nights at the beach. If, however, it's 100 degrees in the dead of summer, I have no problem wearing a tank. I just try to make sure that the tank has a design element that looks finished.
If you are petite, avoid shorts that hit at your knee. The cut will overwhelm your frame, take away your height, and make you look frumpy. Like a skirt, aim to have the hem stop about an inch (or more, depending) above your knee.
Third, be sure they fit you comfortably in the waist, hips, and thighs. Side pockets should lay flat and not stretch out. Avoid lots of extra details, like buckles, zippers, and cargo details as they can be fussy and distract from your overall outfit.
And finally, speaking of outfits, be sure to incorporate elements in your look that create interest. Of course, you can throw on a rubber flip flop, but if you are wearing shorts as an outfit, swap out the flip flop for a leather thong sandal or an espadrille wedge for an extra hint of polish.
The Best Women's Shorts 2019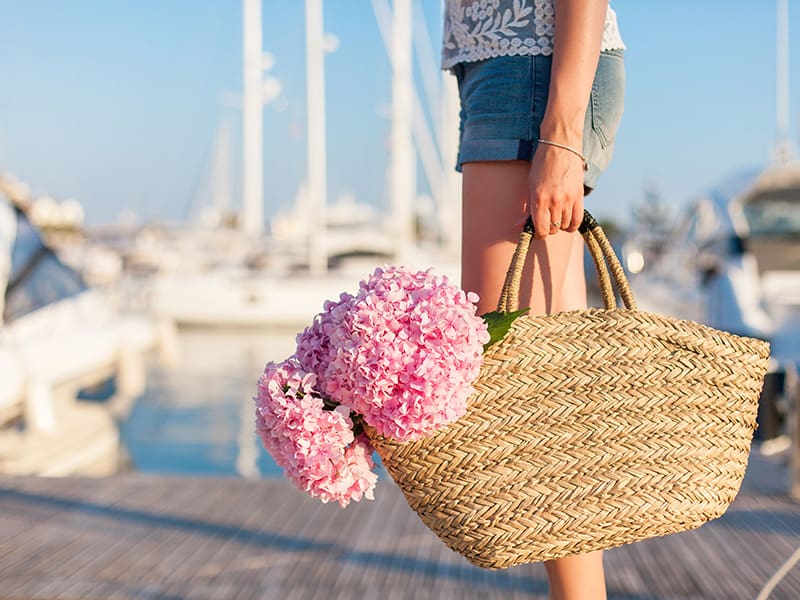 Best Overall Shorts
In general, 5″ shorts are the most flattering. They are not too short, and not too long. Like the Goldilocks of shorts, they are just right. Good news, right now, you have many fantastic options.
For a great universal fit, in a tailored design and the best range of sizes, go with these stretch 5″ short from Banana Republic. They are on sale for $30 in black and white and go from a size 0 -20. In addition, like these linen pull on shorts in three colors, also on sale. They have 4″ inseam so a bit shorter but still wearable because of the fullness in the leg. You can easily dress these you or down.
If, like me, you enjoy some classic preppy goodness, I can't say enough good things about the Caroline short from Southern Tide. They are another 5″ option in an array for wearable colors in sizes 00 – 14. Old Navy has a similar style at a lower price point, also in an array of colors up to a size 20.
J.Crew Factory as a pull on pair of shorts in a soft denim that is surprisingly polished considering they have an elastic waistband. The front, however, is flat and I LOVE how they styled it with a blazer. Available in up to a 3X for only $22.50.
Also at J.Crew Factory are these chambray shorts. Chambray translates a bit dressier than standard denim. You can pair them with a simple tee or wear a heel and summer blazer for a modern, short-suit look.
For my more mature readers, or for anyone that wants a similar look, in a fuller cut, try these Girlfriend Chino Shorts by Talbots. I like that they vary the inseam depending on your size.

Bermuda Shorts
Bermuda shorts are difficult to pull off because so many options have design flaws. You do not want these to taper as the line of the leg approaches your knee. If they do, you'll look wider than you are. Instead, try to find a pair the fall from your hip and lay straight on your leg. This creates a longer, leaner line to your body.
My vote for best Bermuda shorts goes to Talbots. Their "Perfect Shorts – Bermuda Length" is just what we are looking for. They are clean, tailored, and will create a long and lean line. They come in a dozen colors and every size possible.
For a slim fit, Ralph Lauren has a lovely pair in white, black and navy up to size 16. I would go with these if you are tall and your body type is on the thin side, straight up and down.
If you like the look of the chambray 5″ shorts above, J.Crew Factory also made a 9″ version up to size 16.
When it comes to denim, be careful. While I love a distressed jean, and even a slightly worn-in denim short, when Bermuda's have rips and frayed hems your look goes from lived-in casual to a shipwrecked castaway vibe real fast. Instead, keep your denim dark and clean. Your best best are these medium washed denim with stretch from White House Black Market in a classic cut, or the same short in their curvy style.