This content has been archived. It may no longer be relevant
While I was in college, I worked in a high-end boutique in Philadelphia. I ended up running the store for a few years after graduation. At the time, though, I was a lowly "salesgirl," making a few dollars an hour and commission.
The owner let us buy clothes (that I couldn't afford) off of our commission. We could take the clothes and pay off our account as our monthly commission accumulated, like the opposite of layaway.
It wasn't until years later that I realized he let us use pre-tax dollars. Despite the blatant breaking of tax laws, I thought this scenario was incredible and took full advantage.
My mom called it, "Megan Math" since I convinced myself that because I was getting clothes with my commission, I was, somehow, saving money.
Luckily my aptitude for accounting became better with age. But my wardrobe has never been as fantastic as it was when I was 20.
The Classic Denim Jacket
It was here that I bought my first grown-up denim jacket with a mandarin stand-up collar and a lived-in wash for $168. I remember exactly how much because I had never spent that much money on one piece of clothing. In 2000, that was on the high end of things for anyone. For a college student living in a dilapidated sorority house, it was insane.
But I loved it and wore it for over 15 years, throughout college, different jobs, early married life, pregnancies – everything. A few years ago, I replaced it with my current jacket. That's how long you can get out of a better basic.
This time of year, a denim jacket is essential for transitioning your wardrobe between seasons. You can make any late summer outfit ready for the fall by merely throwing one over your shoulders. Which is what I did here,
Wardrobe Essential: The Denim Jacket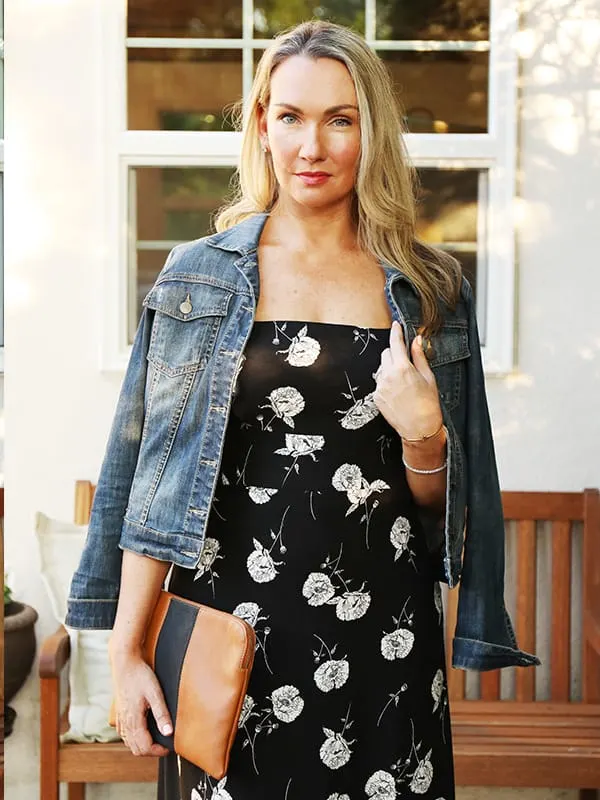 I've had this denim jacket for a few years now. Luckily, KUT still makes it for $79. I wear it all the time, over dresses, black pants, leggings. It gets just as much use paired with a baseball hat for a Target run as it does with a heel to grab drinks outside on a chilly fall night.
Versatility is key in building a timeless wardrobe. Of course, it's rare to find something you can wear for so long without it starting to look dated. With a denim jacket, if you keep the lines and styling clean and simple, you'll wear it for years and years.
Today, I rounded up my top three favorites that will have a lasting impact on your wardrobe and won't break the bank- in missy, plus and petite.
The Best Denim Jackets for Fall
[affiliate_product id="27298″ align="left"]
[affiliate_product id="27308″ align="right"]
[affiliate_product id="27321″ align="left"]