This content has been archived. It may no longer be relevant
With summer around the corner, many of us are optimistically planning some time in the sun. So today, I thought I would share one of my favorite finds – the beach bag to end all beach bags.
We are planning on a social-distancing-friendly trip to the beach once virtual learning wraps up, to give the kids and us a much-needed breather.
Because it's going to take us 10 hours by car, I've been throwing myself into preparing for not only the week away but a long drive with cranky kids.
I plan on bringing only the essentials, but with a teenager, a ten-year-old, and a toddler, we don't travel light.
As I started to pull out all of our summer gear, I realized my heavy boat and totes were going to take up too much room in the car. So I went off to find a solution and landed on this incredibly affordable option.
The Best Beach Bag for Under $25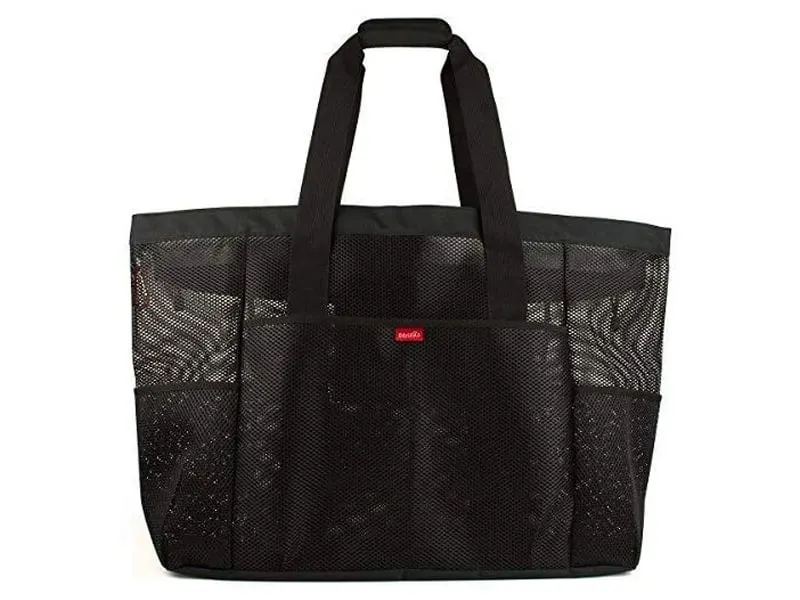 Read All of the 5 Star Reviews Here
At first, I was looking for something both stylish and practical – Instagram-worthy, if you will. Then I landed on this oversized, mesh bag with zipper compartments and outside pockets and was sold.
There is a lot to love about this, and I will eventually update this post with a video of everything it holds, but for now, if you need a beach or pool bag, pick this up.
First off, it's huge. You can fit about eight large beach towels rolled up, and the outside pockets fit everything from flip-flops to magazines, to small beach toys.
There is an inside zip top pocket to keep your keys, phone and wallet dry and save.
The bottom is waterproof so no worrying about your things getting damp.
And the best – it folds up. So it doesn't take up any room at all.
I bought two, one for towels and essentials and one for all the baby beach toys.
---
Our Content is Inspired by Our Readers
Our readership inspires all of our posts and is not sponsored or paid for by brands or retailers.
Recommendations are based on my experience as a personal stylist View Post and wardrobe consultant for over a decade. I worked with busy, down-to-earth women who wanted to look chic and feel confident but were often confused by so much of retail.
Some links are affiliate links, which means if you purchase via our site, we receive a small commission.
If you enjoy our content and would like to help us grow, please consider following on Instagram and join our Private Facebook Group to access more advice and exclusive in-depth conversations with other like-minded women.
---