So many of us have a closet full of black clothing, but when the weather turns warm, they suddenly feel heavy and out of season. The good news is you can transition many of your black pieces into spring-right outfits by adding a few strategic basics.
As we start to move into warmer weather, take few minutes to peek in your closet. If you have black wool pants, cashmere sweaters, or anything heavy and lined, you can move them to the back for next fall and winter. Keep you lightweight pieces, in seasonally appropriate fabrics, in the rotation for spring and summer.
Black can be worn year-round (thank goodness!). The most important element to focus on is fabric and style. A classic double wool blazer could be replaced with a single button rayon or cotton blend. Swap out straight-legged, lined trousers with slim cut ankle pants. Then, add seasonally appropriate separates to keep the look balanced.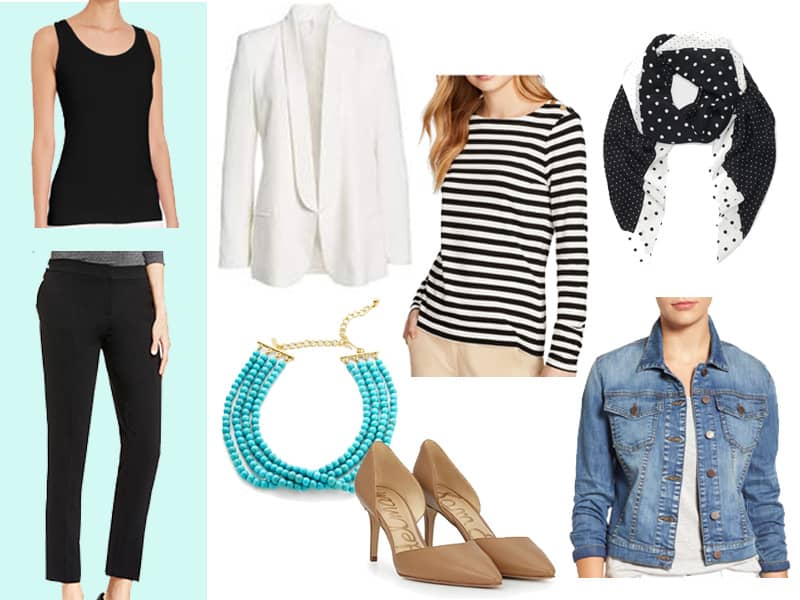 Black Pants, $89 | Black Tank, $95 | White Blazer, $74 | Striped Top, $28 | Turquoise Necklace, $90 | Neutral Pump, $72 | Polka Dot Scarf, $89 | Denim Jacket, $79
I'm a big fan of creating a "base" or a "column of color." Here, I paired simple black pants and a tank as our base. You could also use a dress like this sheath. Once your base is established, with pieces that work best for your body type, you can add layers that bring the look together. Below are my favorite tricks to bring black into warmer weather:
White Blazer, $74: Give your body and long and lean line by adding a contrasting blazer over you column of color. Black and white is the most classic spring combination. It feels pulled together and deliberate.
Striped Top, $28: God forbid I go three days without talking about a stripped top. But, it's officially that time of year and I love this nautical inspired one with gold button shoulder detail that's under $30 from Brooks Brothers.
Turquoise Necklace, $90: Years ago, Ralph Lauren did an ad featuring black gowns with oversized turquoise necklaces and I found it strikingly beautiful. You can take that idea into real life by adding something like this multi strand turquoise choker to a simple black sheath and head out to an after work event.
Neutral Pump, $72: Instinctively, when we wear all black, we tend to go right to a black shoe. To lighten your look, pair your black dress or black base with a neutral-to-you shoe. It's an elegant way to extend the line of your leg and enhance your height. Sam Edelman makes a great, basic pump in a range of colors, currently on sale for $72.
Polka Dot Scarf, $89: When in doubt, add a scarf. Scarves are a simple way to add layer and interest without creating bulk. I'm crazy for this oversized black and white scarf on sale at Club Monaco. You can wrap it over a dress, or loop it around you neck and layer it with blazer.
Denim Jacket, $79: Finally, a denim jacket can be layered over just about any piece and make it ready for spring. Throw this over a dress or your black base, add a scarf and finish with your neutral shoe. You can make it work for the office or the weekend.