Lately, I have not been feeling great about my body. As a creature of habit, I thrive in routine. Four months of stay at home orders took its toll on me mentally and then physically.
Fitness-wise, the accountability I get by going to group classes and the scheduled time out of my house, free of distractions and interruptions, helps me create the boundaries I need to take care of myself.
So once gyms closed and homeschooling started, I was really at a loss for what to do. I am getting back on track and am beginning to feel better. But I'm nowhere near the weight or fitness level – more specifically, I don't feel as strong, energized, or healthy as I was pre-COVID.
It's frustrating, of course, but I know that if you feel like crap while you're trying to get back to yourself, you're never going to get there.
Doing little things, like getting a manicure, or putting on some makeup in the morning is so important. It sends a single to your brain that caring for yourself is a priority.
And finding a few things to wear that make you feel pretty is like jet fuel for motivation.
So a month or so ago, my sister-in-law came over in what looked like the perfect summer dress, from Amazon. I loved it so much I ordered one, then another, and then another.
I feel slim, feminine and so pretty in them.
And don't be turned off by the model photos, you can see them on me and my very normal body below.
The $30 Wrap Dress I'm Living In This Summer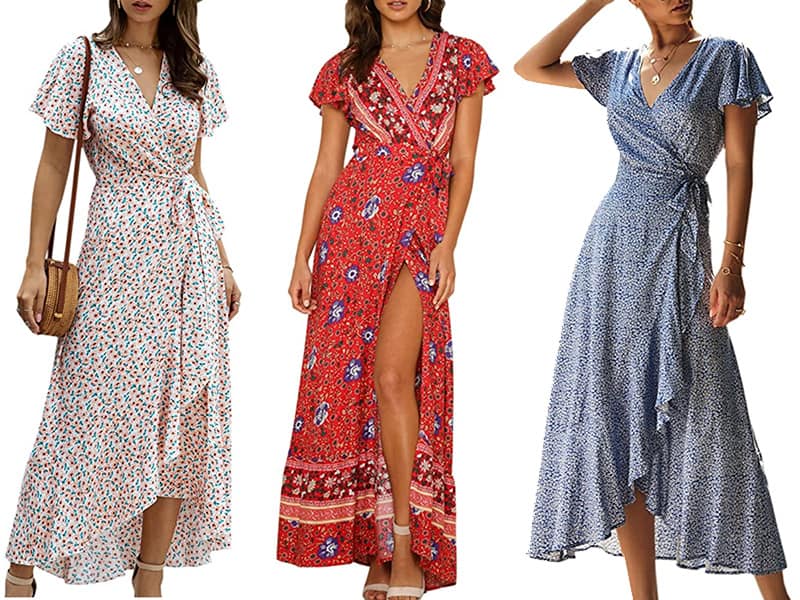 Wrap Dress, $30
We've been trying to take advantage of the weather and support our local restaurants with a weekly date night. It's lovely to sit outside and decompress for a few hours, out of the house and away from the kids, especially since there is nothing else to do.
I am wearing these dresses on repeat. To dinners, for drinks outside, even to my daughters softball games.
View this post on Instagram
I'm wearing the large and it fits perfectly. There are two styles available, one has flutter sleeves and a high/low hem, the other has a short sleeve and long maxi skirt (shown in red).
Below is the blue version. I wore it to dinner last night in the city with my sister-in-law.
View this post on Instagram
To care for them, I put them in a lingerie bag and wash on delicate. Then, I hang them to dry and use my steamer to remove any wrinkles quickly.
---

Our Content is Inspired by Our Readers
Our readership inspires all of our posts and is not sponsored or paid for by brands or retailers.
Recommendations are based on my experience as a personal stylist and wardrobe consultant for over a decade. I worked with busy, down-to-earth women who wanted to look chic and feel confident but were often confused by so much of retail.
Some links are affiliate links, which means if you purchase via our site, we receive a small commission.
If you enjoy our content and would like to help us grow, please consider following on Instagram and join our Private Facebook Group to access more advice and exclusive in-depth conversations with other like-minded women.