Target currently has some sweet and feminine pieces worth sharing. All of them have a bit of a romantic touch which is fun to try out right now as the weather warms. You can wear them now, and as restrictions begin to lift, out and about in normal life.
Sweet and Feminine Finds at Target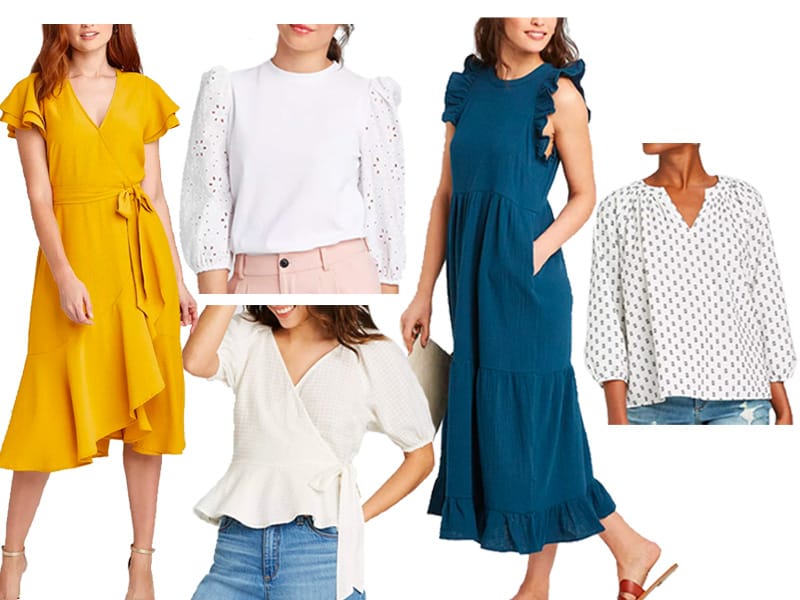 Let's talk about sizes. Target is all over the board. I tried all of these on so please read the descriptions below for specifics. Generally, I size up one. I usually wear a medium, but a large feels slightly more comfortable. The items below are available in XS -XXL and then a few have a plus size option linked.
Petite Friendly Dress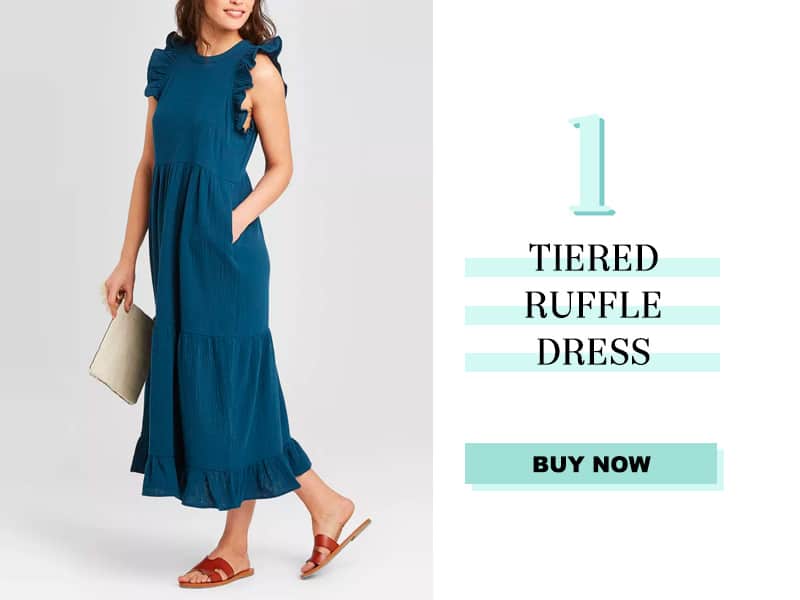 Tiered Ruffle Dress, $35
This dress is not specifically petite, but if you are petite, it will work beautifully. I LOVE the idea of it, but if you are tall, like me, it's a no-go.
However, it's great if you are under 5'7. Perfect for a work from home day when you want to get out of your leggings and look chic comfortable. Available in XS – XXL in white, blue and pink. Plus size version here.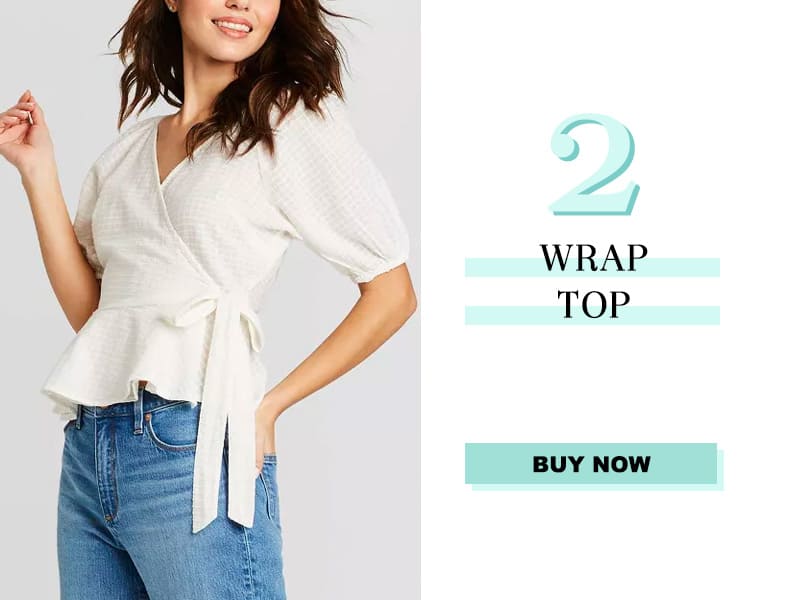 Wrap Top, $35
This wrap is great if you are short waisted and straight up and down (what some would call a "boy" shape). It's done in a pretty ivory with a subtle windowpane pattern and a soft full sleeve the gathers right above the elbow. You'll see a white bra through it but not a neutral-to-you. Looks perfect with summer jeans or a bright colored ankle pant. Plus size version here.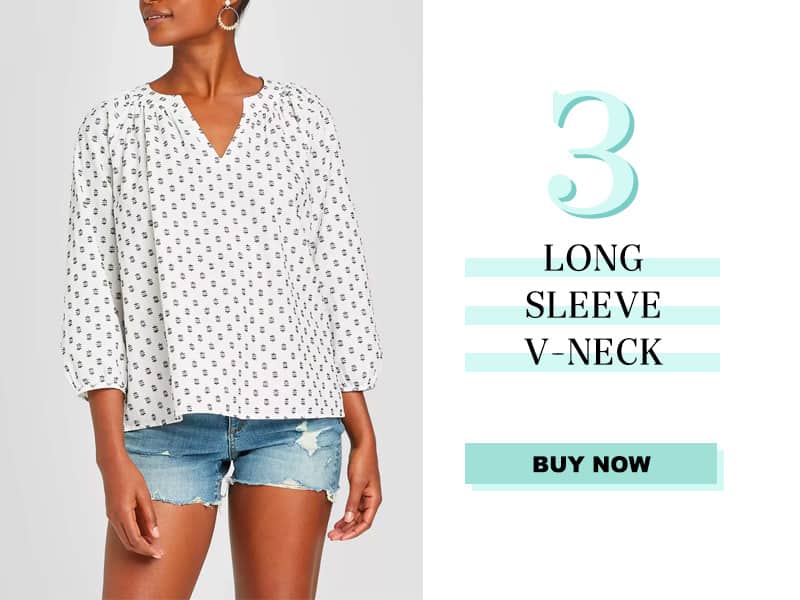 Long Sleeve V-Neck, $25
This lightweight tunic top is a lovely alternative to a tee shirt. I bought it for myself and my teenager, in different sizes, obviously. It falls away from the body, but doesn't feel oversized. It comes in the pretty blue and white print, and a bold red. Scoop it up now to wear with jeans, and then pair it with your favorite shorts this summer.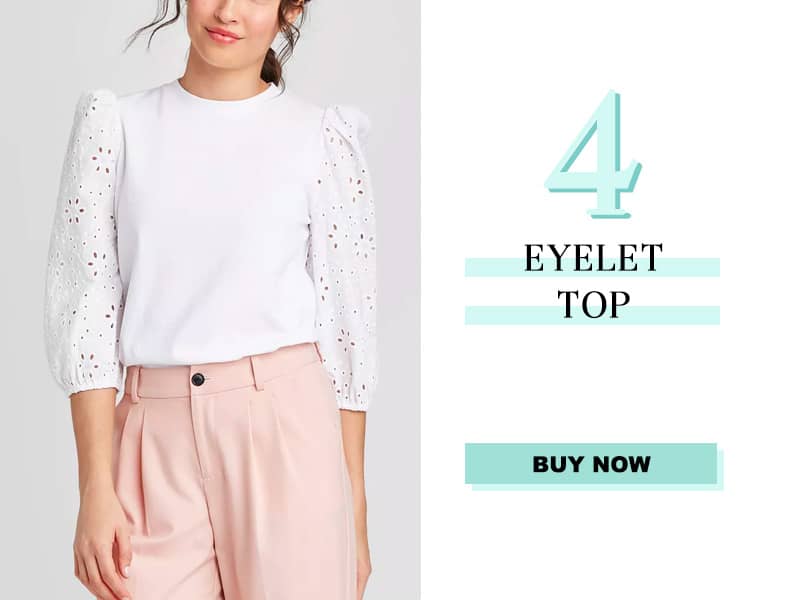 Eyelet T-shirt, $20
If you want to add some fashion drama to your stay at home wardrobe, this tee shirt is the way to go. The body is done in soft cotton with detailed eyelet sleeves with an exaggerated puff at the shoulder. It's fun and affordable, available in white, red, and rust.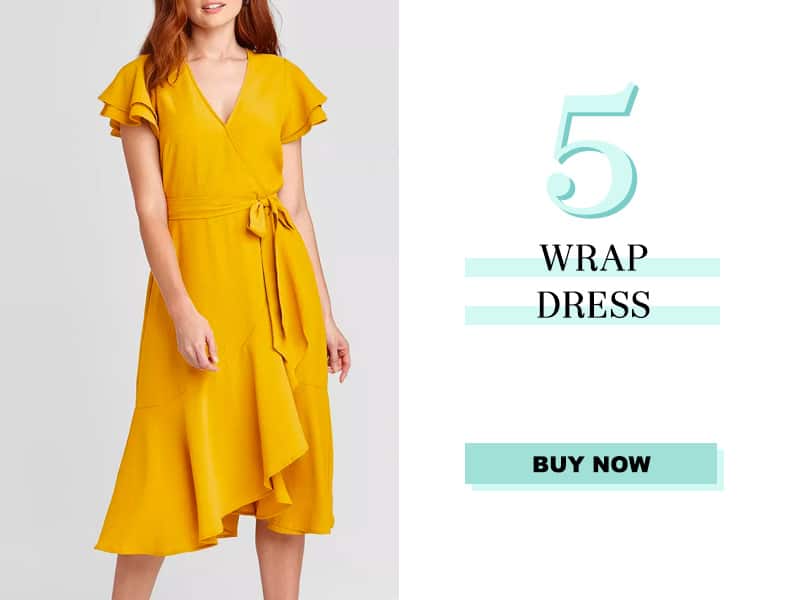 Wrap Dress, $30
This wrap dress looks so much more expensive than its $30 price tag. I featured it above in what they are calling gold – I would call it marigold – because it looks extra sophisticated. Wear it now with a pair of slim white sneakers, and then break out your wedges for a summertime night out.
---
Our Content is Inspired by Our Readers
Our readership inspires all of our posts and is not sponsored or paid for by brands or retailers.
Recommendations are based on my experience as a personal stylist and wardrobe consultant for over a decade. I worked with busy, down-to-earth women who wanted to look chic and feel confident but were often confused by so much of retail.
Some links are affiliate links, which means if you purchase via our site, we receive a small commission.
If you enjoy our content and would like to help us grow, please consider following on Instagram and join our Private Facebook Group to access more advice and exclusive in-depth conversations with other like-minded women.
---