I'm always on the hunt for new good-for-you skincare and last month, I found a new product that I am going to add to my permanent line-up. I already found the organic sunless tanner of my dreams, but I needed something to protect me from the sun. After a middle-of-the-night research session (I don't sleep), I found and ordered Suntegrity Skincare Face Sunscreen and Primer. And I LOVE it.
Suntegrity Skincare Face Sunscreen and Primer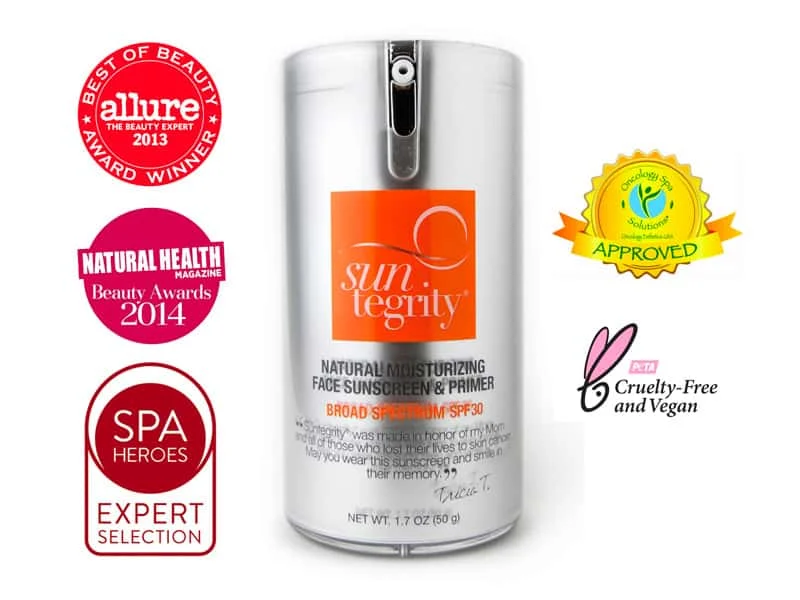 I mean, just read the description from Suntegrity's website:
Suntegrity moisturizing face sunscreen is a rich, non-greasy, "UV chemical-free" sunscreen that offers Broad Spectrum Protection against damaging UVA & UVB rays. Infused with youth promoting antioxidants, this 3 in 1 Suntegrity Skincare product functions as a face moisturizer, sunscreen and make-up primer all in one. Hyaluronic acid, astaxanthin, red algae and Certified Organic: aloe vera, jojoba, sunflower, pomegranate, cucumber, and green tea help provide additional sun protection, moisture and hydration. Non-nano sized zinc-oxide not only protects the skin from the damaging UVA and UVB rays, but it also soothes and calms the skin. Zinc-oxide is known for its anti-inflammatory properties that often help skin conditions like rosacea, acne, and melasma.
Doesn't that sound perfect?! I found with other facial sunscreens that I have used in the past that they either smelled like sunblock or caused breakouts. I can say with confidence that Suntegrity's moisturizing face sunscreen does not smell at all, because one of my pregnancy symptoms is an overly keen sense of smell.
After I cleanse my face, I apply my serum, a super-thin layer of moisturizer, and then this sunscreen. I have dry skin, so I need the double moisture, but for folks with normal or oily skin might be able to skip the moisturizer before this sunscreen. I have found that it's better to wait a few minutes before applying makeup on top of the sunscreen. It needs a moment to set. A little goes a long way, so this one bottle will last you the entire summer.
You've heard the lecture before, but I am going to say it again. Stay out of the sun as much as possible and wear sunblock. Every single day. This means in all four seasons, no matter if it's raining or snowing, no matter if you "don't plan on going outside," and even when you're on an airplane. The only time I am not wearing it is when I am in bed, blinds closed and curtains drawn. I know this makes me sound like a vampire, but I did not listen when I was younger and I hang my head in shame when I hear my dermatologist point out the damage I have done to my skin. Nevermore. End lecture.