Happy Sunday, Ladies!
Since it's the last Sunday of the month, we're rounding up our very Best Sellers. And as you can see from this image, you loved every classic, modern tailored piece we featured. So, if you need them, now's the time to grab them before they sell out.
Remember, we're in that weird time between seasons, when retail has one foot in the winter and one in resort/early spring. So as the season changes, and new merchandise is realized, I'll introduce you to a new selection to continue to build out your wardrobe.
Reader Favorites in January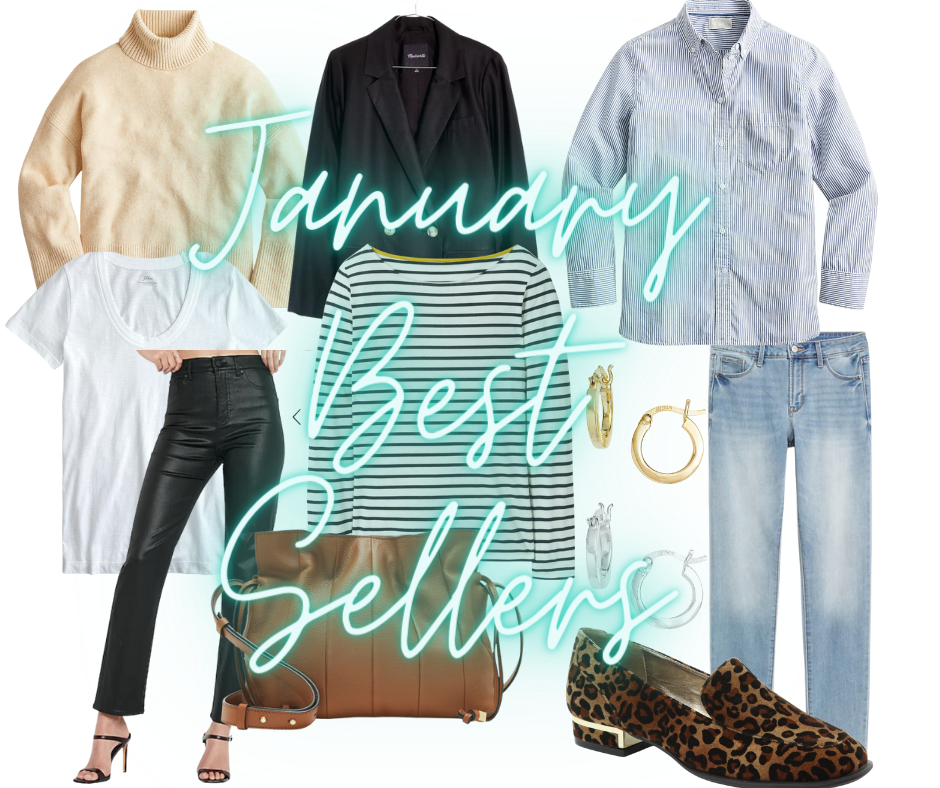 1. J.Crew Short-Sleeve Vintage Cotton Scoopneck T-shirt, on sale, $24.99, in all sizes but limited. Available in white, navy and black.
2. Madewell Caldwell Double-Breasted Blazer: Two Button Edition, $158, a lightweight boyfriend style blazer, for the spring or if you live in a mild climate.
3. J. Crew Turtleneck Sweater in Supersoft Yarn, on sale $60, in a wide range of colors, size inclusive but inventory is limited.
4. Express Super High Waisted Black Coated Modern Straight Pant, $98, available in 00 – 18 in regular, petite and tall sizes.
5. Boden Long Sleeve Breton Top, $40, a Well Dressed Life Wardrobe Staple, at a fabulous price, in sizes 2 – 22.
6. Old Navy High-Waisted Power Slim Straight Jeans For Women, a light-wash jean is going to be EVERYWHERE in the spring and ON makes a fabulous option in all sizes at an even better price.
7. Argentovivo Set of 2 Mini Square Hoop Earrings, on sale $46 – for both the silver and gold. These are lovely if you are building a capsule of everyday jewelry.
8. VINCE CAMUTO Dario Leather Crossbody Bag, $178 in Warm Caramel, is an updated, classic shoulder bag that will stand the test of time in your wardrobe.
9. J.Crew Classic-fit Washed Cotton Poplin Shirt in Pinstripe, $79.50, available in 0 – 24. See three ways to wear it here.
10. Hazel Loafer in Leopard, at DSW, $49.99 available in most sizes.
10. Finally, the Skinceuticals SkinCeuticals C E Ferulic Serum, a spurge at $166, was our top beauty buy. It's one of my skincare staples!