This content has been archived. It may no longer be relevant
It's strawberry season! Whether you are taking the kids to a patch to pick your own, or just running through the market, be sure to buy a few pints before it's over. I love strawberries this time of year. You can use them in salads, create a simple dessert, or throw them in scones for a quick but impressive and indulgent breakfast. For a healthy snack, I decided to whip up a Strawberry Protein Smoothie. It's quick, easy and is a crowd pleaser for my kids and super picky hubby.
Like most moms, the struggle to find kid and husband approved healthy meals and snacks is real. I do a decent job, but when they really like something, it's worth sharing. Earlier this year, I posted our go-to green smoothie. I drink it almost every day, but for a little variety, this bright and sweet strawberry smoothie is the perfect breakfast or post workout drink.
Summer Strawberry Protein Smoothie

Summer Strawberry Protein Smoothie
Makes 2 Servings
2 cups fresh strawberries
1 ripe medium banana
1 – 2 cups of unsweetened vanilla almond milk (measurement varies on the kind of consistency you like.)
1 scoop of protein powder
1 package of Vital Proteins
1 pinch of pink Himalayan sea salt
1/4 teaspoon real vanilla extract.
* I love Califia Farms Almond Milk, and Vega Vanilla Protein Smoothie Powder.
Throw everything in a blender, and in seconds you have a nutritious and delicious meal or mid-afternoon pick me up. I add a tiny pinch of pink Himalayan sea salt to bring out the sweetness (plus take advantage of some of its health benefits) and a little splash of pure vanilla extract for some depth of flavor.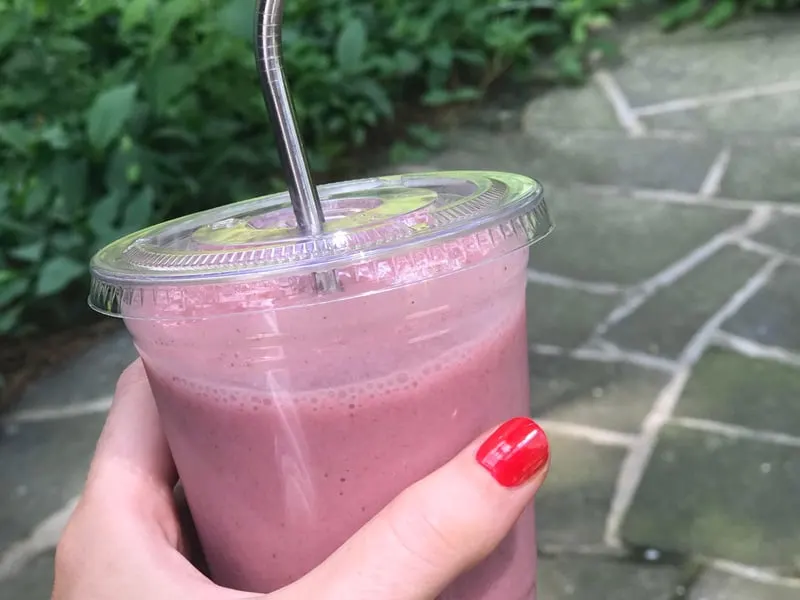 Take your smoothies on the go with these plastic cups and lids. I know they're not very environmentally friendly, but frankly, every time I buy fancy cups and bottles to reuse, my kids lose every single one of them. So I make sure we toss them in the recycling, and we use these stainless, reusable straws.
This is real life; it's all about balance.