Before 2020 took a turn, I spent one or two days a month walking the mall, going in and out of our favorite stores to see items in person. It was always a helpful exercise because I could get a real sense of current trends, and could also experience some of the frustrations our readers have about in-person shopping first hand.
Since I have zero interest in strolling a mall anytime soon, yesterday I set aside a few hours to organically online shop. I started scrolling through hundreds of pages of new arrivals, and searched for random basics just to see what came up.
This skirt was one of my finds.
'Summer Fling' Flirt Skirt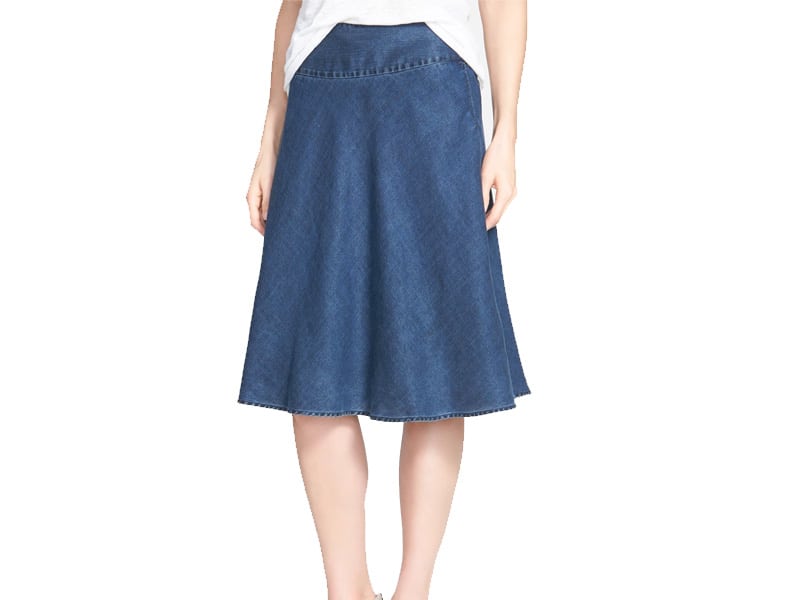 Skirt, $108 in Petite and Regular up to an 18
Yesterday felt like it was 4,000 degrees outside. The kind of heat that makes you sweat the second you open your front door. On days like that, the last thing you want are your clothes clinging to you.
If you're working from home, you can get away with wearing whatever you want in this heat.
But if you have to do things, and lately, more of us have to leave the house to do something, you may want some HOT weather options.
When this skirt, by Nic + Zoe, came across my screen, with its lightweight fabric and a-line cut, I knew it was an excellent option for these high-temperature days.
It's a great alternative to shorts, or summer pants.
How should it fit? Ideally you want this to hit right above your knee. Any shorter and you'll start to mess with the shape of the a-line, any longer and you run the risk of looking frumpy.
Because the skirt has a flattering yoke in the front, you can easily tuck in, half tuck, or leave your top out.
Today, I styled it two ways, to give you a visual of how it can translate in your real life.
Outfit One: Add a Pop of Color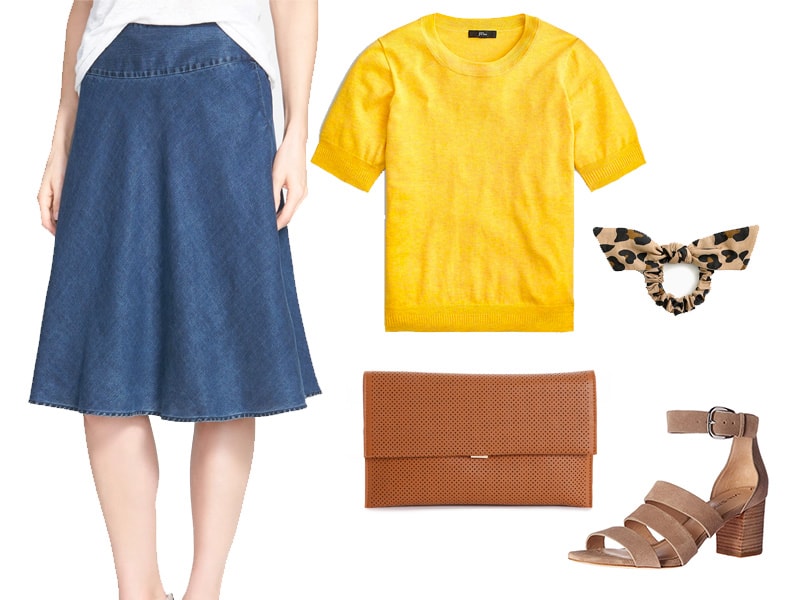 Skirt, $108 | Crewneck Sweater, $35 | Hair Tie, $16.50 | Sandal, $107 | Clutch, $30
The dark indigo of the skirt works well with a bold pop of color, so I paired it with this cheerful yellow sweater (featured in yesterday's J. Crew round up). Other color pairings that work well are green, red, or orange.
Because the colors are bold, neutral accessories will ground the look. I love this clutch I found out DSW for $30. The perforated detailing adds a subtle bit of texture which you need to help the outfit from looking flat.
The shape of the skirt lends itself to a heel. You don't have to wear anything crazy high, but a lift will help the skirt hang properly.
These sandals by Via Spiga are a find! I'm a huge fan of their block heels for both the comfort level and styling. Again, the suede straps adds texture.
And just for fun, I included this hair tie. Add this if you are pulling your hair back off your face and neck for an extra accessory that doesn't weigh you down.
Outfit Two: With Better Basics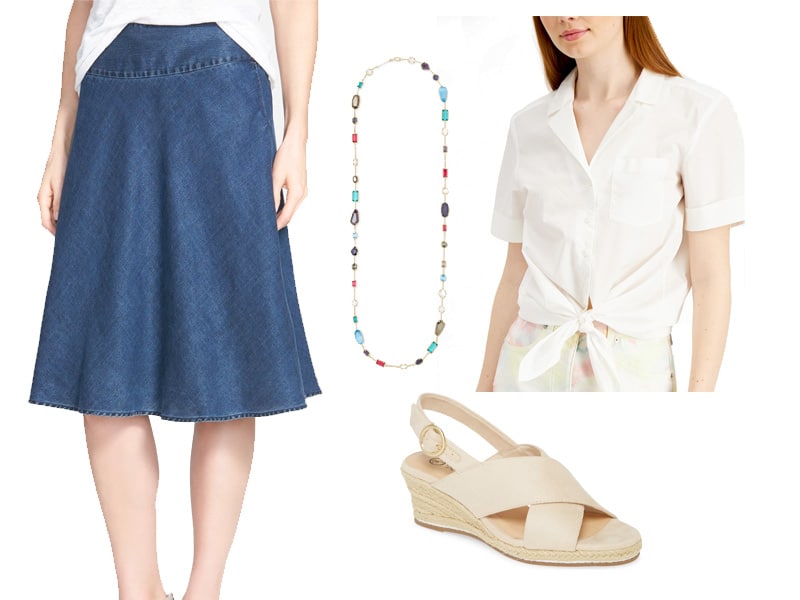 Skirt, $108 | Sandals, $90 | Top, $40 | Necklace, $100
The skirt immediately made me think of Gwyneth Paltrow's Marge in The Talented Mr. Ripely, one of my favorite movies. Every outfit she wears in the film is pure perfection.
So I searched for a tie-front crisp white shirt to create a modern version of the outfits she wears casually strolling Italy in the 1950's.
Of course, you can wear it with your favorite simple white tee shirt, but this gives it just a little oomph.
This colorful beaded necklace will layer under your collar if you look it twice. (Take a closer look here, it's so pretty!)
Finally, these espadrille wedges are perfect and under $100. So often, espadrilles have a seriously high heel that makes them unmanageable.
---
Become an Insider
Join our Summer 2020 Membership and receive access to our Members Only Portal, filled with exclusive content, our Summer 2020 Shopping List, Summer Capsule, Over 50 Outfit Formulas and LIVE style coaching sessions with me!
Membership closes July 27th.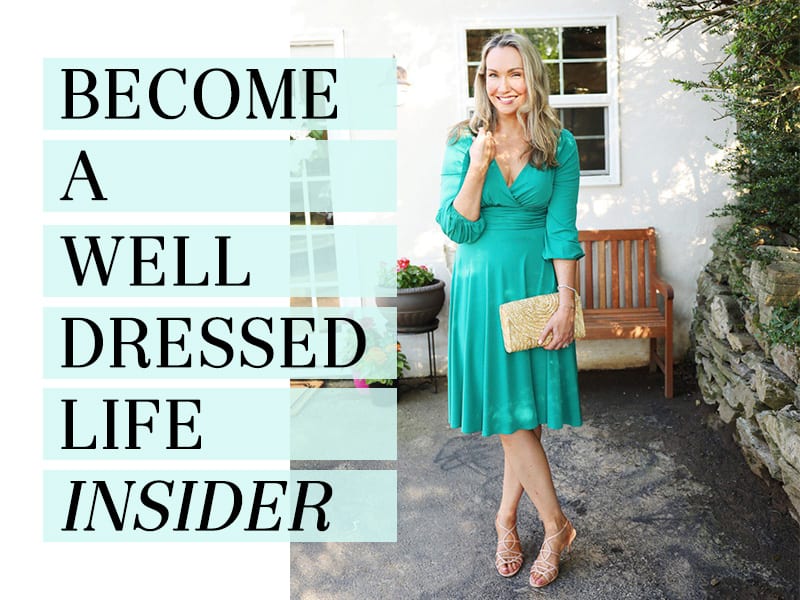 ———————————————————–
Our Content is Inspired by Our Readers
Our readership inspires all of our posts and is not sponsored or paid for by brands or retailers.
Recommendations are based on my experience as a personal stylist and wardrobe consultant for over a decade. I worked with busy, down-to-earth women who wanted to look chic and feel confident but were often confused by so much of retail.
Some links are affiliate links, which means if you purchase via our site, we receive a small commission.
If you enjoy our content and would like to help us grow, please consider following on Instagram and join our Private Facebook Group to access more advice and exclusive in-depth conversations with other like-minded women.