This content has been archived. It may no longer be relevant
Yesterday, we started our series on creating a personal brand. One of my most favorite tips for creating a more pulled together professional image is to swap out your loose fitting cardigans with a structured blazer. Of course, the challenge this time of year is the weather. It's warm outside, and probably freezing in your office, so you need something that is light enough to work in both temperatures.
The good news is, it's the summer, so not only can you get some great lightweight options, but you can pick the up at great sale prices.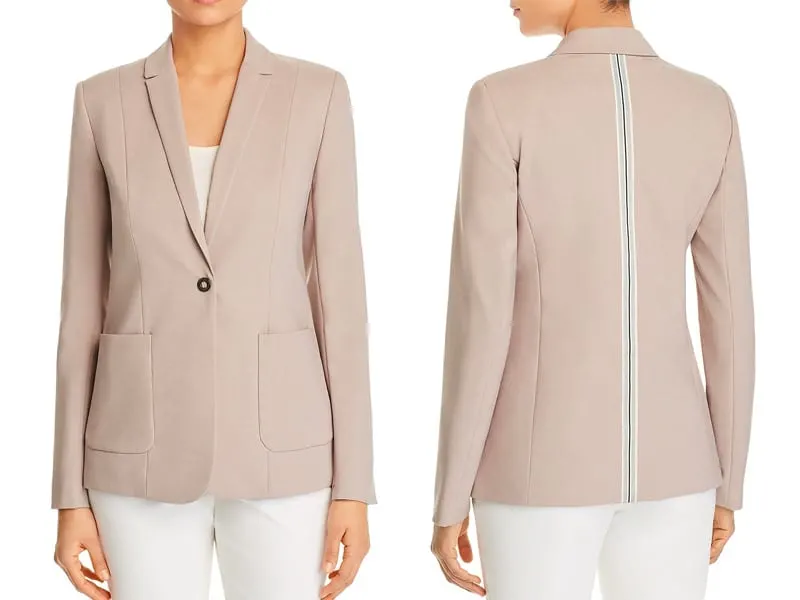 T Tahari Riesling Back-Trim Blazer, $158
T Tahari was a go-to brand for me when I shopped for clients. The price point is reasonable for the level of quality and consistency in fit. This classic option has a twist with an unexpected trim running down the back center seam. It almost makes it look sporty, but still completely appropriate for the office. The only think I would call out is the button. I would swap it for either a black button or tone on tone – doing so will open up more options for bottoms.
If you like a bold red, this one button blazer, also by T Tahari is a year round classic.
Looking for something less buttoned up? I like this ruched sleeve boyfriend blazer by Aqua. You can pair it with ankle pants, a skirt or your favorite office appropriate jeans. It's available in black and white, which is on sale, but they are both under $100.
For a summer specific look, I love this seersucker blazer from Lafayette 148. Over the years I've splurged on a few pricey Lafayette pieces, and each of them has served me well. Now that my day to day is a lot more casual, I look for them on sale. Even on sale, they're still a considered purchase, but I can speak from experience that they have always been worth their price tag.
Finally, for a different style all together, this wrap style gives you a different yet still polished silhouette. It's on sale for under $90 and is an easy piece to wear now and transition with into the fall. Don't forget, navy is a versatile basic. You can wear it with black, white, denim or with a print or pattern.
Shop this post with Plus Sized Options