Today's capsule collection is a little different than what I originally had planned for this month, and that's okay. As we navigate our current reality, I want to focus on ways to make us feel comfortable, safe, and keep us optimistic as best as possible.
Over the last few weeks, I've heard from so many of you (and truly love it!), sharing your tips on how you've personalized a routine, how you're benefiting from getting up and getting dressed, and how merely slipping on a pair of "real" shoes sets you up to be more productive.
I organized today's post like most other capsules. There is a lot of mix and match opportunity within the collection, and with pieces I know you already have.
There are as many size-inclusive options as possible. Almost everything is on sale, so I made sure that these were pieces you'll be comfortable in now, and will easily transition back into real life in the coming weeks.
Stay and Work-From-Home Capsule Wardrobe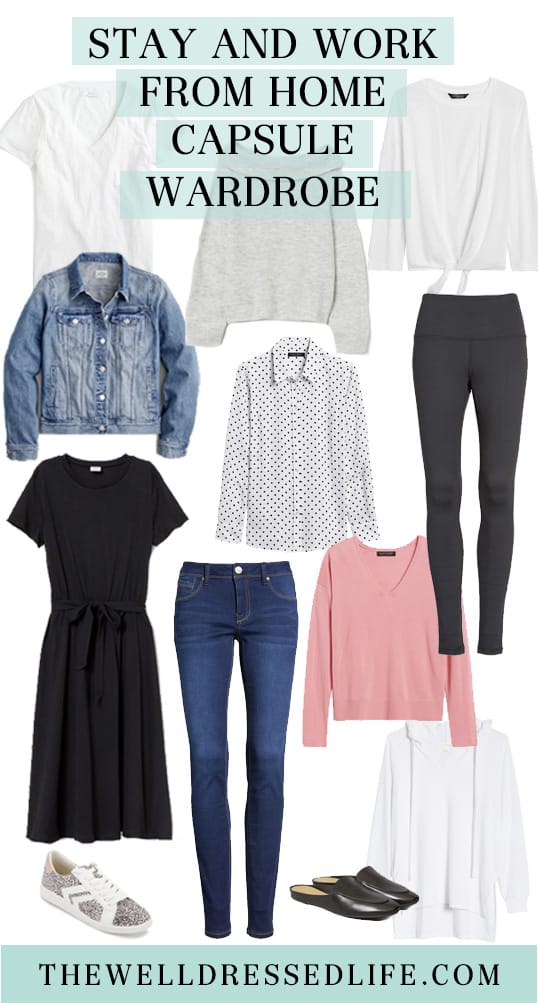 Think of this as a shopping and/or checklist.
You may have versions of these at home already, if not you can pick these up here. Scroll down the page to see how and why I added certain pieces.
Unlike my other capsules, I focused more on practicality and less on elevating style, while still sneaking in some fashion where I could.
Stay and Work From Home "Must Have" List
Legging, $59: These are the best leggings. They are thick, but not too heavy. I've had pairs for years and they wash so well, which is something to consider. Plus Size here.
Leopard Sneaker, $69: I ordered these for myself, I absolutely love them.
Hoodie, $59: Available in white and black, in sizes XXS – XXL. Wear now with leggings and sneakers, take to the beach in the summer.
Pink Sweater, $70 (on sale $35): This washable wool sweater is ideal for chilly spring weather. It comes in a dozen beautiful colors, in regular and petite up to an XXL. Banana Republic is currently having a 50% sale making this around $35.
T-shirt, $30 (on sale $15) I have loaded up on black and white tees lately. This one from J. Crew is available in all sizes up to a 3X in over a dozen colors. Also 50% off on their website making this only $15.
Denim Jacket, $110 – A classic denim jacket is a spring time staple and no one makes one better than J.Crew. Throw it on over anything as you spend more time outside as an alternative it oversized sweats and sweaters. Available in all sizes up to a 3X.
Now let's see how to wear them …
Leggings and Sneakers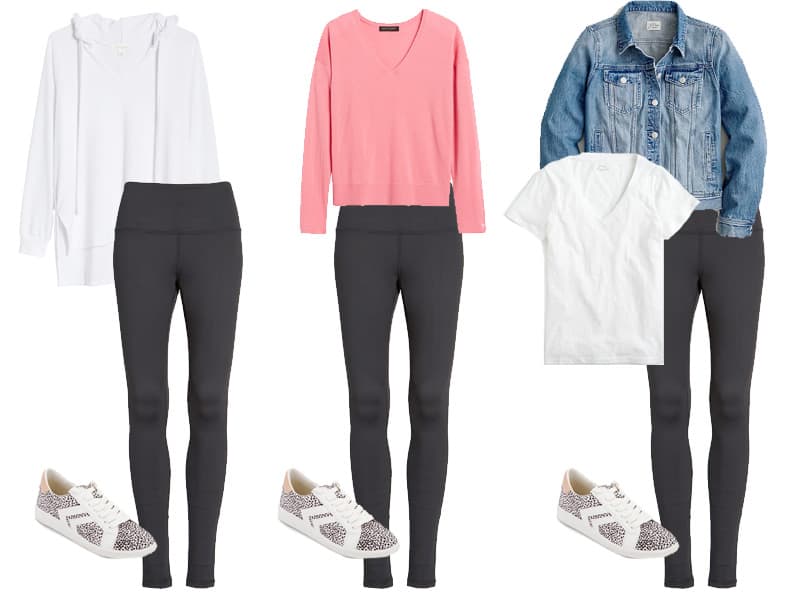 Legging, $59 and Leopard Sneaker, $69 with either Hoodie, $59 or Pink Sweater, $70 or T-shirt, $30 and Denim Jacket, $110
I can't get over how much I love these sneakers. I'm going to spray mine with Scotchguard to keep them gleaming white. It's that contrast between the print and the stripe that makes them so sweet.
A legging/tunic/sneaker combination is an obvious one for right now. Using a fun sneaker and a tunic with a hood updates it a bit.
Then I paired the pink sweater with the leggings as an example of what I would wear on a day I want to stay comfortable, but have to hop on a Zoom call. Wearing a color that brings light and life to your face is an easy way to look your best on those dreaded video calls.
Finally, a tee shirt and denim jacket is just the thing for sitting outside watching the kids, or taking a quick walk around the neighborhood.
Next, let's add a few more items:
Jeggings, $39: These jeans, by 1822 Denim look like jeans but feel like soft leggings and are under $40. I have been living in them when I want more of an outfit but don't want to feel confined (because let's be honest, the jeans I dreamed of fitting back into this spring are going to continue live, lonely, in my closet). They run true to size and stretch – available in sizes up to a 20W.
Gray Sweater, $10: This $10 sweater from H&M can be worn like a cowl neck, one shoulder or off the shoulder, so you can wear it around the house during the day, or save it for an in-house date night on the weekend.
Tie Front Shirt, $15: I've always liked the idea of a basic with a twist and this one is just that. It's just a simple long sleeve tee, but the tie front detail makes it feel special.
Jeans and Sneakers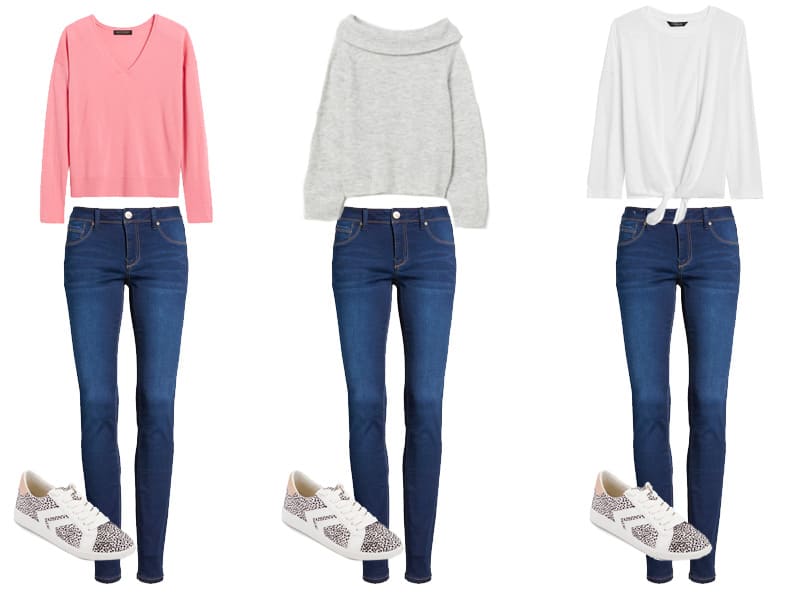 Jeggings, $39 and Leopard Sneaker, $69 with either Pink Sweater, $70 or Gray Sweater, $10 or Tie Front Shirt, $15
All three of these looks are outfits you can lay out at night, and hop into at the start of your day. You'll look pulled-together, and be comfortable. Be sure to add your everyday jewelry, fix your hair and add a little make up – you'll feel like your normal self.
Then, I added:
Mule, $145: A backless mule is casual, but still a shoe. I find, especially when I have to get a lot of work done in a little time, that putting on a shoe quickly gets my head in the game. It sounds silly, but I'll take productivity wherever I can get it right now.
Another nice option here would be a pair of Rothy's that many of you already have.
Polka Dot Shirt, $80 (on sale for $40): Button downs don't get enough attention, in my opinion. Jackie Kennedy use to just wear them around the house, and we can too.
I don't think you're allowed to have a bad day if you're wearing polka dot, so that's what I went with. It's on sale for $40 in missy, tall and petite up to an XXL.
Jeans and Loafers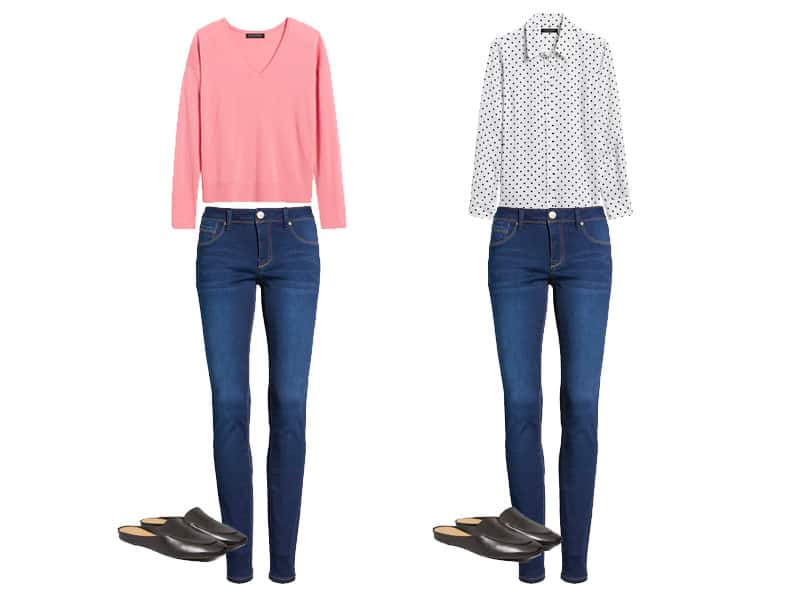 Jeggings, $39 and Mule, $145 with either Pink Sweater, $70 or Polka Dot Shirt, $80
Now is the time to go into your closet and pair your jeans with tops you're "saving." Take them out, wear them, and you'll report back that it made your day better.
Finally, a dress …
Dress, $30: I have been searching for dresses that work for our current at home lifestyle. I want something easy to wear and function in during the day (I have three kids, one of which is a very busy toddler) but still looked chic and make me feel like me. This is it, from H&M, I sized up one. It's also available in red and a navy stripe up to a size XXL.
Simple Tee Shirt Dress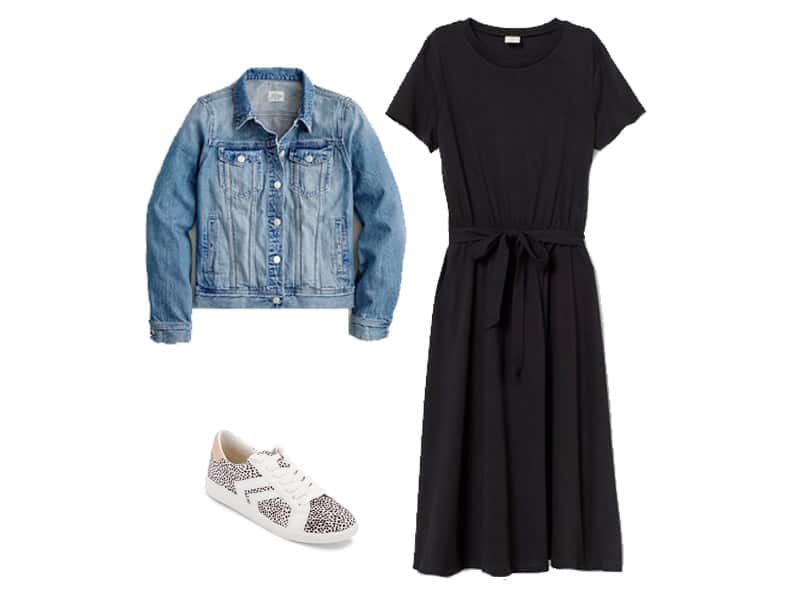 Denim Jacket, $110 with Dress, $30 and Leopard Sneaker, $69

You can wear it with the denim jacket and sneakers now, and when the weather warms a chic slide, and make it your go-to travel dress on the day we're boarding flights for all of our rescheduled trips.
---
Our Content is Inspired by Our Readers
Our readership inspires all of our posts and is not sponsored or paid for by brands or retailers.
Recommendations are based on my experience as a personal stylist View Postand wardrobe consultant for over a decade. I worked with busy, down-to-earth women who wanted to look chic and feel confident but were often confused by so much of retail.
Some links are affiliate links, which means if you purchase via our site, we receive a small commission.
If you enjoy our content and would like to help us grow, please consider following on Instagram and join our Private Facebook Group to access more advice and exclusive in-depth conversations with other like-minded women.
---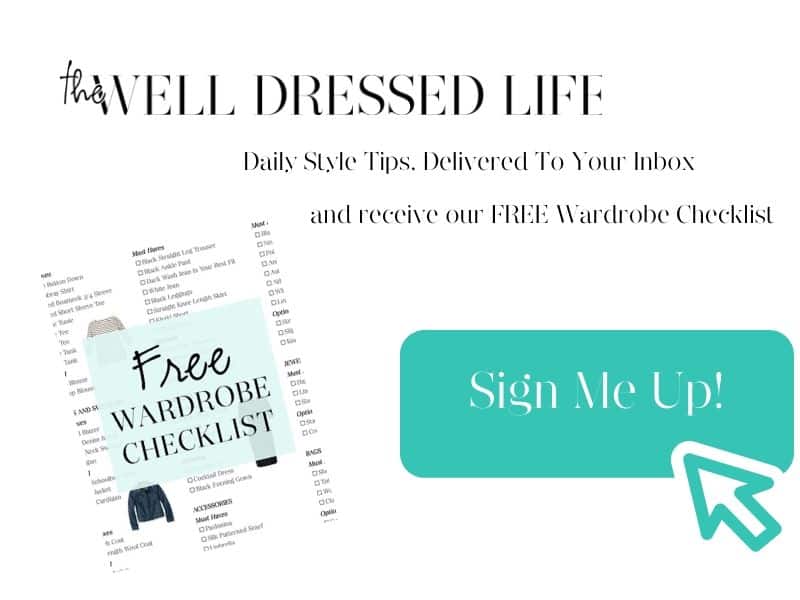 ---