Right about now we are all standing in our closets thinking, "I need a few new tops." The weekends is when I really feel the void. I've always been disciplined with keeping my closet edited. One thing in, one (or two) things out. But lately I've been taking a lot out and not replacing it, leaving me wondering where the heck are all my clothes?
So when Lauren texted me yesterday that J Crew Factory was having a Buy One Top Get One Free Sale, I knew we had to make it our weekend post. Before we get started a few things to know. Many people think J. Crew is a size limited retailer, only selling super small options. In the past, perhaps, but they have become much more size inclusive over the years. Traditional J. Crew goes up to a size 16, while J. Crew Factory (or Mercantile) has an impressive size scale ranging from XXS (00) – XXL (20).
For today I wanted to not only show you top options you can buy immediately, but also a little inspiration for how to wear each one, including bottoms and shoe options. As usual, I included a variety of options within the text so there should be a something for everyone.
The BOGO sale is online only. From past experience, these tend to only last a day or so and styles sell out quickly.
Let's get started.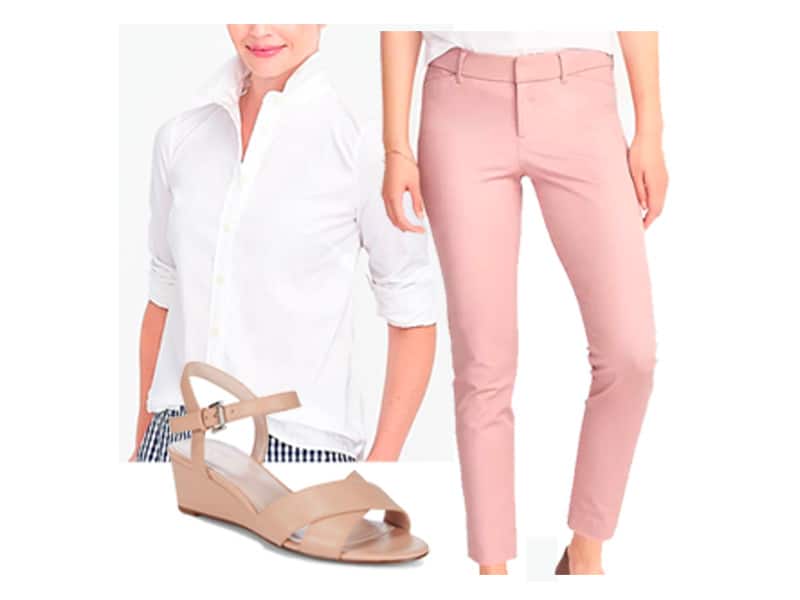 One: Button-down, $44.50 | Pants, $27 | Shoes, $50
I have been in love with a classic, white button down ever since I was 13 and saw Carolina Herrera interviewed on TV after one of her fashion shows. I pretty much knew in that moment who I wanted to be when I grew up. While I'm still working on that, it doesn't get more chic and elegant, but there is also an ease to the look. This one, in a slim cut with stretch is great for updating some of your spring staples. I paired it with these simple pale pink pants from Old Navy (hello, $27). You'll see similar pants for $120 at better department stores, which is bonkers, that's why I like Old Navy. You can find easy pieces to breath a little life into your wardrobe without having to spend a fortune. Plus, they have a much better size run.
Do I think your whole wardrobe should be Old Navy? No. But a thoughtful balance of high and low will give you an elevated look without breaking the bank.
Take a minute an look at these Nine West shoes. You will live in them. They are currently on sale at Off 5th for $50. Pair them with everything – jeans, skirts, dresses, shorts. You'll wonder how you ever got dressed without them.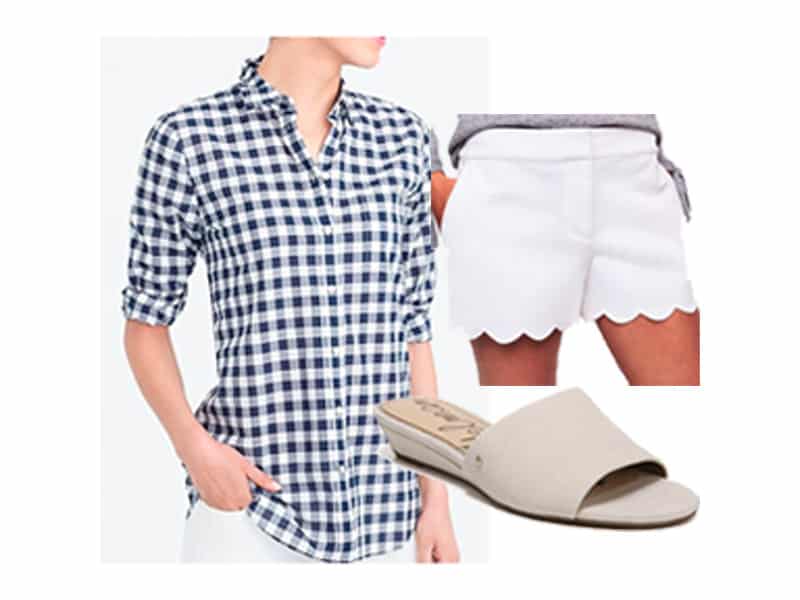 Two: Gingham Button-Down, $51.50 | Shorts, $49.50 | Shoes, $90
When it comes to pulling of shorts in a sophisticated way you have to focus on balance. The best way to do that is pairing your shorts with a 3/4 sleeve top. Miraculously, with the right faux tan, I can still pull of shorts. Thank goodness, because I'm loving this scalloped detailed version from LOFT. These are available in regular and petite, in sizes 00 – 18. They are a 4″ inseam so they are shorter shorts. Want something a little longer? Talbots did a similar style, with a 5″ inseam and higher waist. They are available in sizes 2-18, also in regular and petite.
When you wear shorts casually, skip the heel and wear a flat. But you might want something more than a flip flop. That's why I love these suede slides. They will disappear on your leg and aren't entirely flat, giving you the slightest bit of height. (Available in a variety of wearable colors.) You could also wear a higher wedge, like the Nine West shoes above.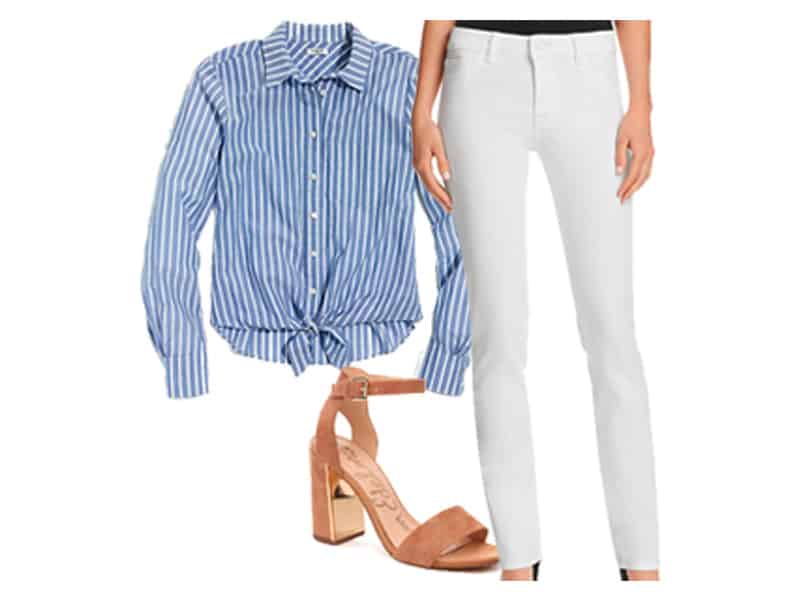 Three: Stripe Shirt, $59.50 | Jeans, $178 | Shoe, $80
There is a reason why simplicity in dress is becoming increasingly popular. It just works. If you love the look of little effort but major impact, focus your attention on creating outfits that combine basic but updated pieces. Here, we worked with this soft striped shirt that ties at the front. It's a subtle detail that adds tons of style. We paired it with straight legged white jeans. White jeans are always in my spend category. You'll get better coverage and fit. These DL1961 are the perfect combination of stretch and structure.
You could wear pretty much any shoe you want with this look. I used this heel to show how a basic sandal, like this block heel option, with simple gold accents, can add to your look. Regardless of the kind of shoe you go with, a deep tan color balances out the white in the jeans and brings a richness to the look.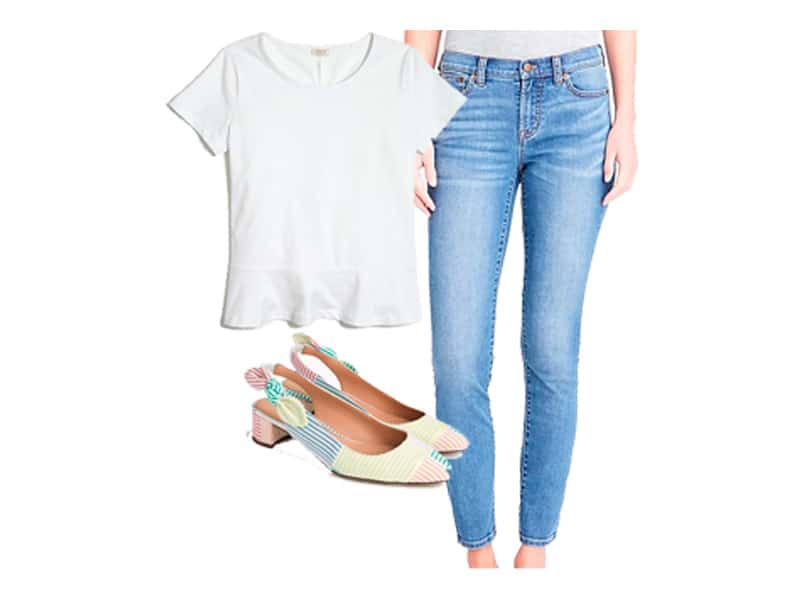 Four: Peplum Top, $34.50 | Jeans, $47.50 | Shoes, $148
Finally, a simple, classic yet updated jeans and tee shirt look. Think of this peplum top as a grown up version of a basic tee. It provides more coverage (because why are so many tees see through??), fits well, and adds a bit more style. The peplum is relaxed, so it just falls off your body, rather than creating a traditional peplum silhouette. It's available in a gorgeous jade and basic black, and you'll be shocked to learn I ordered it the striped version. For the jeans, I tend to go back to the dark skinny well too much. Since the weather is warming (is it?) I'm trying out a lighter washed option. It's a less polished look but still put together, if that makes sense. This casual option at Factory are a nice fit, and under $50.
For the shoes, again, you can wear anything from flip flops to pumps, depending on where you are going. I included these cheerful striped slingbacks because they are so different from what we usually feature. I also like this $35 flat from ASOS, and these color block pink flats at Old Navy.