We bought our home four years ago in a great neighborhood five minutes away from our kids' school. It's a rancher on about an acre of land that sits in a development that use to be an arboretum. (So. Many. Trees.) We knew the current size and layout of the house wasn't going to work long-term, but it was updated enough that we could move in and live for a bit while we figured out what we wanted to do.
The first thing we did when we moved in was finish our basement and made it an adorable hang out for our girls. Since then I've spent the last few years pouring over design options for the rest of the house. Today, we're finally meeting with our contractor to get the ball rolling, map out the phases and come up with a plan. I am so excited to see my ideas come to life. (And also wonder if moving would have been easier?) I'm going to oversee the project because I'm a control freak. To keep us on budget, and to ensure I get everything I want, we're going to do a few DIY projects in addition to working with the professionals. This alone will be hilarious since my husband and I are the furthest things in the world from "handy." But, I figure, if I can birth two kids, build multiple websites and learn the basics of coding, I can reface a fireplace. Right?
My goal is to have the final phase of the project, which includes a new patio and outdoor living space completed by next summer. Until then, I'm trying to keep the house tidy and pulled together. After the holidays it feels so bare and boring. To help me keep my patience, and satisfy my need for immediate gratification, I picked up a few things at Target this weekend to spruce up the place. I could not believe the quality, design, and price. So I thought I'd share some of my favorites with you today.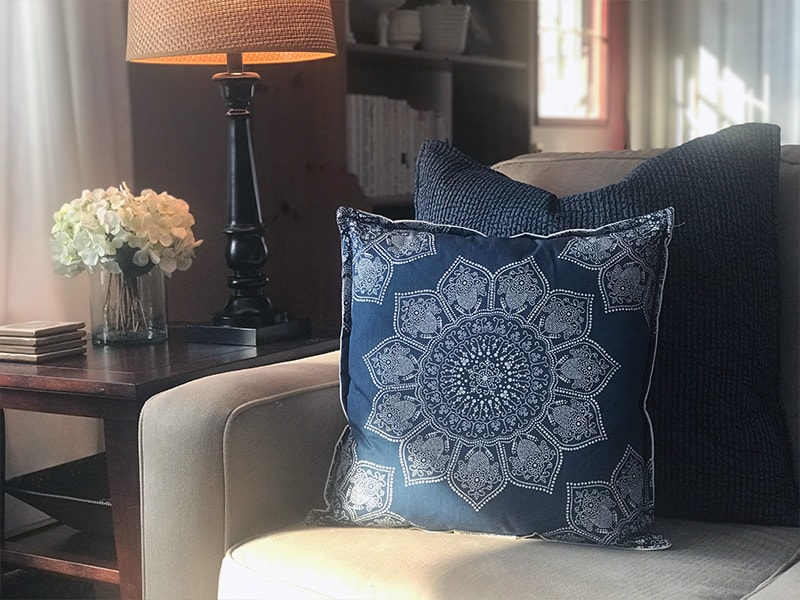 Chambray Pillow, $30 | Medallion Pillow, $17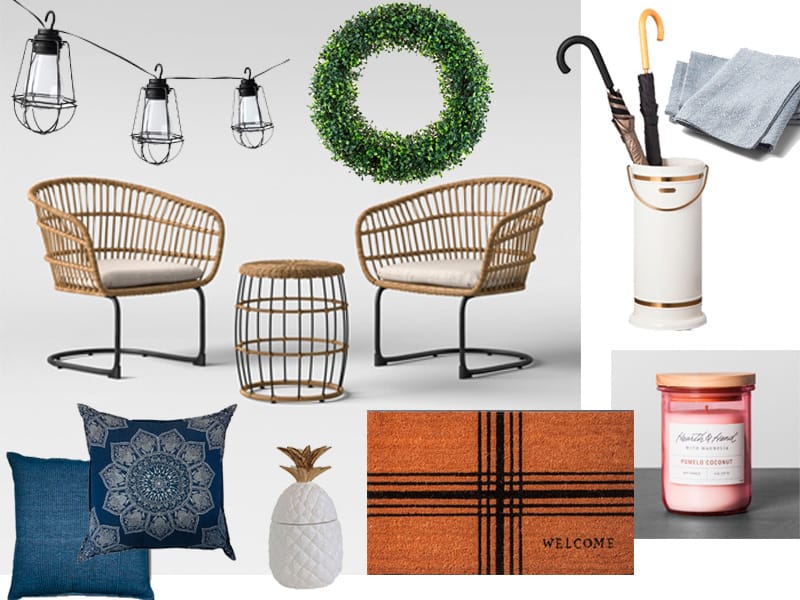 String Light, $50 | Wreath, $29 | Wicker Chat set, $280 | Umbrella Stand, $30 | Napkins, $10 | Chambray Pillow, $30 | Medallion Pillow, $17 | Pineapple Jar, $34 | Mat, $13 | Candle, $13
We have a private patio off our master bedroom that is currently covered in leaves and twigs from the multiple nor'easters that blew through the Philadelphia area. It seemed charming when we first saw the house, but ultimately turned into an eye sore because I could never figure out what to do with it. That was until I found this wicker "chat set." The scale is perfect for the space and the style is unique. It would work on a small patio, on a balcony or to create a tiny nook to enjoy a glass of wine in a garden.
I also picked up a few of these string lights. Our patio is well lite but I like the idea of falling asleep to the soft glow of accent lights coming through our patio doors. I'll share some before and after pictures in the next few weeks.
For under $50 I was able to freshen up our front door. I don't love kitchy seasonal wreaths so this tailored, elegant boxwood is right up my alley. It also works perfectly with this plaid welcome mat by everyones favorite, Hearth and Hand with Magnolia.
Pillows are my downfall. I want all the pillows all the time and these are my absolute favorite (above). I picked up two solid navy and two medallion print for either side of our sofa. They bring just the right amount of interest to a boring sofa that will be replaced once the house is complete. I also bought these pretty blue napkins and placemats to bring some blue into the dining room.
Finally, I can't leave Target without a few random purchases. I picked up a simple umbrella stand for next to our front door, because I'm a grown up and feel like I should have this kind of thing. This pineapple cookie jar came home with me as well. I imagine it tucked into a corner of our new kitchen. And last but not least, this $13 candle, a mix of citrus and coconut, which smells like a divine mix of spring and summer in one scent.
We'll share some of our design projects on the blog in the coming months. As we get started, I'd love to hear any advice you might have if you've lived through a remodel in the comments below!