I'm a big fan of the trench coat. When I cinch the belt and pop the collar, I can't help feeling a little more powerful and sophisticated. In general, coats are an essential element in an outfit. They are your first impression and can either elevate your style or distract from it. This time of year, the trench is such a great outfit "finisher." Since we are finally able to shed our winter layers and add something light and elegant to our outfits, trench coats make it easy to up your style factor with little effort.
I've been on the hunt for a new trench with a few requirements: it couldn't be Burberry (there are plenty of blogs showing off $1500 trench coats), it needed to be a little different, and under $200.
After searching for hours, I stumbled on this absolutely gorgeous Badgley Mischka Faux Leather Trim Trench, for, wait for it, $130.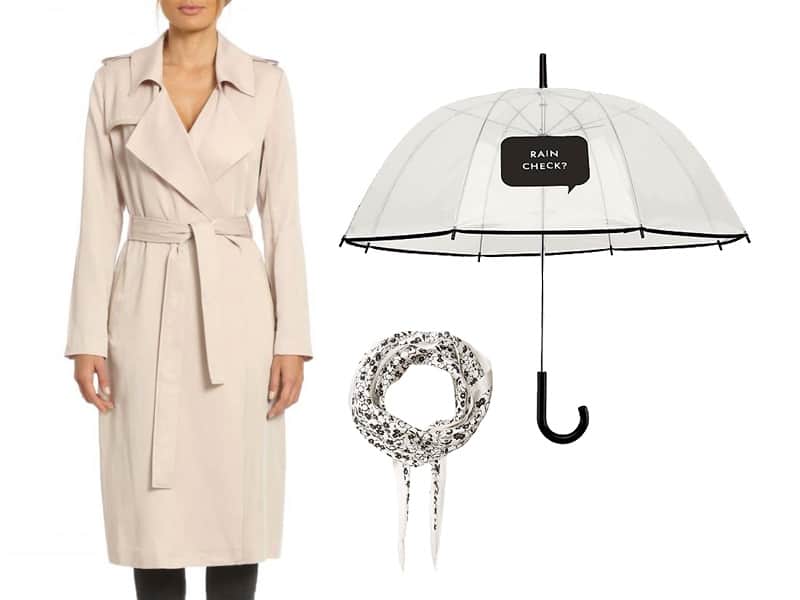 Trench, $130 | Umbrella, $38 | Scarf, $40
This trench comes in four soft neutral colors. Above is "fog," the most neutral of the options. It's available in XS = 0 to and XL =14. I like that the style is unstructured, so if you are as straight as a pencil, or have curves, it will work for your body type. You can easily have this hemmed to hit right below your knee without the alteration affecting the line of the coat.
Because I get idyllic about this time of year, I envision walking in the city, on a rainy day, looking like I just stepped off the set of some romantic comedy. This will never happen, but it's good to have goals. Why not pick up a cheeky umbrella, like this one from Kate Spade.
Finish off the look with a simple scarf. I spent way too much time looking for one, and, for the record, I have amazing taste. What I want is a vintage Hermes. If you happen to have one and have no idea what to do with it, start wearing it immediately. Mixing such a timeless piece, with modern, better priced items creates an incredibly chic look. I eventually found is this lovely black and white scarf by Ralph Lauren for $40. It's an entirely different look than the Hermes, but equally on point.