This content has been archived. It may no longer be relevant
The Nordstrom Sale is winding down. So I gave it one more glance to see if I missed anything worth picking up. Boy, am I happy I did because these Nike Running Sneakers are the sleeper surprise of the entire event and possibly my favorite purchase.
I hate even to say it, but school starts in as little as three weeks for us. We will have a FRESHMAN in high school, a 6th grader, and our baby girl is starting at a little preschool a few days a week (she'll be almost three – insert sobbing emoji). This particular season in life is wildly busy and fleetingly special, so I'm getting ready to embrace all the madness by getting organized.
I'm attempting to pull it together by thinking strategically about what I want my day to look like so I can fit in all the things. Thinking ahead about easy meals for weeknights, how I'll prioritize my health, when I can focus on work, and what I'm wearing all help me feel prepared.
These sneakers (in full stock!) are so stinking cute and will work with other pieces already in my closet.
Nike React Escape Run Running Shoe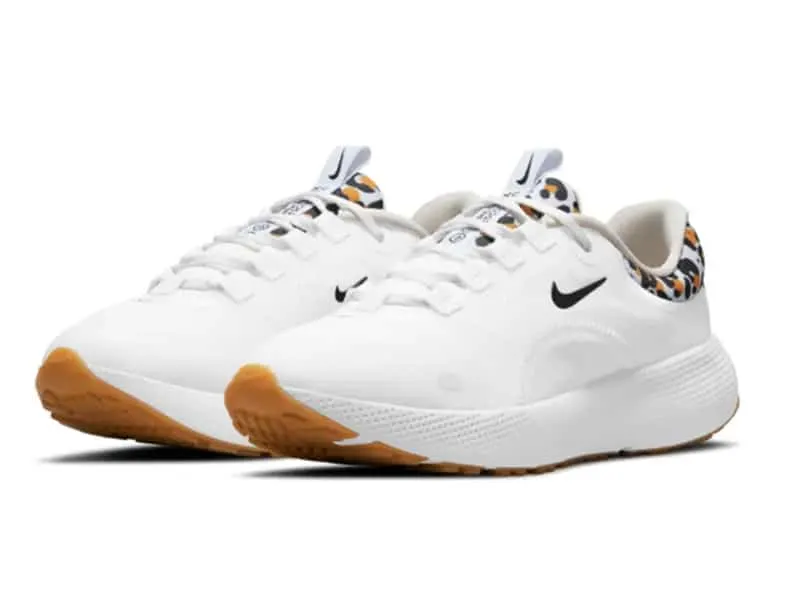 Nike React Escape Run Running Shoe, On Sale, $74.90 All Sizes in Stock, Run True to Size
If you wear a lot of better basics in the fall, these sneakers will fit right in. I'll wear them with black leggings and joggers, dark jeans and crew neck sweaters. You can throw a blacker over boyfriend jeans and a tee shirt, and add these for a sporty and casual outfit. Remember, a subtle leopard print in small details can really elevate your outfit when you use it as a neutral.
Our Style Content is Inspired by Our Readers
Our readership inspires all of our posts and this post is not sponsored or paid for by brands or retailers.
Recommendations are based on my experience as a personal stylist and wardrobe consultant for over a decade. I worked with busy, down-to-earth women who wanted to look chic and feel confident but were often confused by so much of retail.
Some links are affiliate links, which means if you purchase via our site, we receive a small commission.

If you enjoy our content and would like to help us grow, please follow on Instagram and join our Private Facebook Group to access more advice and exclusive in-depth conversations with other like-minded women.
Learn about our mission to help women look and feel their very best, every day, here.
Sign Up for Daily Content and Receive Our Free Classic Wardrobe Checklist