Building a wardrobe while being thoughtful about your budget requires balancing where you spend and where you save. In my experience, there isn't one prescribed way to do it. My best advice is to spend on pieces that reflect your style and fit well.
And don't look at price as the ultimate determining factor in terms of quality. Sometimes higher-priced items are worth it, other times something on the lower end surprises you.
That's the case with this simple straw clutch I picked up in my Amazon Fashion experiment. For months I've watched "influencers" rave about their Amazon finds. I figured, given how many Amazon Prime boxes are on my doorstep every single day, adding some clothes into the mix just made sense.
Sadly, most of what I ordered was total crap and went back faster than I took them out of the box.
I've seen better quality in first production samples back in my buyer days. But there were a few surprises; this polka dress is a new favorite. I picked up this black cotton romper for nights at the beach (if you are familiar with New Jersey shore points, it's perfect for drinks and dancing to your favorite cover band).
And then I found this sweet straw clutch for around $11 It's ideal for a late summer date night, a beach wedding or any occasion you have left on this seasons calendar.
Simple Straw Summer Clutch
How cute?
It's an easy end of summer pick me up.
Within the link are over a dozen options. Some feature a more natural rattan; others have pom-pom trim detail.
I like the classic styling and smooth finish of this one. It's comfortable to carry and fits more than what you will need for a night out.
I've seen versions of this at better department stores for upwards of $100 +, and their was barely a difference in quality. Because this is so seasonal, spending more than $20 makes no sense whatsoever.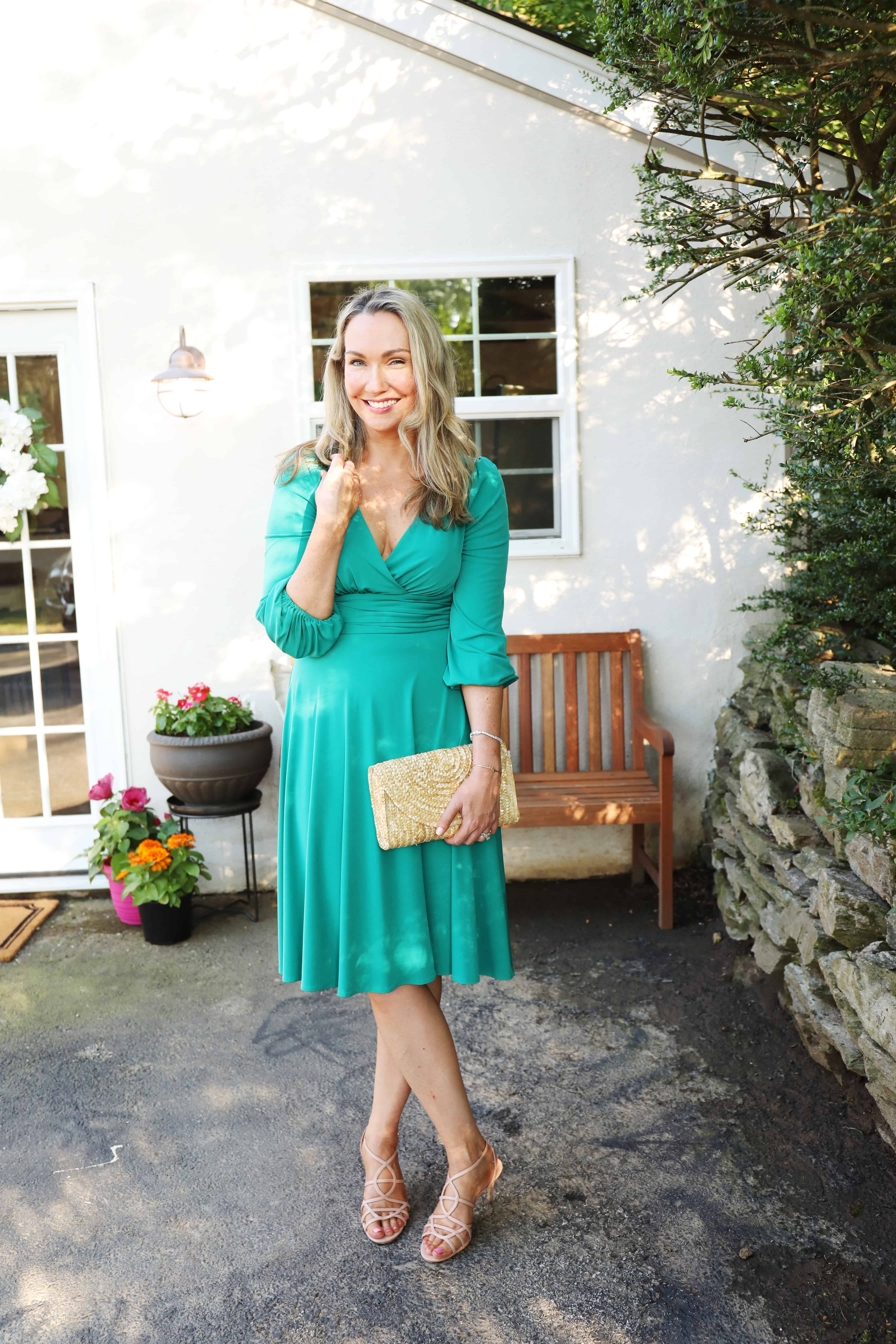 I bought it for our beach vacation next week, but took it for a spin a few weeks ago for a quiet dinner with Bri.
Here I wore it with a classic fit and flare dress by Eliza J. (similar here and in plus size here) I love this brand so much. Their dresses are comfortable yet stylish and reasonably priced. This dress was around $130 and I'm wearing a size 6. They offer sizing in most dresses up to a 20.
An important note about shoes. A common mistake women make with a shoe/bag combination is not paying attention to weight.
Because the straw bag is light by nature, you want an equally lightweight shoe. If you wore something with a block heel or a bulky buckle, you throw the balance of the outfit off. So I went with these strappy neutral-to-me sandals by Via Spiga. (similar here)
Unfortunately my dress and shoes are both sold out but I've linked to similar options below.
Shop this Post

——————————————————————————————————————————————————–
Our Content is Inspired by Our Readers
Our readership inspires all of our posts and is not sponsored or paid for by brands or retailers.
Recommendations are based on my experience as a personal stylist and wardrobe consultant for over a decade. I worked with busy, down-to-earth women who wanted to look chic and feel confident but were often confused by so much of retail.
Some links are affiliate links, which means if you purchase via our site, we receive a small commission.
If you enjoy our content and would like to help us grow, please consider following on Instagram and join our Private Facebook Group to access more advice and exclusive in-depth conversations with other like-minded women.