Our Reader Favorites Series rounds up the Top Five Favorite items our readers purchased from the previous month. I use these items throughout the season to help you build a chic and classic wardrobe filled with versatile, mix, and match pieces.
Think of this round-up as recommendations from our community of like-minded women.
If they love it, you probably will too!
As we navigate through the end of this bizarre year, our focus here at The Well Dressed Life continues to be providing you with practical style tips and advice. This month, I'm trying to strike a balance between looks that make sense for staying in and close to home and also help us move back to a pre lockdown life.
September 2020: Readers' Top Five Faves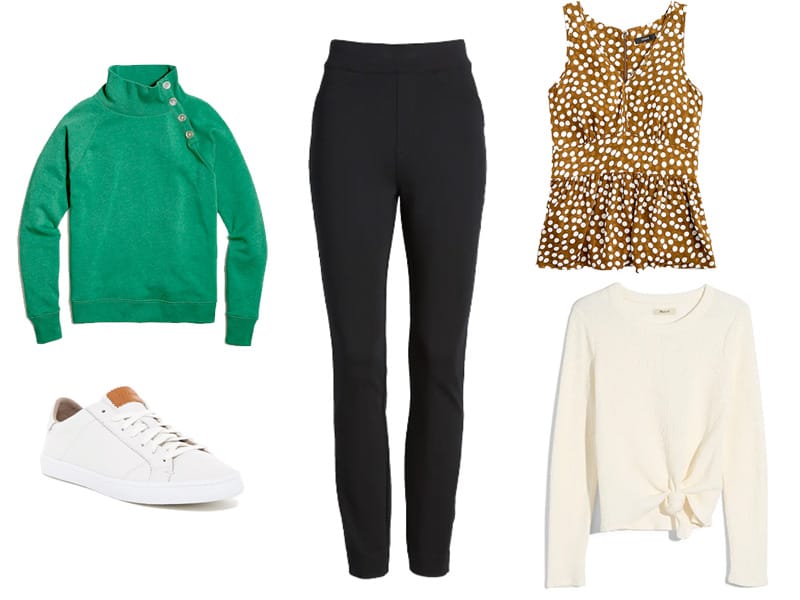 Our Reader Faves from September are pieces that help us transition back to some level of normalcy (please???) and into the chilly season.
J. Crew Factory Button-collar Pullover Sweatshirt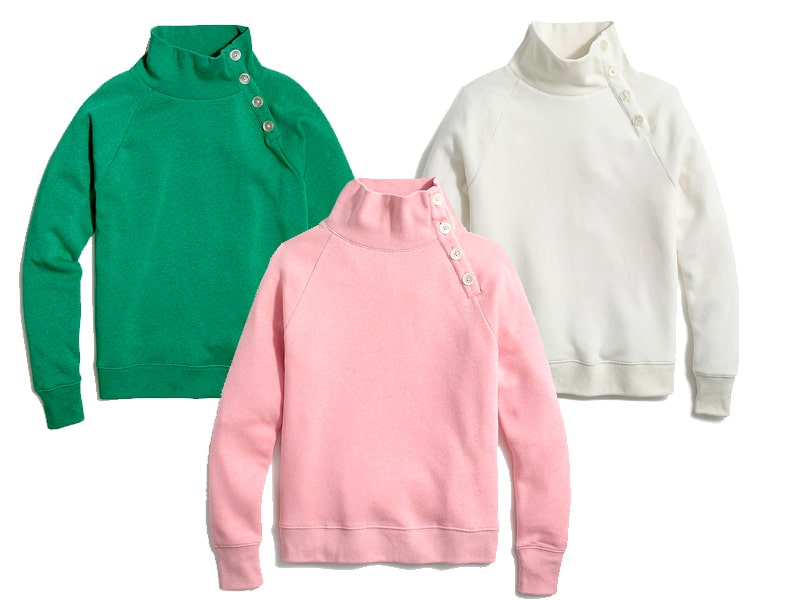 Sweatshirt, $29
An easy-peasy, under $30 sweatshirt, with details that elevates it just enough so it doesn't feel sloppy. Available in three colors online up to a size 3X.
Cole Haan
Margo Leather Sneaker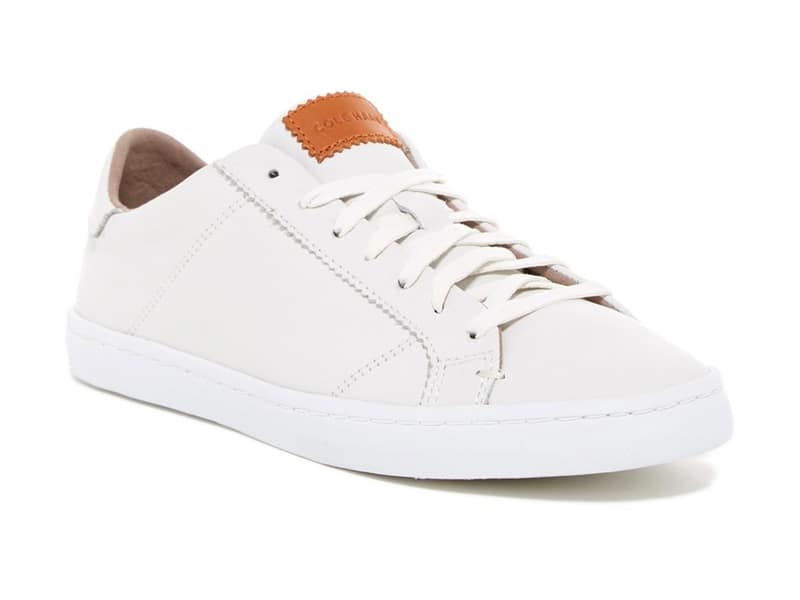 Sneaker, $90
Buy. These. Sneakers. If you need a new white pair for the fall, look no further. Cole Haan makes a fantastic shoe and these sneakers are no exception. I LOVE them. They are sleek, crisp, and sophisticated. They look great with jeans, or with a casual dress. They run true to size.
J. Crew V-neck Peplum Top in Jacquard Dot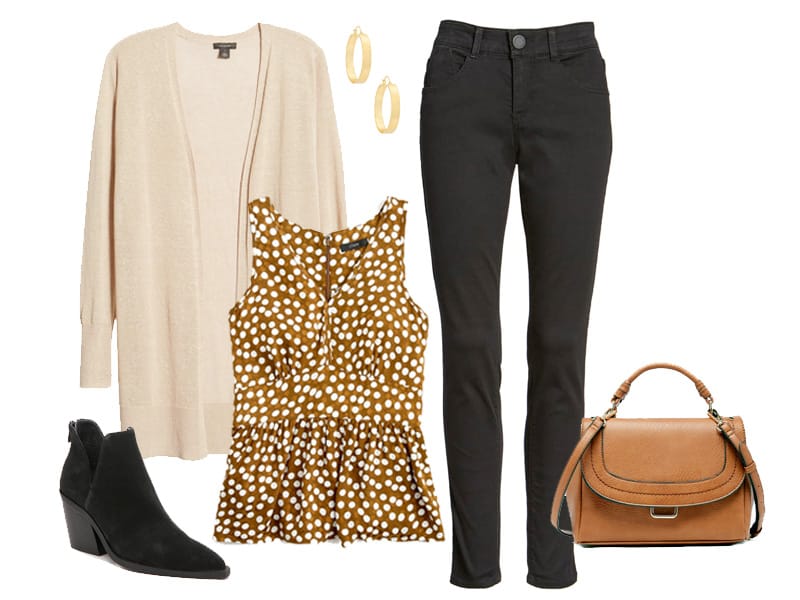 Peplum Top, $20 (ON SALE)
You know you've found a must-have piece when it makes the Fave's list two months in a row. Right now, this peplum top from J.Crew is on a super sale, marked down to only $20. Readers have raved about it, even posting pictures of them wearing it in our Private Facebook group. Above is a simple way to style it in the cold weather, or if you're lucky enough to enjoy the warm sunshine still, you can pair it with your favorite white bottoms.
Available in sizes 00 – 14. Runs true.
Madewell Texture & Thread Front Knot Jacquard Top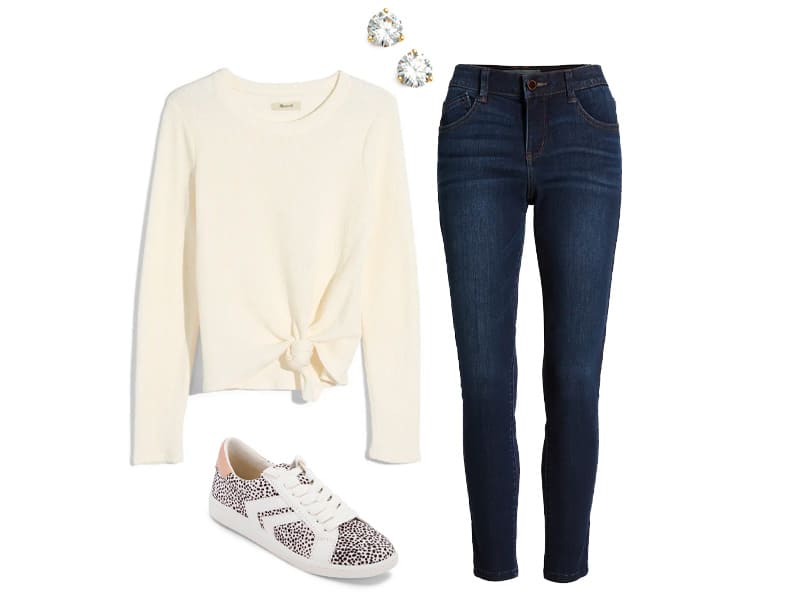 Front Knot Top, $40
I picked this Madewell top up at the Nordstrom Sale and have already worn it so many times. It's textured like a thermal top, with front knot detail, that makes it feel better than a basic tee.
It is short (not cropped), so it works well with a high waisted jean. Available in five seasonal colors, including plus sizes.
You can see me wearing this over on Instagram.
SPANX Perfect Black Pants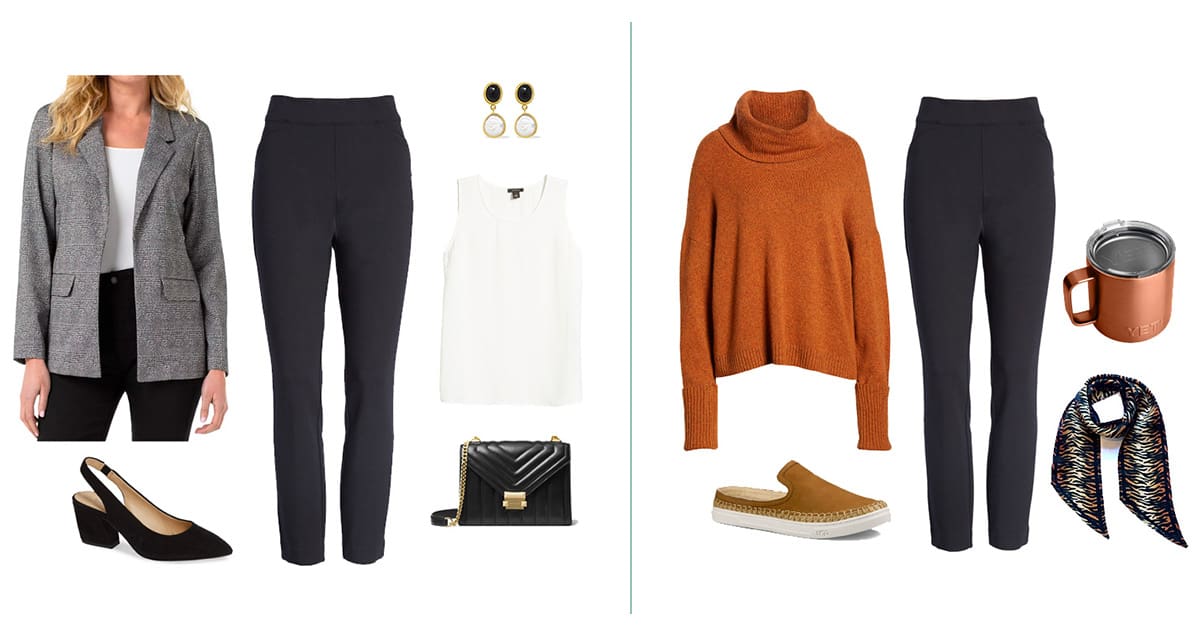 Black Pants, $128
Finally, these black pants by Spanx round out our top five list. They are a Ponte pant, so not a legging and not a traditional dress pant. The material is thick, stretchy, and cut like a skinny pant. We featured a couple of ways to style them, one if you are back in the office another if you are working from home for the rest of the years.
My favorite way to wear these is with a cozy sweater and a ballet flat (like these insanely comfortable Birdie's I mentioned yesterday).
---
Our Style Content is Inspired by Our Readers
Our readership inspires all of our posts and is not sponsored or paid for by brands or retailers.
Recommendations are based on my experience as a personal stylist View Post and wardrobe consultant for over a decade. I worked with busy, down-to-earth women who wanted to look chic and feel confident but were often confused by so much of retail.
Some links are affiliate links, which means if you purchase via our site, we receive a small commission.
If you enjoy our content and would like to help us grow, please consider following on Instagram and join our Private Facebook Group to access more advice and exclusive in-depth conversations with other like-minded women.