This content has been archived. It may no longer be relevant
Like all moms, I'm always looking for ways to get my kids (and husband) to eat more fruits and vegetables. They are not terrible eaters, but they're not very enthusiastic about healthy food either. Even when I find a few fruits and veggies that they like, there is not enough time in the day to get them to eat enough of them.
Smoothies have been a lifesaver for us. With the right mix of ingredients, they taste like a treat and are still full of vitamins and nutrients.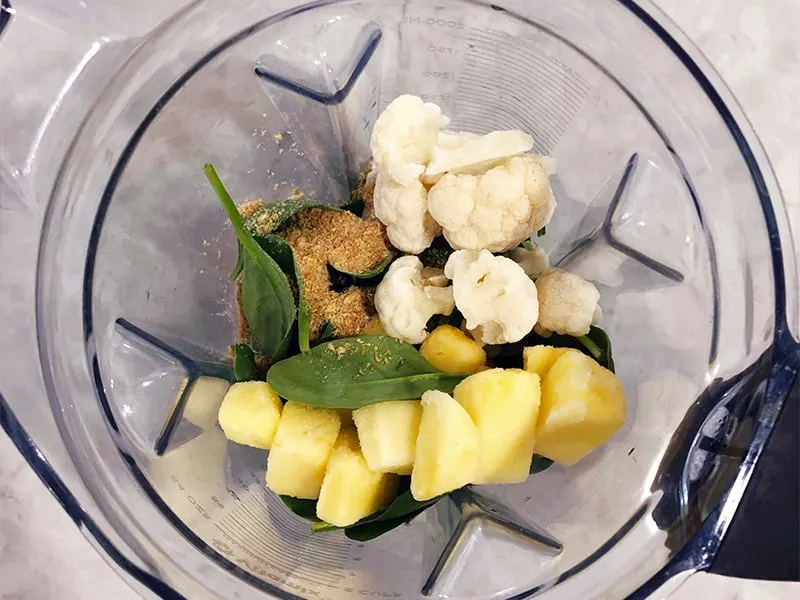 Over the last few months I started seeing more and more recipes featuring cauliflower in smoothies and was intrigued. Of all the veggies to add, why them?
Most smoothie recipes call for banana, but they have a ton of sugar in them. If you're trying to be conscious of your sugar intake, simply replace the banana with a handful of frozen cauliflower and you'll cut down on the sugar while keeping the smoothie rich and creamy.
Here's the thing: I loathe cauliflower. I can drink pretty much anything in the name of health, but was hesitant to try this. But I, bravely, whipped up my usual green smoothie and replaced the banana with the cauliflower.
It tastes exactly the same. Absolutely no difference.
The next day, I made it for my crew of picky eaters, without telling them, of course.
And, of course, they drank it down with no complaints. I even heard a few compliments.
This has been going on for weeks now and they have not noticed the change, at all.
Why tell them something they don't need to know? This year is all about keeping things simple and not overcomplicating life, remember?
I mentioned this new discovery over on Instagram earlier this week and received a ton of DMs asking for more info. So today I'm sharing this quick and easy smoothie that we have (in some variation) every morning with breakfast.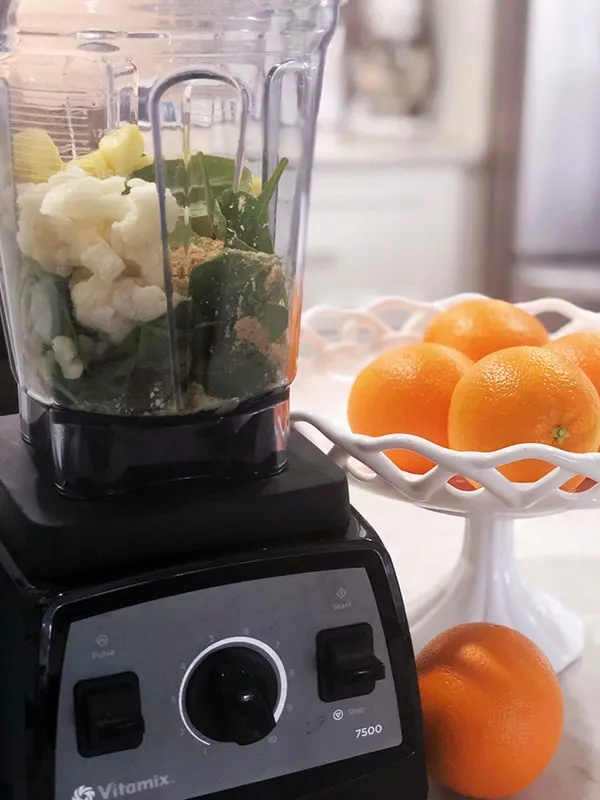 Smoothie recipes are a dime a dozen so if you have a go-to combination, that includes a banana consider making the switch.
They key to any great tasting smoothie is to make sure you have the right balance of sweetness and flavor. That's why I include the zest of the orange and the splash of juice but if you don't have oranges around it still tastes great. Unsweetened vanilla almond milk or coconut milk, and vanilla protein powder make it sweet but not too sweet. And I add coconut oil as a healthy fat that adds to the flavor profile too.
Drink it in the morning and you'll be full straight to lunch.
Below is my very loose recipe which makes one – two smoothes:
A scoop of Vanilla Protein Powder – I use Vega Protein and love how well it mixes and is easy on your belly.
2 Cups Unsweetened Vanilla Almond Milk (or Coconut Milk)
2 Tablespoons of Flax Seed
1 – 2 Tablespoons of Coconut Oil
1/4 Frozen Cauliflower (or a little more if you like it on the thick side)
1/2 Frozen Pineapple
The juice of half of an orange and it's zest (optional)
2 Handfuls of Spinach
I make a version of this every morning, and I have a 6 week old at home, so it's not like I have the luxury of time on my side. If you're extra organized, throw the ingredients in a few freezer bags at the start of your week, and you'll save a couple minutes.
It helps to have a powerful blender. I splurged on a Vitamix last year and it's one of my best kitchen purchases ever. I use it all the time.