After a long and never-ending winter, one thing became painfully obvious. We were in desperate need of getting our morning routine back on track. Snow days and morning delays led to the terrible habit of hitting the snooze button too many times and all those cold mornings made it easy to trade my early morning workouts for a few extra minutes of sipping coffee in bed.
I indulged in the moment and ended up frantically reworking my schedule during the day.
Now that the birds are chirping early, it's much easier to feel motivated. (That, and the fact that we are almost guaranteed the kids will be in school all day). For the most part, my schedule is flexible. However, I started a few projects for a new business venture that is taking up a good part of my work, and I'm in the process of redesigning our shop (more on that later), so I have fewer hours in the day than I think.
How to Create a Morning Routine for a Better Day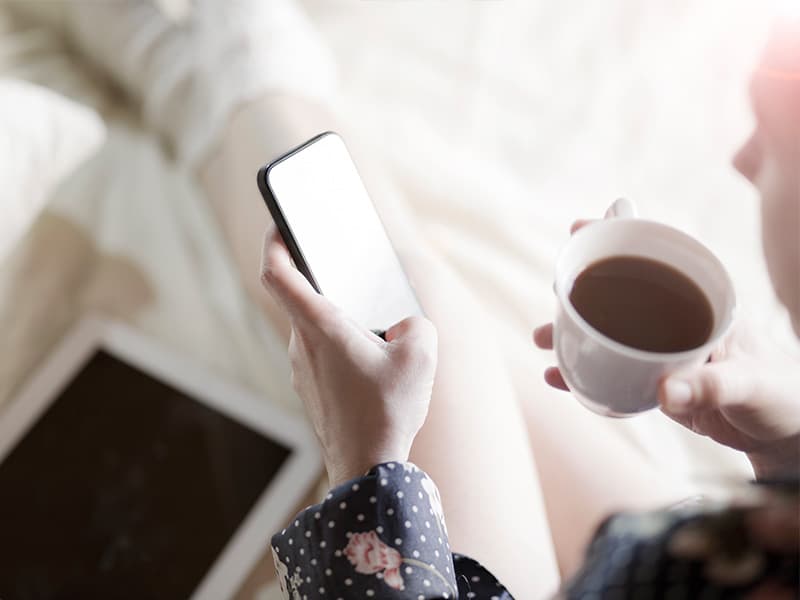 After a few weeks of following my regular, regimented routine, I'm feeling less frazzled and more accomplished at the end of each day. Here are the things I have to do to keep it all together, otherwise, the wheels come off the bus by noon.
Get up earlier.
Getting up earlier helps you get so much done even if you're sleepwalking through your first few hours awake. I am not a morning person, at all, but some mornings I force my self to go to a 5 am work out, other days I'm up by 6 am. It takes a lot of discipline but here's some ways I trick myself to bite the bullet and get moving.
Program your coffee machine the night before.
I can't resist the smell of coffee brewing first thing in the morning. I also don't want to waste a fresh pot, so I stumble to the kitchen, grab a cup and watch a little morning news in bed while I check my email. A few sips in and I'm good to go. Bonus when my husband brings it in for me, which is most of the time.
Lay out your workout clothes.
If I have an early workout, I leave my clothes on my nightstand so I can slip into them and waste no time. Some people sleep in them, but I've never been able to do that. It's impossible to get comfortable and get a restful night sleep.
Hide your phone in another room.
Not only will the lack of blue light help you sleep better, but your overwhelming need to check your phone in the morning might force you out of bed. When I have to get up, I set the alarm on my phone and keep it in my bathroom. The only way to turn it off is to get up, and once I'm there, I may as well get dressed.
Sometimes getting up just 30 minutes earlier makes all the difference in the world.
Get dressed and make your bed.
Before I leave my room, I get dressed and make my bed. I also make my kids beds during the week; they do it themselves on the weekends.
It sets the stage for an organized day and helps you get in a groove faster.
One load of laundry.
The best tip I've learned over the last few months is getting your laundry to one load a day. Sometimes I do two, but it's typically one of clothes and one of towels and rags. If you can stick to it, it frees up so much time, especially on the weekends.
Every morning, take five minutes to round up all the dirty clothes, and throw them in the wash. If you do it first thing, you can have them finishing in the drier before you head out for the day.
Take advantage of the quiet.
Do you ever look at the clock around 9 am and wonder what happened to the day? This was happening so much to me I figured it was a problem. My day was feeling out of control way earlier than usual.
Admittedly, I bite off more than I can chew on a regular basis. Getting up well before my kids gives me a couple, uninterrupted hours. I can't do anything too complicated, but between 5 am – 7 am I can catch up on administrative tasks, clear out my email and get my day set up.
See what tasks keep getting pushed to another day and tackle them in the morning instead.
Related: 6 Tips for Working Moms to Get Through the Day Easier
Prep as Much as You Can the Night Before
I am fanatical about nighttime prep. Here's what I do:
Lay out the kids uniforms.
My kids do this on their own with my supervision. Apparently, their answer to "do we have everything we need?" is different than mine.
School bags checked and organized.
Again, the kids do this, but if I don't double check, my youngest will smuggle every tiny toy she owns on the bus.
Pack lunches, fill water bottles, and get sports equipment ready for after-school practices.
We line everything up at the back door, so we minimize the madness to make the bus.
Organize whatever I'm wearing.
Whether its work out gear or jeans and a tee, I make sure I have it ready.
Plan dinner for the next night.
We're not great at meal prep. My attempts at it are valiant, but our days are always changing. Instead, we plan on a few go-to, easy to make meals, pick a night to order in, maybe go out one night, and let it be flexible. I waste less and am less stressed.
Run the dishwasher at night and unload it before bed.
I don't know why but starting the day with a clean and empty dishwasher is so freeing to me. I basically breeze through the kitchen in the morning and for a few fleeting moments feel like I have my life in order.
Finally, I write down my schedule on my calendar.
I use a paper planner and write down my to-do list. Because I work on multiple projects and businesses, I use a technique called block scheduling. It's made all the difference in my daily productivity.
There's no doubt good mornings are a result of organized evenings.
I would LOVE to know what are some thing you do in the morning, to have a better day? Tell us in the comments below.