We've got one more kid to get to the end of the school year and then life will be a little more relaxed for a few months.
Thank heavens, because the spring, especially May, was rough.
This morning, I told my husband we have to find a way to not let next spring kick the crap out of us, because it's only going to be more intense, and we both feel like we lost our footing and are having a hard time getting back on a normal routine.
But now that things are leveling out, I'm trying to get better at sharing real life outfits featuring the pieces we recommend.
To be totally honesty, none of this social media stuff comes natural to me at all.
I never think to take a picture of anything until it's over.
I know, though, that when I do share it's helpful to see these pieces in a real life context.
So, now that the mornings aren't as rushed, and I have a few extra moments, I'm going to get back to sharing outfits as they happen – or "in real life."
Here's today's outfit, ready for an afternoon of work meetings and errands with the kids.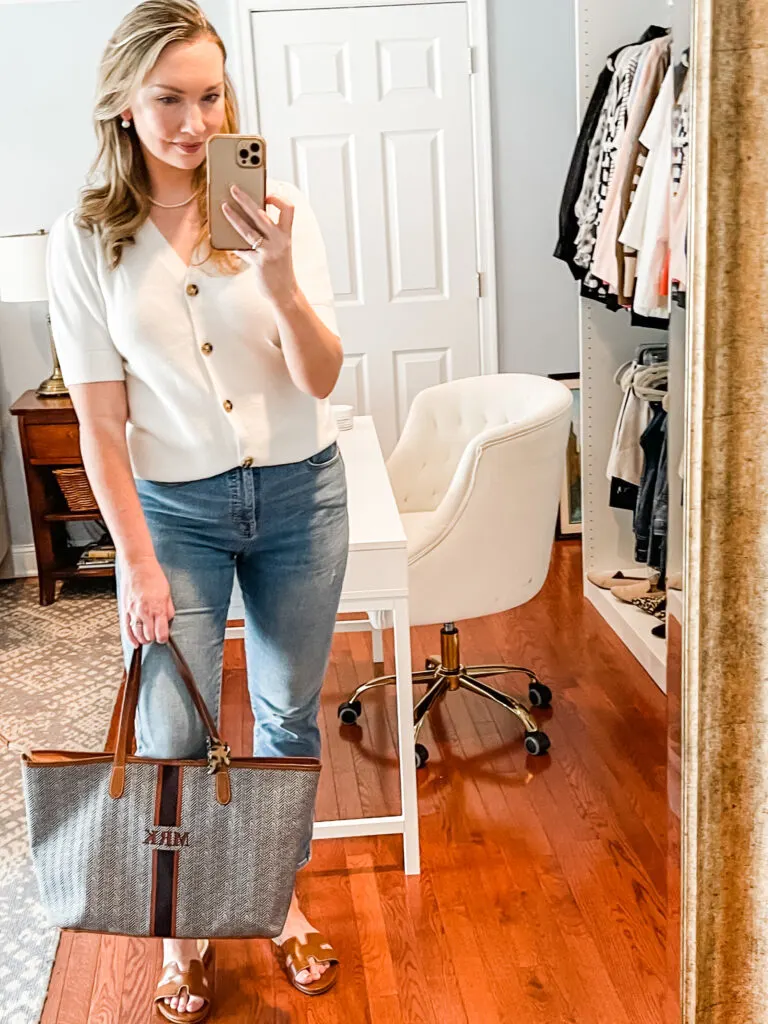 It's cool out, and yes, the air quality is atrocious, so we're not spending any time outside. Just running from the car to a few indoor practices.
I just got this short sleeve summer cardigan from Amazon and it's so adorable, a really nice quality, and fits well.
It comes is a range of colors in sizes S – XL for $40. I took the medium.
I paired it with these J.Crew 10″ vintage straight jeans.
The wash I'm wearing is sold out but you can pick them up in a medium wash or white, on sale for $99 in sizes classic, petite or tall in 23 – 37.
My sandals are the French Sole H Sandal from Tuckernuck in cognac. I bought them last year, wear them constantly, and they still look like new – 10/10.
Now, let me tell you about this bag.
I bought it in 2019 and the quality is outstanding. There's not a scratch on it and I toss this thing around daily with no regard.
You can customize it however you like, it fits everything and has a zipper top.
By far one of my favorite bags.
I add this felt bag organizer to keep my things organized.
Finally, the accessories are a little hard to see but will look familiar.
I'm wearing the Dome Ring from PAVOI, featured earlier this week.
It's only $14. I told you I either spend on jewelry or I don't.
And my pearl earrings are also an Amazon Find and a Reader Favorite, for $15.