At the end of every year, we round up your top picks and share the ones that are still available. What's nice about this, aside from the insight I continue to receive about what our readership is looking for, is that many of this classic staples are on sale. So while it's probably the worst time of year to refresh your wardrobe, maybe pick up a piece or two on sale to help you launch into 2019 in style.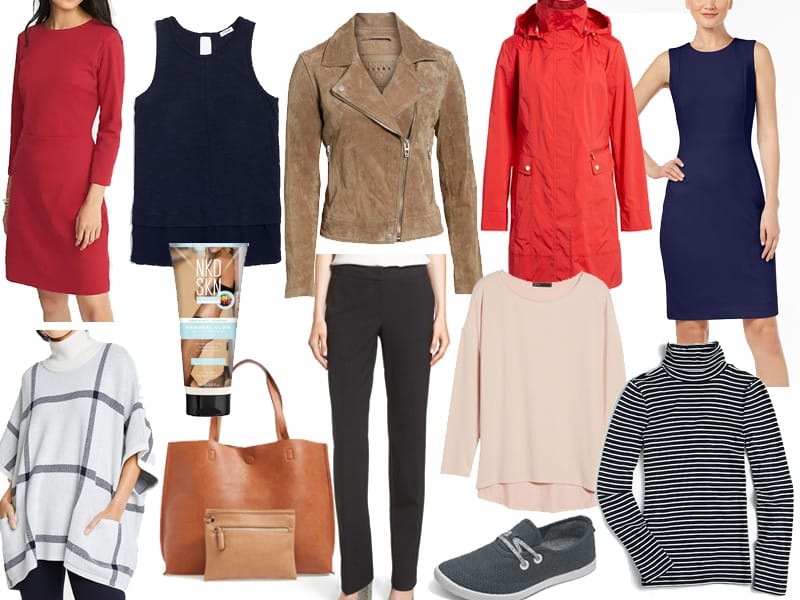 Shift Dress, $28 | Drapey Tank, $25 | Suede Jacket, $126 | Raincoat, $130 | Sheath, $90 | Poncho, $109 | Tote, $49 | Tanning Lotion, $15 | Suit Pants, $40 | High Low Sweater, $30 | Sneakers, $95 | Turtleneck, $40
Shift Dress, $28: Under $30 for a dress you can wear to work, on an airplane to to brunch on Sunday? Sold
Drapey Tank, $25: Another incredibly priced basic. This tank hangs beautifully under blazer and cardigans but is substantial enough to tank on it's on in the warmer weather.
Suede Jacket, $126: A motto jacket in a soft suede is a basic you'll turn to again and again. It look great with jeans, cords, or even over a flowy dress with boots.
Raincoat, $130: Currently on sale and available in eight lovely colors this raincoat can be worn every day and then rolled up and packed for any travel you have on your calendar.
Sheath, $90: We featured this timeless dress a few months ago and received so many notes from readers about how much they loved it. A great fitting dress for under $100 has turned into a bit of a wardrobe unicorn. It's available in black, blue, gunmetal and a seriously beautiful aubergine.
Poncho, $109: This poncho keeps showing up on our favorites lists for good reason. It's a weekend staple that makes getting dressed, especially on a busy holiday weekend, a breeze.
Tote, $49: The tote that keeps on giving. I use this bag every day (and keep this organizer in it). It's just easy, durable and not so precious that I worry about banging it up too badly.
Tanning Lotion, $15: An organic, good for your sunless tanner that works made it to the top of our beauty picks this year. Self tanners aren't just for the summer, use it anytime you want to warm up your skin, or if you're going on a winter vaca to some place warm. #lucky.
Suit Pants, $40: I can't believe these pants are still available. If you need simple, straight leg pants for work, these are for you. There are still a nice range of sizes in black and gray, but hurry if you want them, they are selling out in all other colors.
High Low Sweater:$30 Need a new cozy sweater for cozy days at home? This high low sweater is just the thing to pair with your favorite skinny jeans or leggings. I just ordered it in red.
Sneakers, $95 : Shoes made out of trees? Sounds nuts, but these lightweight yet durable and still stylish sneakers were super popular this year. The best part? They are machine washable.
Turtleneck, $40: Paired with loafers and black slim pants you'll look like a modern Audrey Hepburn. Add an oversized coat, scarf and lady like bag to round out the look.