As we wrap up 2019, our last Readers' Favorites post roundups your top items from the entire year.
At the end of every month, I study our analytics. I look at our most popular posts and best selling items. Doing so helps me get to know you more and plan out future content.
My goal with all of our style posts is to highlight items that will help you build out your wardrobe, or, at the very least, provide inspiration for how to wear pieces you already have.
I share these top picks with you since we are all looking for practical yet chic, wearable clothes. Think of these posts like a collective thumbs up from other like minded women, with similar needs and lifestyles.
In 2020, we'll be launching a new way to navigate the site, so you can easily find the specific items on your shopping list. I don't want to give too much away, but I'm excited to start rolling it out in January.
Today's post is filled with practical, stylish items that cover almost every category. These are real workhorse items that you'll turn to over and again in virtually any season and any occasion.
Readers' Top Favorites of 2019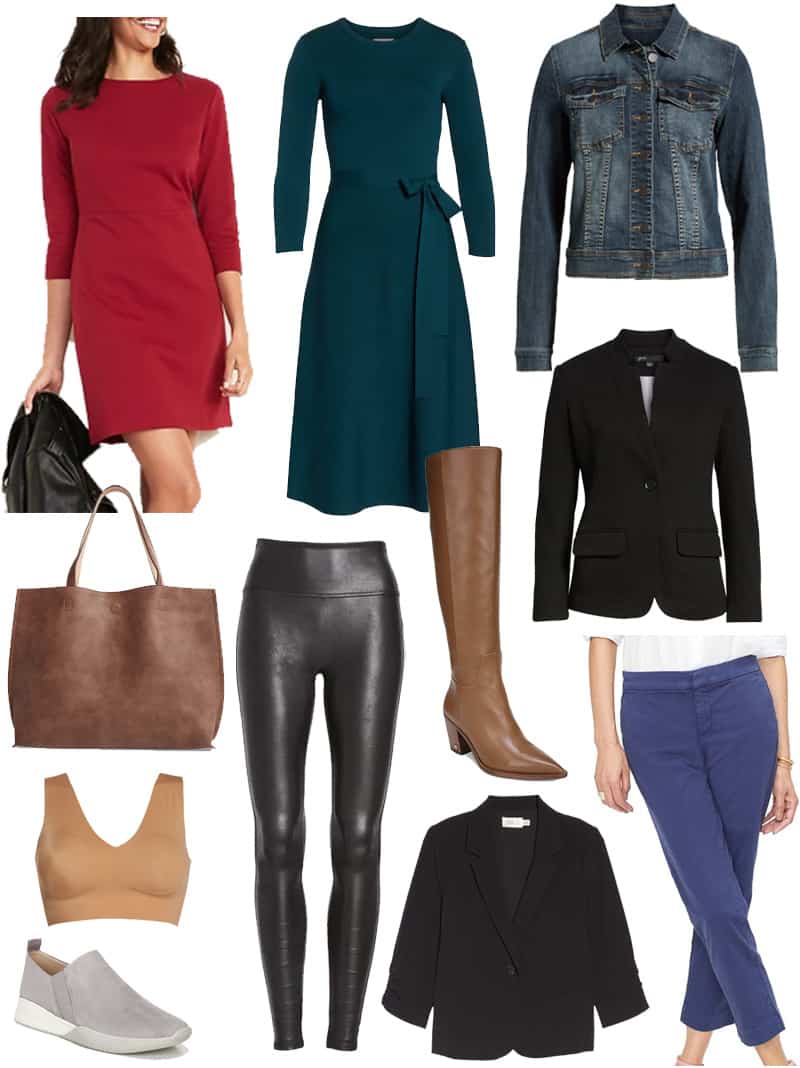 Ponte Sheath, $35 | Reversible Tote, $50 | Notch Collar Blazer, $98 | Knee High Boot, $135 | Everyday Trouser Pants, $50 | Ruched Sleeve Blazer, $78 | Faux Leather Leggings, $98 | Wireless Bra, $49 | Denim Jacket, $79 | Sweater Dress, $138 | Slip On Sneaker, $50
Ponte Sheath
Hands down the most popular dress of 2019 and I love you all for it. Why? Because it's perfect for a busy woman. It has stretch, sleeves, a reasonable length for most heights (and is easy to alter if you need it shortened). You can wear it to work with tights and boots, or with sneakers and a denim jacket. And it's $35. Done.
Shop: Missy, Tall and Petite | Plus
Reversible Tote
Not only did this tote make the favorites list for every month of 2019, but it also made the best of the list for all of 2018. I originally purchased this for a trip to Europe, to have an extra, casual tote on hand. I ended up using it all the time. It's durable and functional without bringing down your look.
Shop: Assorted Colors
Notch Collar Blazer
For that in between place where you want something more elevated than a cardigan but less formal than a traditional blazer, pick up this cotton blazer by Gibson (a Nordstrom in-house brand). It's ideal for casual work places, for making jeans work on a Friday in a more traditional office setting, or for layering over sleeveless sheath dresses.
And if that's not exciting enough, it's available in petites, missy, and plus in an array of colors.
Shop: Missy and Petite | Plus
Knee High Boot
These are gorgeous, sleek boots you can wear with everything from jeans and leggings or with tights and skirts and dresses. The Sienna brown is so pretty and versatile. They are timeless so you don't have to worry about them going out of style any time soon.
Shop: Brown or Black
Everyday Trouser Pants
You may have discovered my little slice of the internet with my post "Why I Hate Capris and What to Wear Instead." Since that was published, I learned a valuable lesson; you are either team capris or team anything else.
I still hate them, but these pants by NYDJ (they are calling them "ankle" pants – they are not) are an excellent option. They are a little longer than a traditional Capri, are crisp, and don't have any pocket detail or loops other ridiculous extra on them.
Most important, the leg opening is straight instead of flared. So you can get the look and feel you like without ruining the line of an outfit.
They are limited in sizes and colors but they always bring them back in the warmer months in better neutrals so keep your eye out for them.
Shop: Limited Sizes and Colors
Ruched Sleeve Blazer
Another casual blazer option, this one, though, is more appropriate for the warmer weather. I've worked with it for so many years – all the way back when I personally shopped for clients. It works well with lightweight dresses and skirts and casual bottoms.
Faux Leather Leggings
What else can I say about these that I haven't said already? They are fantastic. You can see how to wear them three different ways in this post.
Wireless Bra
I love this bra by True & Co. It's soft and seamless. It doesn't work with everything, but if you live in tees or sweaters, you'll love it.
Shop: Assorted Neutral Tones
Denim Jacket
Talk about a classic. If you still don't have a denim jacket, pick up this one from KUT from the Kloth. It's just the right blend of modern and lived in, for under $80.
Shop: Missy (Up to size 16)
Sweater Dress
I was pleasantly surprised to see how many readers loved this sweater dress. Eliza J makes a great dress that works for a mature body type without being or feeling frumpy. You can wear this to work or a brunch event on the weekends – think showers, other parties.
Shop: Sizes 0 – 20
Slip On Sneaker
These slip on sneakers are on sale for $50, in three colors. I opted for black, which is the most limited. Scoop them up now for the spring. I almost always wear them with leggings and fleece half zip for early morning drop off, or for running errands.
Shop: Three Colors