Every month we round up of all our picks that you loved the most. November was all about cozy basics, pops of red, and classics you'l have for a good long time. Be sure to follow the links below to check for sizing and color options, since inventory changes quickly this time of year.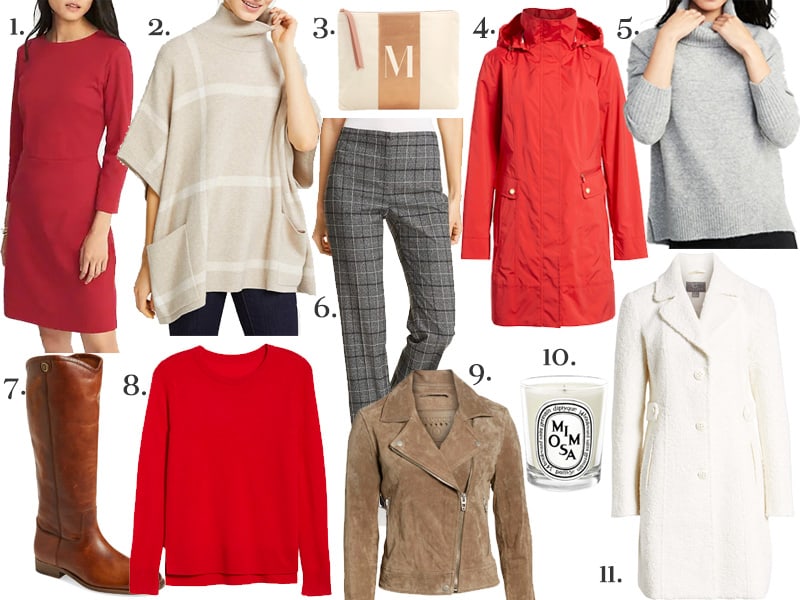 1. Sheath Dress, $26 | 2. Poncho, $129 | 3. Makeup Bag, $5 | 4. Raincoat, $130 | 5. Turtleneck Sweater, $40 | 6. Plaid Pants, $73 | 7. Knee High Boots, $250 | 8. Cashmere Sweater, $58 | 9. Suede Jacket, $125 | 10. Candle, $35 | 11. Boucle Coat, $180
1. Sheath Dress: This $26 sheath dress, in a stretch ponte knit is a no brainer. Available in black or red you can buy both and have two easy peasy office appropriate dresses, that travel well and can be dressed up or down depending on the accessories.
2. Poncho : A ponch with a legging and pair of boots will take you to any casual weekend event looking chic and feeling comfy.
3. Makeup Bag, From our Gift Guide for Co Workers, this $5 initialed bag is ideal for filling with a gift card, or treats for anyone in your office.
4. Raincoat: If this holiday means travel to a rainy place, pick up this packable Cole Haan coat. It's available in eight gorgeous colors in missy and petite up to a size 18.
5. Turtleneck Sweater: This turtleneck sweater has made our monthly favorites list for the last three months, and for good reason. It's affordable, soft and polished. I just ordered it in cream to wear with leggings in January. Even though I'll be snuggled in with the baby, it's so important to feel like a person as I recover.
6. Plaid Pants: Featured in our Wear to Work Two Ways, these plaid paints by T Tahari give you fantastic fit for under $100.
7. Knee High Boots: I bought these Melissa Button Riding Boots by Frye in black and cognac years ago and still wear them all the time. They sell out frequently so pick them up now if they have been on your list. Currently 25% off at Nordstrom.
8. Cashmere Sweater: A classic crew neck sweater in cashmere for under $60 let's you pick up a few and wear them in your every day wardrobe. I love them with jeans and ankle boots, or paired with a straight skirt and scarf for the office.
9. Suede Jacket,: This suede motto jacket will take you to work, and the weekends, in the fall, winter and spring. Wear it with your favorite jeans and pumps for a night out or throw it over a simple dress for work.
10. Candle,: Also from our Co-Worker Gift Guide, this $35 designer candle gives big impact. But don't limit it to your officemates, your babysitter, or favorite neighbor will love it just as much.
11. Boucle Coat : I was so happy to see how many ladies picked up this winter white coat. Is there anything chicer this time of year? You can wear it every day or save it for dress up.
Shop this Post