Reader Favorites is a monthly series that highlights the most popular items on the blog from the last 30 days. Think of it like a round up of items highly recommended from your friends.
We'll use these pieces different ways in upcoming style posts to help you get the most of what you're buying and share ideas on how and where to wear them.
Shop below and stay tuned for more outfit inspiration.
Reader Favorites: May 2019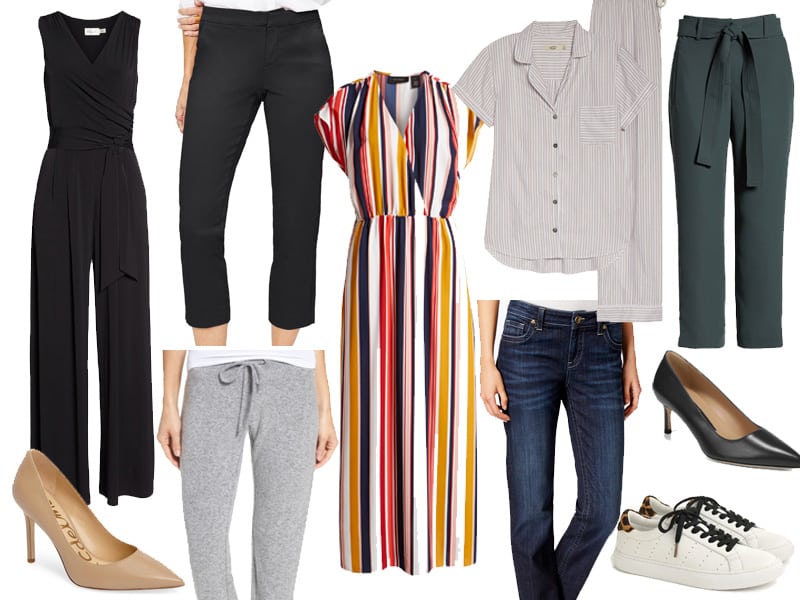 Jumpsuit, $98 | Trouser Pants, $71 | V-Neck Dress, $98 | Pajamas, $52 | Tie-Waist Pants, $53 | Pump, $120 | Joggers, $27 | Straight-Leg Jeans, $89 | Black Pump, $195 | Leopard Sneakers, $98
May's top pics featured an interesting mix of basics, and cozy loungewear, but I was most excited to see some more trend driven pieces top the reports.
Don't be afraid of a jumpsuit, they are easier to wear than you think. They look chic and sophisticated, but still casual enough to fit into our relatively relaxed lifestyles. This Eliza J. faux wrap is done in jersey so it drapes beautifully. Because of it's wide leg, be sure that the hem of the pants puddle slightly on top of your foot.
Another option is this one I picked up with a more narrow cut and slim legs in black. It's one step dressing at its finest.
Ditch your casual, cargo style capris for a clean cut pair of summer trousers. They are calling these ankle pants, but they are more cropped than ankle. Try to wear them with a heel – any height – just so you can maintain your length and keep a long line to your body.
This bold dress sold out so fast, there are only a handful of sizes and colors to choose from. It's the quintessential dress to take on vacation. Pair it with flat sandals and a fun clutch, pull back your hair and you're dressed for the night. See some inspiration here.
Waking up 10 minutes before a frantic morning, in these pajamas and sipping a cup of coffee is sometimes the highlight of my day. I was thrilled to see how many of you also bought this. Buy them for yourself, or save them for a holiday gift for one of your favorite friends.
Another item I was so happy to see on our top seller list! These tie-waist pants are a great buy after you have your basics in order. The key to wearing them is pairing them with a slim lined top and tuck in to show off the waist band. See how we styled it two ways here.
Sam Edelmans Hazel Point Pump continues to be a favorite this season and for good reason. It's definitely for my ladies who like a higher heels, but have no fear, these are comfortable and stylish – available in an array of colors and patterns.
If you see me driving around in my SUV, with a baseball hat and sunglasses on, chances are I'm also wearing these joggers. They are heavenly soft and cozy, perfect for the morning school run, dropping kids off at practices, or just snuggling on the sofa after a very long day. Sizes are selling out quickly.
After our post featuring the best jeans for every body type, these KUT from the Kloth straight leg dark wash jeans remain the number one jean. If you like them, and have the need, consider picking up two pairs, so you can hem one for flats and keep one for heels.
Via Spiga makes a solid shoe that will last season after season. For some reason they are calling these pumps stiletto but they are not. Most retailers consider 3.5 inch heels and higher stilettos. These pumps come in just at 2.5 inches and are an ideal shoe to wear to the office.
Want to add a little oomph to your classic white sneaker? Then grab these kicks with a touch of leopard print for a fun update. They work best if your casual wardrobe is made of of neutrals. Avoid wearing them with other prints and patterns, instead, let them stand alone.
Shop This Post