Every month, we round up the best selling, most popular items from the last 30 days on the blog. In July we featured everything from mid summer sales to pre fall finds, but your top picks are all classic items that carry right into the upcoming season.
I spend a considerable amount of time studying our analytics. I look at metrics like where are traffic is coming from, our largest demographics, I read every comment on every platform and really think about how to provide value. When I review our top sellers it gives me insight into the styles, sizes, retailers and price points that most appeal to you, our reader.
You'll notice that we repeat certain pieces in many of our style posts each season. This is to mimic real life, where you will buy a piece and try to get as much wear out of it as possible. So if you picked up something off our site, over the course of the season, you'll see several ideas on how to wear it.
As usual, none of our content is sponsored, I buy everything I say I buy with my own money, I make recommendations based off of my experiences a personal shopper and stylist, and I always think of our readers needs first.
Note: Be sure to check out one of our readers most favorite blouses marked down to under $25 in missy, petite and plus.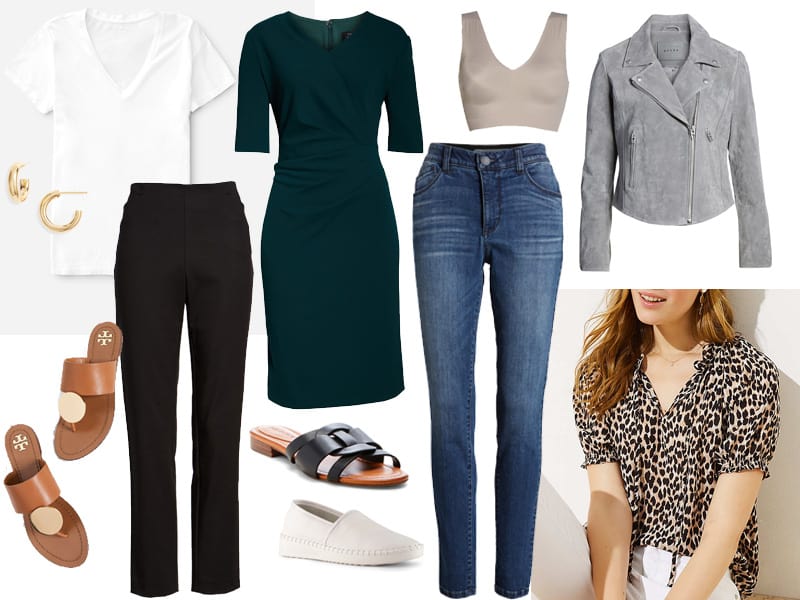 V-neck, $18 | Wireless Bra, $49 | Huggies, $58 | Sandals, $248 | Slip-on Sneaker, $75 | Leopard Blouse, ($54) on sale $24 | Denim Leggings, $68 | Black Leather Sandal, $41 | Sheath Dress, $128 | Moto Jacket, $188 | Cotton Pants, $52
Everlane's v-neck tee is getting mixed reviews. Some readers loved it and some thought it was too see through. I wear this tee several times a week, and just ordered two more for our beach vacation. It's tissue weight so it's not thick and opaque but it isn't sheer (at least for me). I wear a nude-to-me tee shirt bra (see below) and comfortably wear it as a stand alone layer. I should also note, I size up one so it's has some shape but it does not cling.
This wireless bra from True & Co is what I wear every day, including under my white tees and I even sometimes sleep in it. I have middle of the road size bust (usually a 36C) and find that this gives me all the support I need, with zero discomfort. My color is "dulce" and it's the perfect neutral for my fair skin tone.
I feel like the options when it comes to jewelry are we spend either $6 or $600, there is little in the "reasonable" category. Except these huggie earrings at Nordstrom available in either sterling silver or gold plate. They are an affordable staple for under $60
My favorite personal purchase of the summer is also many of yours. These Tory Burch sandals elevate any look. I've worn them with shorts, summer dresses, even a jumpsuit. The winning combination of tan and gold work within so many outfits.
Talk about a transition shoe, pair now with shorts or a tee shirt dress, and then with straight dark jeans or cotton joggers when the weather changes. These slip-on sneakers are a crisp, classic shoe with a twist for under $100.
This is a lovely, simple blouse you can wear to the office with basic bottoms, or keep seasonal and casual with bright white jeans. The leopard print is sophisticated but still delivers some personality. As of this post you can get it for under $25!
Wit & Wisdom is a go-to brand for affordable denim with modern styling. We love this classic five-pocket look with tons of stretch to wear all year long. I would note that they run big so please size down, and the wash is a little lighter in person.
A simple, elegant flat sandal on sale for under $50. Black is a big seller, but if you have that covered I would go with the white option. It will brighten up your end of summer outfits with very little effort.
Almost every woman I talk to wants a good dress for work, something she can just zip up and head out the door. This is it. Tahari makes GREAT dresses at affordable prices. With all the details working women want, like a sleeve so you can easily go jacketless, to the slimming ruching at the waist and three gorgeous color options, you'll reach for this dress over and again.
Every fall we feature tons of looks with moto jackets as a key piece. I picked this up (in "coffee bean") to have on hand the second the air has a hint of fall in it. I wear a medium and it fits true to size. Happily, it's available in a full size range including plus.
These Vince Camuto pants are long time favorites around here and are currently marked down to $52. They come in black, navy and ivory. If it's in your budget, I would buy an extra pair of the black and navy or pick up the ivory so you have a fresh pair for next summer.