Our Readers' Favorites post is a monthly roundup of items you loved most from the last 30 days.
At the end of every month, I sit down and look at our site's stats. One of the reports we receive is what was purchased every month. This data does a few things: (1) helps me create content that builds on pieces I know you own, (2) allows me to see trends in what you are looking for, from styling to price point, and (3) provides a list of top sellers.
I like to think of this post as a crowdsourced list of pieces approved by our busy, professional, and practical readers.
This month was all about better, updated basics. If you picked up any of these you are starting to build a solid foundation of go-to pieces. From a fantastic basic tee, to saucy faux leather leggings, February offered a little bit of something for everyone.
Let's break them down: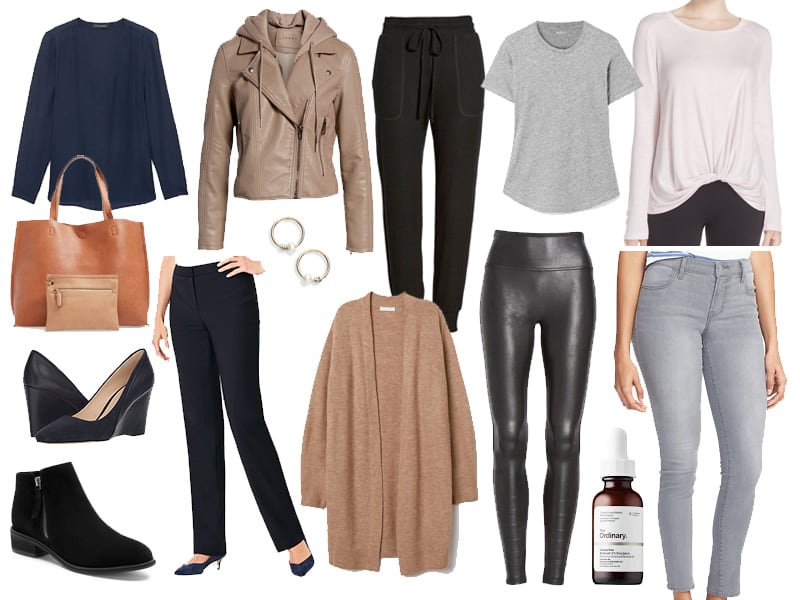 V-Neck Top, $80 | Moto Jacket, $98 | Joggers, $44 | Tee, $30 | Twisty Tee, $54 | Tote, $49 | Bootcut Pants, $129 | Hoops, $35 | Faux Leather Leggings, $98 | Jeans, $25 | Wedges, $45 | Bootie, $130 | Cardigan, $20 | Retinoid, $10
V-Neck Top, $80: It's so difficult to find a simple blouse for work that you can wear alone or under a blazer. This v-neck top from Banana Republic is pretty much perfect. It's available in white, black and navy, in regular and petite sizes up to a size XXL. Don't pay full price, they always have some kind of online coupon floating around
Moto Jacket, $98: A detachable hoodie makes this moto jacket a sporty alternative to a denim jacket. Pair it with a pair of leggings or these joggers for an effortless look on busy weekend mornings in the spring.
Joggers, $44: Swap out the gross sweatpants that you swear you never leave the house in (wink) for an updated pair of soft joggers. You'll get the comfort of your favorite sweats with a slightly polished feel.
Tee, $30: A reasonably priced tee shirt is hard to find, but this Madewell option is ideal. It's slightly tailored through the body and finished with a rounded hem. The quality is excellent enough to wear on its own with shorts in the summer or throw on now with a blazer and jeans. If it's in your budget consider picking up multiple colors.
Twisty Tee, $54: The slightest "twist" to a tee makes it go from boring and ordinary to something a bit more special. Since so many of us live in our yoga clothes, why not pair them with an elevated, feminine tee shirt. Zella makes some of my favorite activewear that's functional and fashionable.
Tote, $49 : This bag continues to be at the top of our best sellers list for a good reason. It's affordable and easy to use. I carry mine casually almost every day (for the last two years), and it's held up surprisingly well. To help keep its shape and your things in place, use this tote organizer.
Bootcut Pants, $129: Happy to report that bootcut pants are coming back in style. This new, updated version helps elongate your legs and balance your shape with a subtle flare at the bottom of the leg. This pair from Talbots, in seasonless wool, is called "barely bootcut." They are available in all sizes: missy, petite, plus and plus petite up to a size 24.
Hoops, $35: Seems like we all agreed that these earrings are lovely. It's hard to find jewelry at a low price point that doesn't feel cheap, but these look and feel sophisticated. I picked them up in both metal options.
Faux Leather Leggings, $98: I was so happy to see how many of you went for a pair of faux leather leggings. Every now and then we need to spice things up. You get the comfort of a pair of regular leggings with a sexy finish that might just make you feel a little bit like a rockstar.
Jeans, $25: Cute and inexpensive these gray Old Navy jeans will help break up all of your dark denim. Pair them with a tee shirt and sneakers or dress them up with a blouse and pumps.
Wedges, $45: Wedges give you height while lessening the pressure that pumps put on your lower back. They also help balance out your leg when paired with an updated bootcut. These Nine West wedges come in an array of colors, the black and navy are great options if you need to be dressed and on your feet at work all day.
Cardigan, $20: This is a big, cozy, wear-with-leggings-and-boots-cardigan that looks best paired with slim lined pieces. Remember, dressing well is all about balance, so if you wear one oversized piece, everything else needs to be tailored to create a harmonious look.
Retinoid, $10: Retinoid for $10 sounds crazy, but the reviews are in on this The Ordinary Retinoid, and the stuff works. You can see how and when to layer this into your nightly routine here.