Ever since school started, I can't catch up. My feet hit the ground in the morning at some unholy hour, and the next thing I know, it's 10 pm, and I'm passed out on the sofa.
I am in perpetual motion all day long, and I still cannot make a dent in my to-do list at work or home.
If you are feeling completely overwhelmed, and no amount of delegating, organizing, or releasing of expectations is making it better, you are not alone. Every one of my girlfriends in the similar season of life feels the same way.
I hope, amid your crazy schedule, our daily content at least makes getting dressed a little bit easier.
Our Reader Faves was designed to do just that.
These are the pieces we featured last month that you loved the most. And we'll use these throughout the season to help you continue to build your wardrobe. That's why I repeat items in different outfit inspiration posts, so you get the most out of your purchases.
Reader Five Faves: September 2021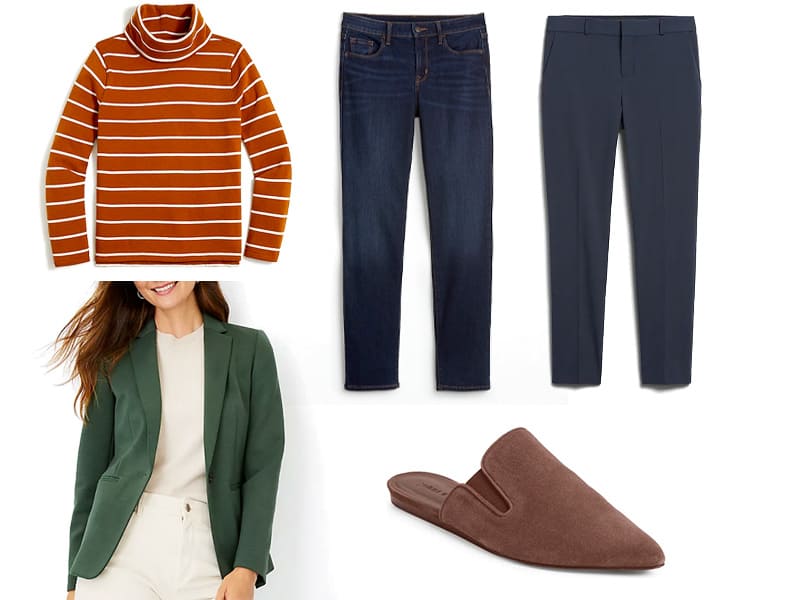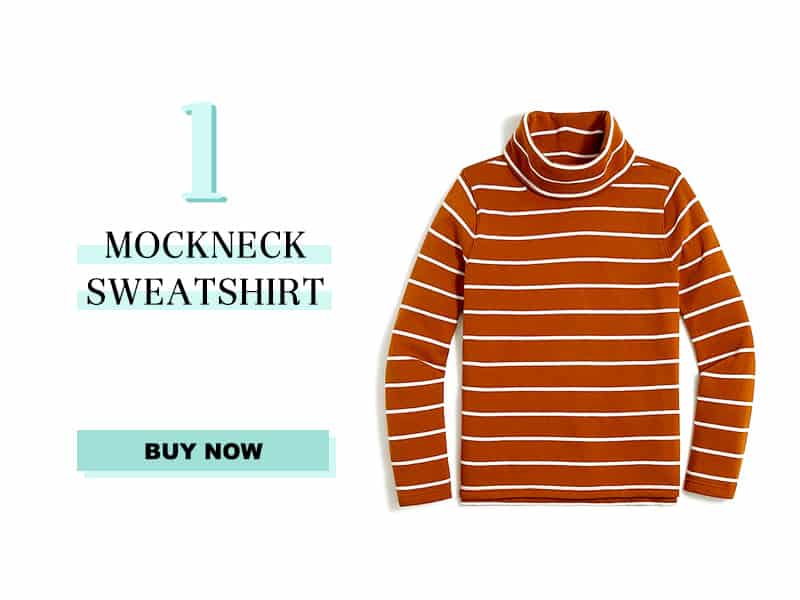 Mockneck Sweatshirt, $39.50
A comfy, cozy sweatshirt, that wears like a sweater is a no-brainer for the fall. Last month we featured this is adobe stripe, a color that feels seasonal without being too sweet. I went ahead and picked up in ivory and black too, for chilly days staring at my computer and sized up for a more relaxed fit.
Available in XXS – 3X under $4o in six colors.
Power Slim Straight Jeans, $35 (Take an additional 35% off at checkout.)
Jeans are costly, and often they can be well worth the splurge. But if you are trying to lose a few pounds (raises hand), you don't want to spend over $100 on a pair. So I turn to Old Navy to get a modern look without a high price tag. These power slim straight jeans are under $40, come in every size, and give you that slim leg without a skin-tight skinny look and feel.
Washable Wool-Blend Ankle Pant, $98.50
If you need a better pant for work that still leans casual, give these washable wool-blend pants from Banana Republic a try. They will hit right around your ankle and can be dressed up or down.
They come in regular and petite up to a size 20 and are completely washable, so you'll save time and money on trips to the dry cleaner.
Mule, $158.50
I like a mule in early fall, or if you live in a part of the country that stays warm throughout the year. You get a seasonal look without the weight of a heavy shoe. Jenni Kayne mules are a modern wardrobe classic, but boy are they expensive. So if you have a chance to pick them up on sale, they are well worth it.
These were originally $395, but they are 60% off at Nordstrom. Sizes are getting limited but there are still options.
Knit Blazer, $159
A double knit blazer is what you want to wear in a casual yet professional outfit. It's a beautiful alternative if you need something more tailored than a cardigan. Ann Taylor's Hunter Blazer was a top seller in September because it fits well, is versatile, and comes in a range of inclusive sizes.
Our Style Content is Inspired by Our Readers
Our readership inspires all of our posts and is not sponsored or paid for by brands or retailers.
Recommendations are based on my experience as a personal stylist and wardrobe consultant for over a decade. I worked with busy, down-to-earth women who wanted to look chic and feel confident but were often confused by so much of retail.
Some links are affiliate links, which means if you purchase via our site, we receive a small commission.
If you enjoy our content and would like to help us grow, please follow on Instagram and join our Private Facebook Group to access more advice and exclusive in-depth conversations with other like-minded women.
Learn about our mission to help women look and feel their very best, every day, here.
Sign Up for Daily Content and Receive Our Free Classic Wardrobe Checklist