Every month, I look at our analytics and listen to your feedback to round up the top five best sellers from the previous month to help you continue to build your wardrobe.
Our little community here is unique in that I can speak to so many of you personally, in either our Private Facebook group or in our INSIDER membership.
This kind of access allows me to find out precisely what you are struggling with, searching for, and enjoying the most. So what I featured in our monthly Reader Fave round-up are not only bestsellers but most loved.
Ideally, this series should help you fill any voids in your wardrobe or discover an extra piece that will help create even more options.
Reader Five Faves November 2020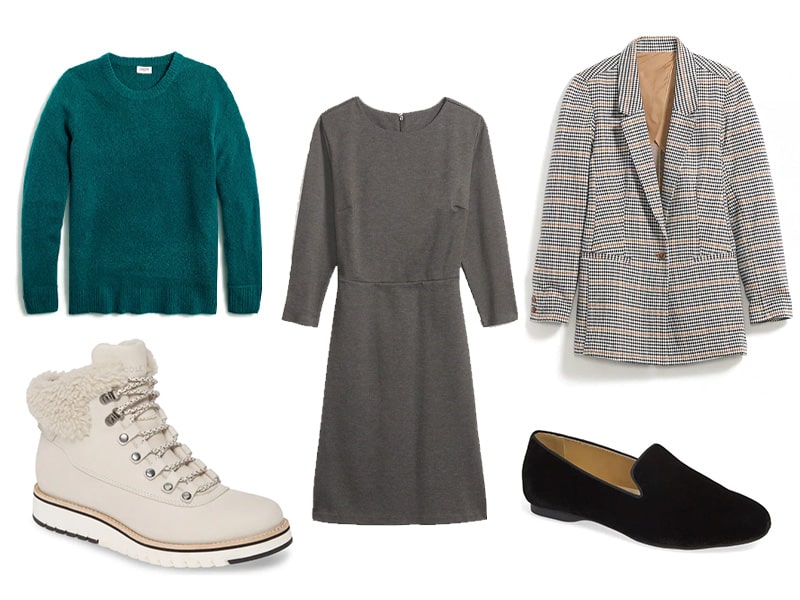 For the first time in almost a year, our favorites do not feature any sweats! Instead, we have a fabulous collection of size-inclusive options, all at fantastic prices.
Please note, inventory is selling out quickly and prices are subject to change.
Stay at Home Loafer
The Starling Loafer, $95
If you stay home this holiday season and entertain a smaller group, treat yourself to these loafers by Birdie. Designed to be a hybrid of a slipper and a loafer, they were specifically created for women who want to look chic but stay comfy while hosting at home.
As the brand grew in popularity, so did their assortment. You can pick up a gorgeous bejeweled or embellished option, but if you're just starting out, go for the timeless velvet suede. And don't worry, you can (and should!) wear these out of the house too.
$30 Sheath
Sheath Dress, $29
This Old Navy dress is an absolute steal, available in sizes regular, petite, and tall up to an XXL. The combination of a structured sheath done in a casual Ponte knit is what makes it so versatile. Wear to the office with boots, or with sneakers to run errands, and when we can start to travel again, it will make a great airport dress.
Basic Layer

Crew Neck Sweater, $29
J.Crew Factory has long been a go-to for basics better prices. Last month I featured this extra cozy crew neck sweater, available in seven colors in sizes XXS – 3X, and everyone stocked up.
It will stretch a bit but size up if you plan to wear it as a layer over a shirt. I keep it simple and throw it on with jeans and ankle boots – and, because it's 2020, my kids then ask me why I'm so "dressed up." lol
Oversized Boyfriend Blazer
Oversized Blazer, $38
Another Old Navy gem, this oversized blazer is fun and affordable, available in regular, petite, and tall sizes. It's supposed to be long and loose. You can certainly take it to the office, just note it will be a more relaxed look than a tailored one. I love it paired with light-washed jeans and sneakers; you'll look super cool even if your not. 😉
Cold Weather Boots
Hiking Boot, $150
Finally, so many readers wrote in requesting recommendations for a cold-weather boot. I found these Cole Haan Hiking Boots on sale at Nordstrom, with dozens of five-star reviews, in black, brown, and white (above). They are shearling trim, waterproof, warm yet lightweight.
Personally, I wear the Sorel Joan of Arch boot (in black). Our winters on the east coast range from mild to back-to-back blizzards, so I'm happy I have them. They are, however, very heavy. If you need something to keep you warm but lightweight, go with the Cole Haan; if you need a serious, stomp-through-the-snow kind of boot, go with the Sorel.
---
Our Style Content is Inspired by Our Readers
Our readership inspires all of our posts and is not sponsored or paid for by brands or retailers.
Recommendations are based on my experience as a personal stylist and wardrobe consultant for over a decade. I worked with busy, down-to-earth women who wanted to look chic and feel confident but were often confused by so much of retail.
Some links are affiliate links, which means if you purchase via our site, we receive a small commission.
If you enjoy our content and would like to help us grow, please consider following on Instagram and join our Private Facebook Group to access more advice and exclusive in-depth conversations with other like-minded women.