The last bit of housekeeping to close out 2020 around here is to round up our Reader Faves for December. Seeing what you love every month is one of the most helpful bits of information because it allows me to continue to build on the pieces you actually have.
What's so interesting about this collection is that it has the makings of a capsule wardrobe.
The pieces and colors work together beautifully, and the prices are fantastic.
Five Faves of December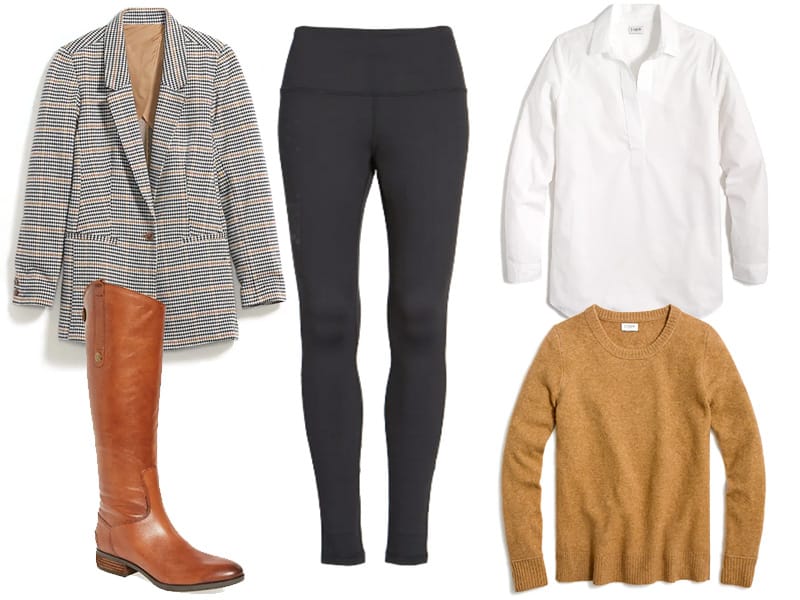 Let's talking quickly about capsule wardrobes. They are all the rage over on Pinterest. The basic idea is that you have a thoughtfully selected small grouping of clothes that work together in multiple ways creating a minimalist's dream closet.
The thing is, I'm not a minimalist. Instead, I focus on balancing value and practicality with the fun and drama of fashion. I'm much more concerned with feeling fabulous than limiting your choices. And personally, I enjoy the process and creativity that comes with getting dressed.
However, there's a lot we can learn from the idea of a capsule wardrobe. I don't like waste and want you to get the most out of your purchases. So I look at the concept of the capsule wardrobe more broadly. Instead of one capsule, I look to have a series of capsules, layering in pieces that help expand your options based on what you already have.
Our December Faves is a great example of pieces that work together, and also will help build out additional capsules when paired with pieces you already own.
Popover Tunic
Popover Tunic Top, $32
When I think of a daily "uniform" my mind goes right to a crisp white button down. The look is timeless but they can feel restrictive. That's why something like this tunic top is such a great piece. You get the same classic look with a little bit more room to move and a more practical length to pair with slim line pants.
This one from J.Crew Factory is only $32 and comes in sizes XS – 3X.
Zella Live In Leggings
High Waist Leggings, $59
It would appear we're not starting off 2021 any different than how we ended 2020, and with many of us headed into winter picking up some fresh loungewear is a must.
I have loved these leggings for years. They are just the thing to pair with an oversized sweater, or tunic (like the one featured above). They are high waisted, thick, but not uncomfortable, and was so well.
Available in XXS – XXL here and plus size up to 3X here.
Riding Boots
Penny Boot, $190
I was so thrilled to see a riding boot on the list. After a year of slippers and sneakers, these stunning yet sturdy boots will be a favorite for years. I have a similar pair from Frye (in black and cognac) and I've worn them for almost a decade.
Wear them with leggings or skinny jeans paired with a long sweater or blazer.
Crewneck Sweater
Crewneck Sweater, $19.50
Another J.Crew Factory find this crewneck sweater is delicious. It's so soft, simple and only $20. Easy peasy.
The weight of this allows for lots of flexibility. You can certainly wear it alone, or layer it over a blouse or under a blazer (like the one below!). Available in several colors, camel (above) is my favorite, in XXS – 3X.
Oversized Blazer
Oversized Blazer, $35
One of my absolute favorite finds of the year is this oversized blazer from Old Navy for only $35. It's perfect for throwing on for Zoom calls (ugh) or pair with dark jeans, the J Crew sweater, and riding boots for lunch outside.
To get the most out of this piece, pick it up in the houndstooth option (above); you'll get more looks out of it since it will pair better with black, dark denim, and even – if you're brave – white bottoms.
Available in regular, tall and petite.
---
Our Style Content is Inspired by Our Readers
Our readership inspires all of our posts and is not sponsored or paid for by brands or retailers.
Recommendations are based on my experience as a personal stylist and wardrobe consultant for over a decade. I worked with busy, down-to-earth women who wanted to look chic and feel confident but were often confused by so much of retail.
Some links are affiliate links, which means if you purchase via our site, we receive a small commission.
If you enjoy our content and would like to help us grow, please follow on Instagram and join our Private Facebook Group to access more advice and exclusive in-depth conversations with other like-minded women.
---
Our Wardrobe Challenge Starts on Friday!